As I went over in my previous article, the oil industry as a whole- and its investors- have faced hard losses over the past two years as the price of crude oil plummeted to roughly $40 per barrel from as high as the $90/bbl range just two summers ago, a collapse of over 50%. However, many companies in the midstream sector of the oil industry (those involved in the transporting and storage of petrochemicals) are operating under business-as-usual conditions. This is because many midstream companies charge by the volume, rather than the value, of the oil they handle. As upstream oil companies continue to produce oil and downstream oil companies continue to produce petrochemical products (sometimes in higher than usual volumes) in order to keep expenses and debts under control, prospects for the midstream oil sector as a whole in the short- and mid-term range from stable to positive, and were never that bad to begin with.
This raises the question: Why has the Alerian MLP ETF (NYSEARCA:AMLP), which tracks midstream MLPs specifically (but is often considered a yardstick for the performance of the midstream sector in general), lost 33% over the past two years?
For the most part, this is the result of simple market inefficiency. For those unfamiliar with how the midstream sector operates, falling oil prices may seem like a selloff signal for all companies involved with oil. For others, the fear of upstream oil producers going bankrupt or slowing production (decreasing the volume of oil handled by midstream companies) has been a deterrent, though as previously mentioned, upstream producers have mostly either held production steady or increased it in an attempt to make up for lower profit margins. The aforementioned minor producers at higher risk of bankruptcy have largely been wiped out already by sustained low oil prices (though their absence has not had much effect on total oil production volumes). Due to this, oil production is unlikely to fall further. With no major and realistic near-term risks to the midstream sector, its wide margin of undervaluation (and, of course, its famously large dividends and distributions) make it ripe with appealing deep-value opportunities.
While much of the midstream sector provides strong upside at current prices, there are certain companies in the sector that provide above-average return potential. Previously mentioned was Genesis Energy (NYSE:GEL), an MLP-structured pipeline operator with strong growth prospects due to its recent acquisitions and a quality distribution growth track record. The company covered in this article, the petrochemical tanker company Scorpio Tankers (NYSE:STNG), was chosen due to its extraordinary undervaluation and high upside potential.
Scorpio Tankers, headquartered in Monaco, is a small-cap company with a current valuation of $980 million, and as such, it is priced with lower efficiency than a larger company would be. It is involved in the midstream oil sector, and is involved in the seaborne shipping of a wide variety of refined petrochemical products produced by downstream oil companies, such as gasoline, diesel, and heating oil. It owns a total of 78 operating tankers with an average age of roughly 1.1 years and a capacity of 2,089,981 dwt (deadweight tons). The benefits of operating a younger fleet of tankers are obvious: newer tankers are less likely to break down or spring leaks than older tankers, and will not require as many repairs or upgrades in the near future as the older ships would.
On top of its fully owned and operational tankers, a further 17 chartered tankers are operated by Scorpio with a capacity of 1,107,434 dwt, and 12 new tankers are currently under construction with a capacity of 1,001,993 dwt. Over the past few years, the company's primary focus has been fleet expansion, given that low tanker prices and low interest rates have made now and the recent past a cost-efficient time to expand.
One primary concern that investors have about Scorpio's financial situation is its debt load. While the last company I wrote about, Genesis Energy, also has a high debt load, I consider it acceptable because it is a MLP with highly stable income sources. Scorpio, however, is an ordinarily structured company with less earnings stability than Genesis due to the nature of its assets and business. This is why its 1.45x leverage ratio is concerning to many investors. However, despite what its valuation may suggest, Scorpio could hardly be considered financially distressed.
One of the company's major goals is reducing leverage, and with $201 million in cash and $218 million in earnings over the past 12 months, achieving this should not be much of a challenge. It should also be noted that Scorpio has gone into debt for a good reason: to expand its fleet at a time where it could buy cheap ships with cheap credit. Again, this draws parallels with Genesis, which has made many debt-funded acquisitions in the past year in order to expand its pipeline network at a time when interest rates hovered at zero.
As a result of fears over leverage and the price of crude oil, and simple market inefficiency due to the company's small size, Scorpio's share price is strongly depressed, having lost over 35% of its value over the past year. (Please note that the following chart shows a time frame of roughly 10 months, so some discrepancy between the price difference shown by the chart and the price difference over the past year is present.)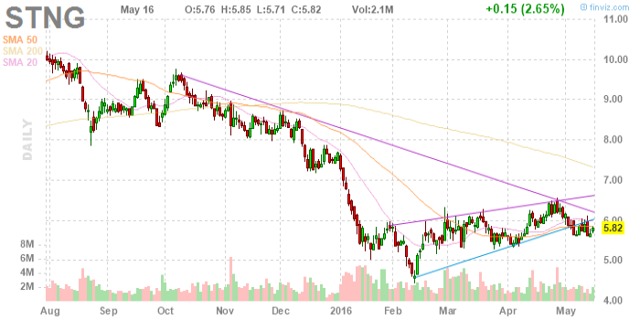 The company shows itself to be immensely undervalued by many commonly used valuation metrics. Its P/E ratio is 5.2, its P/C is 4.9, its P/FCF is 3.2, and most impressively of all, its P/B ratio is 0.66- meaning that the market values Scorpio as worth more "dead" than "alive," that the operating company is only worth about two-thirds of the resale value of its assets. If nothing else stands as proof that Scorpio is being unfairly priced, then its P/B ratio should- the market is treating this profitable and indeed growing company (EPS has grown 51.7% yearly over the past 5 years) as if it were on the verge of bankruptcy. Even if Scorpio was to liquidate all of its assets, return the proceeds to its shareholders, and dissolve, anyone who had invested in the company at current prices would be facing a 50% return on their investment. Even if EPS and dividend growth were flat from here on out, assuming a P/E reversion to 15 over the next five years, the potential return within that period would be 42.5% from dividends and capital gains of 188.5%, for a total return of 231%.
Even the biggest of powder kegs can remain inert forever without a spark to set them off. Scorpio has laid dormant for quite some time now, though its spark is soon to be lit. In December 2015, Fitch Ratings took a negative outlook on the global shipping industry at large. This statement, largely based on the slowdown of the Chinese economy, only served to send the already depressed shipping sector lower in terms of share prices. Fitch's statement was not all doom and gloom, however. It cast a more positive light on tanker companies, due to "moderate fleet growth and healthy demand resulting from oil stockpiling and high refinery throughput due to low oil prices." JPMorgan also issued a bullish statement on product tankers in January 2016, placing "Overweight" ratings on Scorpio, Tsakos Energy Navigation (NYSE:TNP), Navios Maritime Acquisition (NYSE:NNA), and Ardmore Shipping (NYSE:ASC). Not only will rising earnings help to trigger a positive correction in share price, they will also make the management's job of deleveraging the company easier -- which, in turn, frees up more cash flow.
Scorpio's share repurchase plan also should not be ignored- with roughly $200 million set aside to repurchase shares with, this could act as a share price catalyst in and of itself, with the reduced share count offering the added benefit of making dividends cheaper for the company to pay. Speaking of dividends, Scorpio has only a 37% payout ratio, so dividends are easily sustainable and there is high potential for further dividend growth, and in fact, Scorpio has continuously raised its dividend throughout the three years it has been paying one. Best of all, due to Scorpio's depressed share price, it yields 8.5% at current prices. There are only a few healthy companies that pay sustainable dividends anywhere near this high at any given time, and Scorpio is one of them.
Scorpio is an appealing investment at current levels given its extraordinarily low valuation, its focus on growth, the tailwinds supporting its sector, the management's focus on deleveraging the balance sheet, and its unusually high but sustainable dividend yield (and an amusing ticker symbol to boot). Due to the market inefficiency that has driven its shares to such a deep bargain, Scorpio may be volatile in the short term, but over the long term Scorpio presents an asymmetric risk/return profile, and according to its earnings multiple, its shareholders stand to triple their money when the stock corrects to its fair value.
Disclosure: I am/we are long STNG, GEL.
I wrote this article myself, and it expresses my own opinions. I am not receiving compensation for it (other than from Seeking Alpha). I have no business relationship with any company whose stock is mentioned in this article.