A report published in Nikkei claimed that Apple's (NASDAQ:AAPL) upcoming iPhone 7 will see tepid demand due to "an ongoing slump in demand for premium smartphones and a lack of groundbreaking features for the upcoming iPhone 7." While it's true that demand for premium smartphones are sliding, the second part of the statement isn't correct.
Apple is adding some really cool features to the iPhone 7 that will support demand, including dual-lens camera for all iPhone 7 plus models. In addition, third-party VR (virtual reality) support for the device will also boost demand from outside. The rumor mill running by iPhone 7 suppliers is a concerted effort to drag Apple's stock price lower.
Dual-Lens Camera Empowers iPhone 7 to Create VR Content
According to a new report, Apple will release three iPhone 7 models, which are iPhone 7, iPhone 7 plus and iPhone 7 plus premium. The iPhone 7 plus premium model, also called iPhone 7 pro, will feature a dual-lens camera. Last year Apple acquired LinX Imaging, an Israeli camera company, which is developing new camera technologies for iOS devices. Apple will certainly incorporate the technologies, at least a few of them, to the latest iPhone.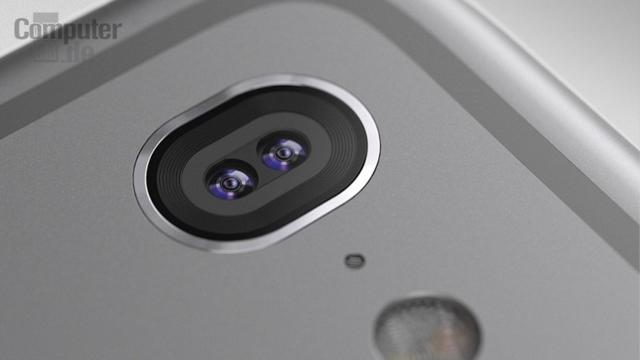 Image Credit: Computer Bild
According to MacRumors, iPhone 7 will feature multi-aperture cameras developed by LinX which are capable of taking DSLR-quality photos. One of the greatest disadvantages of smartphone cameras over DSLR cameras is that achieving DOF (depth of field) and bokeh effects, which are essential parts of photography, isn't possible with smartphone cameras. The multi-aperture dual-lens camera of iPhone 7 will eliminate this disadvantage via its depth mapping feature.
My Take on iPhone 7 Camera
I believe the advanced camera of iPhone 7 will be a groundbreaking feature. The camera's depth mapping feature will not only help photographers take aesthetic photos, it will also allow tech-savvy users to create VR content, aside from watching VR content via an HMD (head-mounted display). By enabling users to create their own VR content, Apple will redefine photography and videography for the general people without any technical background. This will boost new demand for iPhone 7, in addition to replacement demand.
Using depth mapping users will be able to measure the distance of a particular object in an image from a viewpoint. Based on the user's gaze direction, the camera's sensor will generate depth map of the object in real time. The depth map will then allow the user to create VR content by superimposing real world people and objects into the virtual environment.
The content won't seem unrealistic, unlike content created using Adobe (NASDAQ:ADBE) Photoshop and Premiere by manipulating images and videos. Since depth mapping allows segmenting real world objects from the background, they can be rendered at the actual depth. This will result in creation of realistic VR content.
The only caveat is that for producing correct parallax effect for creating user-generated VR content, the lenses need to be placed at a certain distance (like human eyes), said Christopher Grayson, an expert in this field. Apple might not add this particular feature in iPhone 7, although dual-lens is a certainty. The lenses will be kept closer as of now, and possibly they will be correctly placed in iPhone 7s or iPhone 8. This implies that although it will be possible to create VR content using iPhone 7 pro, if you want to create professional quality VR content, you have to wait.
Third-Party Hardware to Make iPhone 7 VR-Ready
I expect that the upcoming iPhone 7 will be VR-ready driven by third-party hardware, which can drive significant demand for the product from outside. The basis of my expectation is investment firm Piper Jaffray's recent VR conference in which 13 VR hardware companies participated, as reported by Apple Insider.
One of the participants, named IonVR, said that the company could launch a VR HMD particularly for the iPhone 7. IonVR believes that iPhone 7 will offer proper VR experience to users "with the help of third-party hardware." IonVR has already developed such a device, which is available for preorder for $229. It has a proprietary optics technology called MotionSync, which can significantly reduce VR-associated motion sickness.
Image Credit: Apple Insider
My Take on VR-Ready iPhone 7
VR has already gone mainstream. Therefore it's quite natural that iPhone users will want to use their iPhone 7 for watching VR content. With a host of iPhone-compatible VR HMDs coming to the market, I believe iPhone 7's demand will rise remarkably and iPhone 7 shipments will exceed all expectations.
According to Juniper Research, over 3 million VR devices will ship this year and the number could reach 30 million by 2020. Since iPhone 7 will be VR-ready, its adoption will rise meaningfully driven by fresh demand from industrial customers from several fields, including manufacturing, medicine and real estate. To learn more about the growth potential of VR in various industries, I'd recommend reading this article published in TechCrunch.
Conclusion
It's true that smartphone demand is gradually weakening. But an iPhone isn't merely a smartphone; it's rather a handheld computer providing users periodic technological advancements for everyday use. Since Apple is a futuristic company, its stock price should enjoy higher valuation multiples.
I believe the stock is cheap because its price hasn't yet factored in huge demand for iPhone 7 driven by VR. Furthermore, Apple's recently announced partnership with SAP (NYSE:SAP) will significantly expand enterprise adoption of iPhones and iPads, which Apple's current price isn't reflecting either.
Disclosure: I am/we are long AAPL.
I wrote this article myself, and it expresses my own opinions. I am not receiving compensation for it (other than from Seeking Alpha). I have no business relationship with any company whose stock is mentioned in this article.