A Brief Overview
ING Group (NYSE:ING) is a universal multinational bank with global headquarters in Amsterdam. It was founded in 1991 as a result of a merger between Nationale-Nederlanden (one of the largest insurance companies in the Netherlands) and NMB Postbank Group. In October 2009, ING announced plans to dispose of all its insurance operations, and this process is now nearly complete. The bank's key markets are the Netherlands, Belgium, Luxembourg and Germany. It has other banking operations throughout Central and Eastern Europe, as well as in Australia, North America and Asia.

Source: Bloomberg, Renaissance Research
Investment Summary
ING's ability to defend its NIM is impressive. Deposit re-pricing, strong volume growth, favorable shifts in the loan mix towards higher-yielding assets should protect NII.
Margin resilience in a low/zero interest rate environment is an achievement and in contrast to peers where NIMs have come under severe pressure.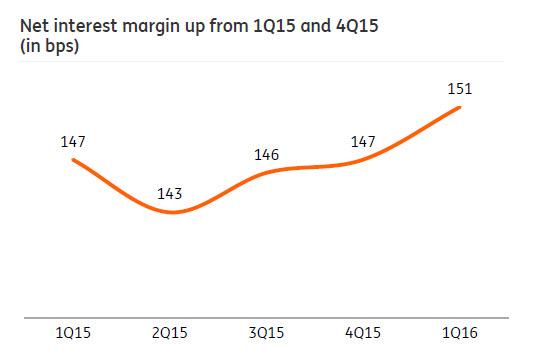 Source: ING
Going forward, we expect the bank's net interest income to be further supported by:
Deposit re-pricing
ING has already cut deposit rates across its main geographies.

Source: ING
While in Belgium rates have reached their legal minimum of 11bps, we see considerable scope to cut deposit rates further in the Netherlands and Germany. Given that, the Netherlands and Germany account for 57% of ING's retail customer deposit base (see the diagram below), these cuts should have a meaningful impact on the bank's NIM.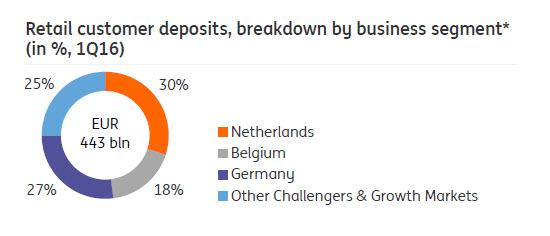 Source: ING
Strong loan growth
Loan growth was strong in 1Q16: at 5.3% annualized, above the targeted 3-4% range, and representing 4.4% cumulative loan growth since 1Q14. Even with structural shrinkage in Dutch mortgages, and cyclical shrinkage in the Energy book, the bank's targeted 3-4% range looks very achievable, which bodes well for NII resilience.
Favorable shifts in the loan mix towards higher-yielding assets
ING's margins should benefit from a shift towards higher-yielding assets. While low-yielding mortgages in the Netherlands continue to decline, higher-margin Consumer and SME segments are developing very positively.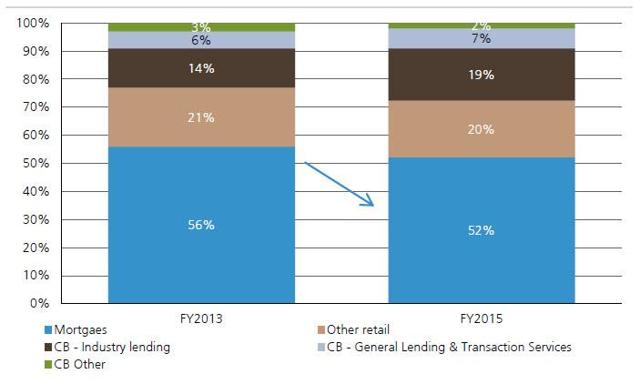 Source: UBS Research
A strong capital position: Capital adequacy ratios are already above 2019 regulatory requirements
B3CET1 ratio, adjusted for full divestment of NN Group and the quarter's retained profits, came in at 13.5% in 1Q16. The ratio is already above the 2019 SREP requirement of 12.5%: SREP 9.5% plus 3.0% D-SIB.
A progressive dividend policy and a 7% yield look safe
We believe the bank will hold firm to its commitment of a progressive dividend policy. thanks to its organic capital build-up and strong CARs.
Risks
Oil & gas exposure
ING's exposure to O&G sector has been recently an area of significant market debate. Overall ING's total O&G exposure was at EUR28bn at 1Q16. However, the majority (85%) of this relates to lending, which the bank says is not directly exposed to oil price risk. Hence, we think the market fears are exaggerated.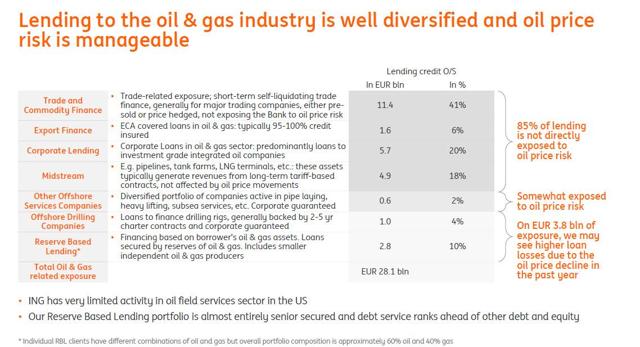 Source: ING
Ukraine
We believe ING's Ukrainian portfolio (circa 0.2% of the total loan book) should not be an issue going forward, given the significant build-up of reserves in 2015 - the NPL coverage ratio came in at 66% in 1Q16.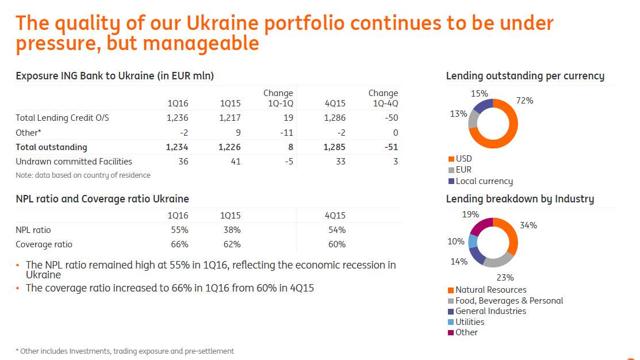 Source: ING
Russia
ING's exposure to Russia is circa 1% of the total loan book. While we acknowledge that the visibility on oil price dynamics (and, hence, on macroeconomic situation in Russia) is somewhat limited, the quality of ING portfolio remains stable (3% NPL ratio at 1Q16) with a coverage ratio of 16%.
Valuation
ING is trading at a slight discount to its peer group. We believe ING should be trading at a premium to its peers as it has superior capital adequacy ratios and a robust organic capital build-up, allowing strong dividend payouts as well as growth.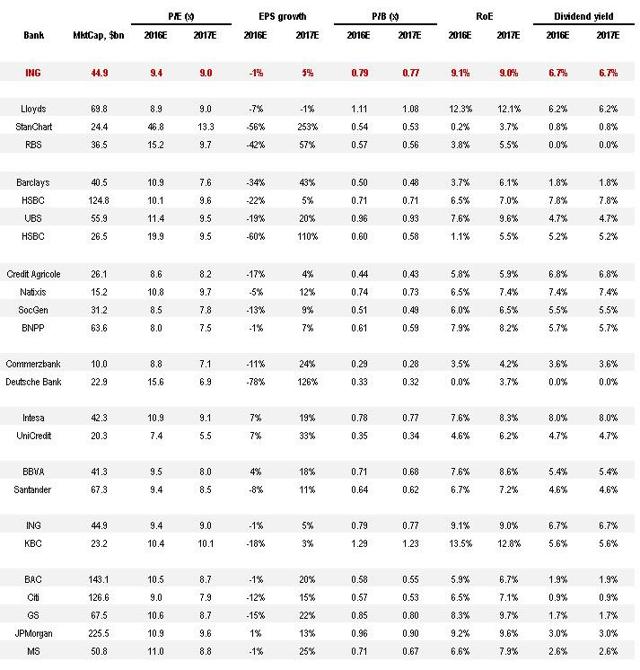 Source: Bloomberg, Renaissance Research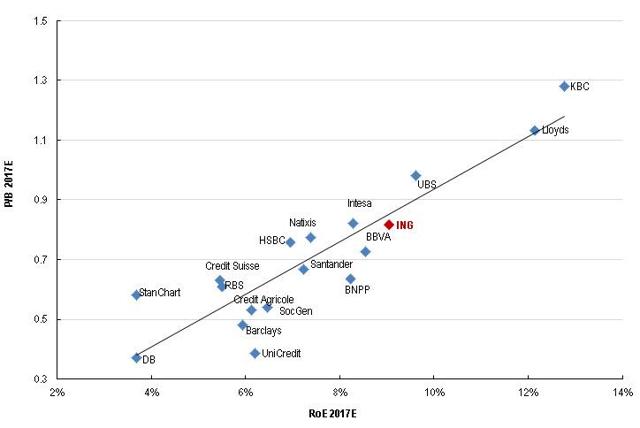 Source: Bloomberg, Renaissance Research
Bottom Line
ING offers investors a very compelling investment case - a unique combination of margin resilience, loan growth, strong CAR and a 7% yield. The bank is currently one of our top picks amongst European banks.
Disclosure: I am/we are long ING.
I wrote this article myself, and it expresses my own opinions. I am not receiving compensation for it (other than from Seeking Alpha). I have no business relationship with any company whose stock is mentioned in this article.