The Relation Between The Japanese Yen and Abenomics
Since the announcement of "Abenomics" in December 2012, the Japanese Yen steadily weakened until the Bank of Japan (BoJ) announced a negative interest rate policy in January, 2016. Following this announcement, the Yen began a precipitous decline. While exports account for only roughly 12% of Japan's GDP, they are systemically important to the Japanese manufacturing sector which accounts for approx. 16% of national employment. The recent strengthening of the Yen is bad for Japanese economic growth and will further erode support for Prime Minister Abe's economic reforms termed "Abenomics".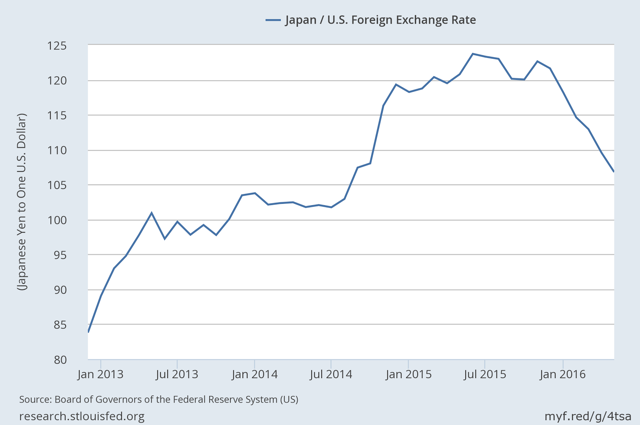 Japanese exports fell 9.5 percent YoY from 2014 to 2015. Weakness in the steel, shipbuilding, and manufacturing machinery sectors pulled Japanese exports lower amid stiffer international competition in these sectors. Additionally, pervasive economic weakness among Japan's Asian trading partners (who account for 58% of Japanese exports) served to drag Japanese exports to their lowest levels since 2009 earlier this year.
The Japanese export machine is in need of a retrofit. However, a strong Japanese Yen, which has emerged since the Bank of Japan negative interest rate announcement in January 2016, will likely exacerbate Japanese problems with reviving export driven growth.
Further, deflationary pressures persist despite Japanese government implementation of a value added tax (which should have spurred consumer purchases prior to each phased step of implementation). Prime Minister Abe's recent announcement to delay the final phased increase of the VAT is a sign that the Abe administration has fresh concerns over the effectiveness of their economic plans.
Additionally, BoJ monetary easing policy to stem deflation in the form of annual government purchases of Japanese equities (valued at US $2.45 billion) and an aggressive monetary easing program in annual Japanese government bond purchases (valued at US $600 billion), have not reversed deflationary pressure.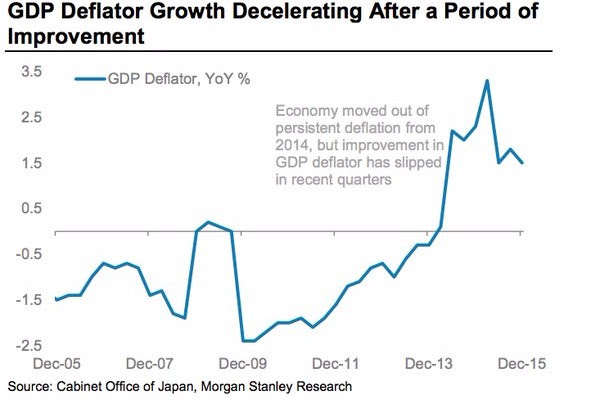 Unintended Consequences of BoJ Policy
Japanese monetary easing programs and negative interest policy were aimed to stimulate the economy, combat deflation, and further weaken the Yen relative to the USD. However, this is not how these policies played out as Japan's monetary policy produced unintended consequences.
Despite the Bank of Japan's announcements of negative interest rates and intervention in the Japanese equity markets, the Japanese Yen strengthened against the dollar and Japanese equity funds have experienced net outflows. Both these trends were unexpected and are illustrated below.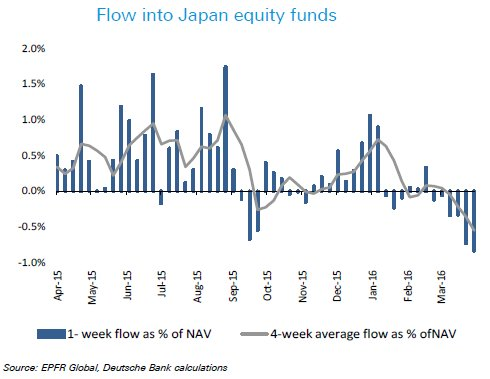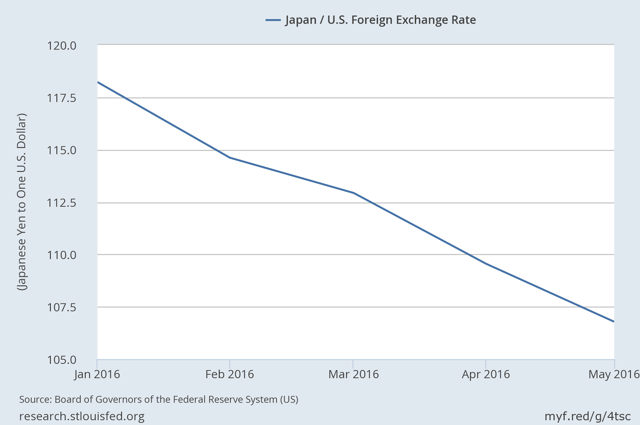 Due to the inefficacy of the negative rate policy, many expected the BoJ to announce additional stimulus after a late April 2016 policy meeting to try to counteract deflation and the strengthening Yen. However, the BoJ announced no changes to its policy. Analysts asserted the BoJ had run out of "ammunition" and would be unable to combat deflation and the strengthening Yen with monetary policy.
Regardless of the BoJ's remaining policy firepower, what is clear is that the Yen persistently strengthened during periods of BoJ action (negative rates) and inaction (no monetary easing in April). We do not question the BoJ's firepower, but do question whether the BoJ can move currency markets with policy measures in the current environment.
Political Elections Looming: Abe's Legacy Hangs in The Balance
In early May 2016, BoJ Governor Haruhiko Kuroda announced that the BoJ would wait several months before any additional monetary easing policy measures. Kuroda suggested the BoJ needed to take a patient approach to let existing policies work through the system. BoJ Kuroda's comments were motivated by a need to affirm the BoJ's potency to the markets after having come under attack after April 2016 policy inaction. To this effect Kuroda stated,
The quantitative easing, the qualitative easing, the negative interest rate - these are the three dimensions where we can act. We can still ease our monetary policy substantially if we consider it necessary
However, despite announcing a wait and see approach, we assess political expediency caused by the upcoming July 2016 Upper House elections will compel the BoJ to enact more aggressive monetary easing measures at their June 2016 policy meeting. Further, comments from the Japanese Treasury Secretary Taro Aso suggested it would be "natural" for the Japanese Government to intervene in currency markets and are another factor feeding our assessment. Aso's comments imply support from the Abe administration for further monetary easing.
A failure to act at the June 2016 BoJ meeting could effect Abe's Liberal Democratic Party at the polls and embolden critics who assert that Abenomics and the political legacy of the policy's namesake have reached their limits. Loss of market confidence, as was the case in late April, is another downside risk to BoJ inaction. As the Nikkei Asian Review points out, the BoJ has historically been accommodative to the Abe administrations policy objectives and we expect this accommodation to continue.
Our Take: Accommodative Japanese Monetary Policy Could Cause a Strengthening of The Yen
We forecast the BoJ will announce additional and more aggressive stimulus measures in their June 2016 meeting. However, we assess that it may not achieve the desired policy effect of reversing deflation and weakening the Yen relative to the dollar.
Unlike the Chinese, the Japanese cannot directly intervene with the JPY/USD freely floating exchange rate. Therefore, the Japanese Government is limited by monetary policy options, which have proven to deliver unintended consequences, as was the case with the negative rate interest policy in January, 2016.
We assess Japanese monetary easing could actually result in strengthening of the Yen (as opposed to the intended weakening) due to Japan's market stability relative to the rest of the Asia-Pacific region, with weakness in China being the most notable economic sore spot. Global markets are experiencing a flight to safety evidenced in part by: falling US treasury yields, increasing fund withdrawals from equity markets, and resilient demand in bond markets in countries with negative interest rates.
Further easing of Japanese monetary policy will signal to markets that Japan will actively support its markets and will convey a "BoJ put" to the rest of the world, a world seeking safety in the form of government treasuries and other government supported asset classes. Therefore, global investors will respond to BoJ policy by continuing to move into Yen denominated assets stoking demand for the currency.
As a final counterpoint, we highlight two downside risks to our forecast of continued Yen strengthening are a potential June 2016 Federal Reserve interest rate hike, which would likely strengthen the dollar relative to the Yen. Secondly, a return to a stronger growth trajectory in China would make Chinese markets a more attractive investment destination relative to Japan reducing market demand for the safety Japanese markets afford.
Disclosure: I/we have no positions in any stocks mentioned, and no plans to initiate any positions within the next 72 hours.
I wrote this article myself, and it expresses my own opinions. I am not receiving compensation for it (other than from Seeking Alpha). I have no business relationship with any company whose stock is mentioned in this article.
Additional disclosure: This article is for informational purposes only.