By Rupert Hargreaves
Concerns about the health of the global economy and the fragile state of the corporate sector, continue to overshadow the investment landscape.
Last week, credit rating agency Moody's published its April 2016 realised default rates and 12-month ahead forecasts, which showed that US defaults have surprised on the upside recently highlighting the weakened state of the US corporate sector's balance sheet.
The default rate was 2.51% in Europe, 4.43% in the US and 3.98% globally. The baseline forecast for the next 12 months is 2.8% for Europe, 5.8% for the US and 4.6% globally.
According to Deutsche Bank's May 10 credit research report, which focuses on the Moody's realised default rates article, the diversions between US and European default rates seems to be driven by a rising number of defaults in the energy sector. However, rising energy defaults cannot be blamed entirely for the deterioration in credit quality. Other industries are also contributing.
High-yield defaults: Surpassing expectations
What's really concerning about Moody's credit report is the agency's default outlook. Specifically, Moody's has consistently revised higher its baseline forecasts for US high-yield defaults based on quarter-end figures. Simply put, the number of defaults that occur in the US corporate sector has already passed expectations and is now topping a level not seen since 2008.
In its most pessimistic scenario, Moody's believes that 17.7% of US high-yield bonds could default over the next 12 months although the baseline forecast is a much more subdued 5.8%. The rating agency's most optimistic forecast for high-yield defaults over the next 12 months is 5.4%. As noted above, the current high-yield default rate is already 5.8%.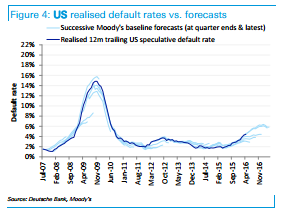 In Europe, Moody's expects the level of high-yield defaults over the next 12 months to remain relatively subdued thanks in part to the European Central Bank's aggressive monetary easing policy. Moody's worst-case scenario 12-month high yield default rate forecast is 9.9% for the Eurozone, and the baseline forecast is 2.8%.
Over the past decade, the volume of defaults in the high-yield space in Europe has been relatively subdued compared to that of the US hitting a peak of around 11% in the height of the financial crisis compared to 15% in the US.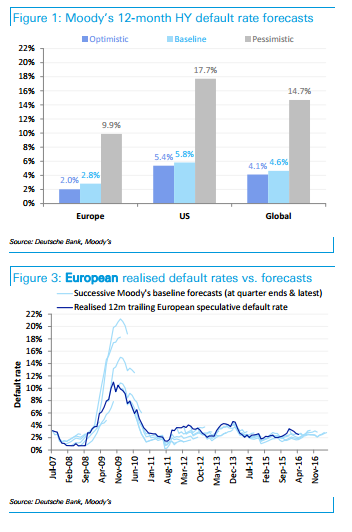 Disclosure: Rupert may hold positions in one or more of the companies mentioned in this article. You can find a full list of Rupert's positions on his blog. This should not be interpreted as investment advice, or a recommendation to buy or sell securities. You should make your own decisions and seek independent professional advice before doing so. Past performance is not a guide to future performance.