Our Dividend List: Methodology
We examine the 100 largest (by market cap) stocks in the Russell 3000 for dividends to find the 25 highest-yielding names. Russell US Indexes are leading US equity investment benchmarks. The Russell 3000 Index comprises the companies in the large-cap Russell 1000 Index and the small-cap Russell 2000 names. Based on May 12, 2016, closing share prices, Apple (NASDAQ:AAPL) topped the Russell 3000 index in terms of market valuation, with a market capitalization of nearly $507 billion. However, based on dividend yield, it ranked significantly lower at #49, and therefore is not included on our list of the 25 highest dividend payers (illustrated below). Similarly, technology companies Alphabet (NASDAQ:GOOG) (NASDAQ:GOOGL), Facebook (NASDAQ:FB) and Amazon (NASDAQ:AMZN) ranked among the top 15 on the Russell 3000 by valuation, but pay no dividend and therefore also do not appear in our group.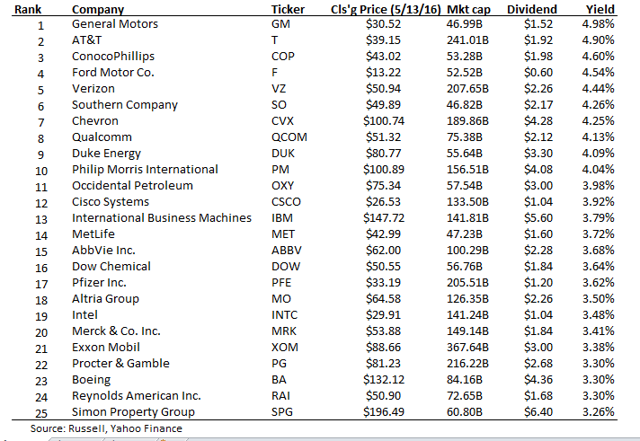 Our group comprises the 25 highest-yielding companies among the Russell 3000 top 100. Within this group, the dividend yields range from 4.98% for General Motors (NYSE:GM) to 3.26% for Simon Property Group (NYSE:SPG). The companies are well established, recognized firms with market capitalization in the multiple-billion-dollar levels, from Southern Company's (NYSE:SO) $46.8 billion to $367.6 billion for Exxon (NYSE:XOM). These dividend payers span a cross-section of industries, including tobacco, energy, technology, real estate, automotive and telecommunications.
Tobacco Sector Offers Yield, But...
Tobacco companies among the top 25 include Philip Morris (NYSE:PM), its affiliate Altria (NYSE:MO) and Reynolds American (NYSE:RAI). They rank #10, #18 and #24, respectively, based on dividend yield. Philip Morris pays a $4.08 annual dividend and Altria pays $2.26, which equate to respective yields of 3.99% and 3.48%. Reynolds pays $1.68 for a 3.3% yield. These are attractive income streams. However, these companies operate in a sector that faces pressure on cigarette sales in many markets.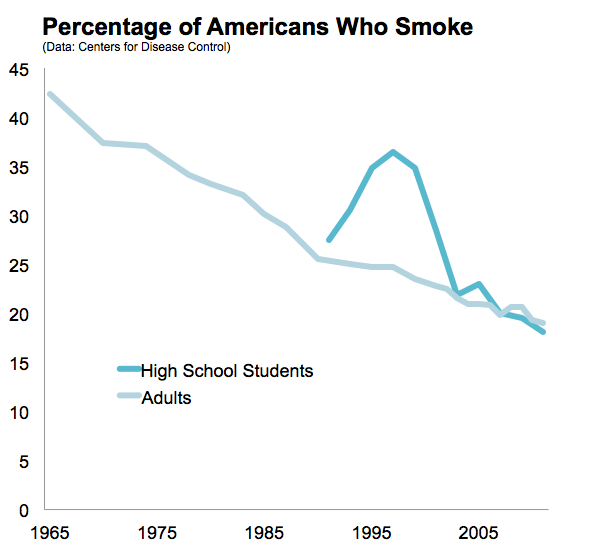 Many big tobacco companies have entered the e-cigarette sector to offset stagnant or declining sales of traditional cigarettes. For example, Lorillard (NYSE:LO), a leading big tobacco player that is not on our list, entered the e-cigarette niche in 2012 with its $135 million acquisition of blu e-cigarettes. Altria launched MarkTen and subsequently purchased e-cigarette marketer Green Smoke on February 3, 2014, for $110 million. Reynolds American introduced its propriety Vuse e-cigarette brand in 2013.
However, even the e-cigarette niche has come under pressure and also faces potential regulatory risk. In a recent call with investors, Vector Group (NYSE:VGR) noted that:
"Uncertainties regarding e-cigarettes are significantly greater today than they were a year ago... Disposable e-cigarettes that dominated the market as recently as 2013, are in significant and rapid decline... Meanwhile, open-system vapor products that feature refillable tanks and use low-cost flavored liquids are demonstrating mixed results."
Plummeting Oil Prices Pressures Energy
There are also several energy companies on our list. The shares of Chevron (NYSE:CVX) and Exxon, for instance, carry 4.23% and 3.38% respective dividend yields. Certainly these are attractive, but with declining oil prices, the sector has come under pressure.
We believe the steep decline in global oil prices has created uncertainty about the outlook for the sector and its participants. Oil prices are low. After reaching $115 a barrel in 2014, oil prices dropped to below $50/barrel, their lowest level since April 2009. Despite some rebound thus far this year, oil prices are still low relative to historical levels.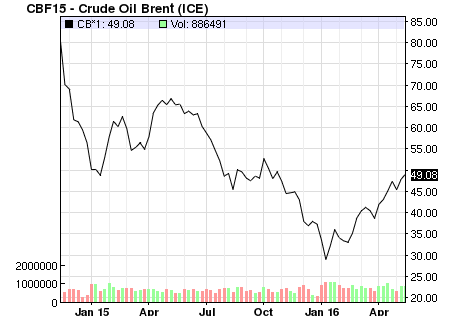 Chevron has a history of maintaining a steady or growing dividend. On its most recent investor conference call, the company said that:
"Preserving and growing the dividend is our first priority. Our intention is to be able to cover the dividend in 2017. Our capital spend profile is coming down. We are completing major capital projects already under construction but otherwise reducing long-cycle spend. We are lowering our cost structure to better match a low price environment by improving efficiencies, streamlining the organization, and working with suppliers to achieve cost reductions. At the same time, we expect our cash inflows to be growing."
On its recent investor call last month, Exxon noted that:
"Earlier this week the Board of Directors declared a second quarter of cash dividend of $0.75 per share a 2.7% increase from last quarter marking our 34th consecutive year of per share dividend growth."
However, there is likely to be some concern about the safely of the dividends if oil prices remain at these low levels.
Automotive Undergoing Change
The global automotive sector is undergoing significant change. China has become the largest automobile market in the world, with 19 million new vehicles sold in 2012 and 18% per annum growth in 2006-2012. According to McKinsey, the source of automotive industry profits has changed dramatically over the past few years. McKinsey notes that in 2012, the BRIC markets and RoW accounted for 55% of global automotive industry profits, up from only 30% in 2007. Sales in these markets grew 65%, outperforming growth in Europe, North America, Japan, and South Korea, with more than 50% of the growth coming from China alone.
McKinsey forecasts that by 2020, global profits for automotive OEMs could grow by nearly 50%, generated primarily from emerging markets, with China presumably a major contributor to that anticipated growth.
At the same time, green technology is becoming more important to the automotive space, although consumer adoption of electric vehicles (EVs) has slowed. In 2008, President Obama set a target of achieving one million plug-in electric vehicles sold by 2015. Sales have fallen short. Moreover, 2015 sales fell 6% year over year to about 115,000 vehicles.
According to MIT Technology Review:
"For all their attributes, electric cars still are haunted by two damning factors: high costs and less-than-optimal batteries. That's where Tesla hopes to make a difference. The company's innovative battery and charging technology has given it a substantial lead in making batteries cheaper and recharging quicker, and it's also helping Tesla lower costs faster than its competitors."
If costs of electric vehicles decline and EV batteries can fuel longer distances combined with a growing network of re-charging stations, electric vehicles are expected to gain traction with consumers.
Keeping up with these changes, as well as potential encroachment by technology companies, could drive car makers' capital expenditures up, we believe, and in turn put pressure on dividends. Automotive News writes that Ford (NYSE:F):
"As part of a $4.5 billion global investment to introduce 13 new electrified vehicles through 2020, wants 10 to 25 percent of its model mix [in China] to be battery-equipped."
Telecom - Steady Dividends
Ranked by dividend yield, two leading telecommunications companies are high on the list. AT&T (NYSE:T) and Verizon (NYSE:VZ) are #2 and #5, respectively. AT&T pays an annual dividend of $1.92, which equates to 4.85% yield. Going back to 1984, AT&T has a strong track record of maintaining or increasing its adjusted (for stock splits) dividend, even paying three special dividends in 2003.

Similarly, Verizon also seems to have a strong track record of maintaining or raising its dividend. Verizon's shares currently pay a $2.26 annual dividend, which equates to a 4.42% yield. It too has had a stable - to increasing - dividend over the years, as illustrated below: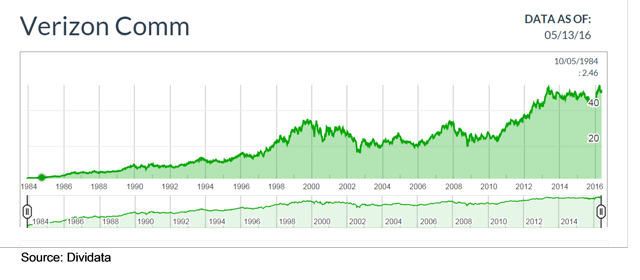 AT&T - Consistent Record Of Dividend Increases
Most of the companies discussed in this article face competitive, technology and/or regulatory risk, among other risks, we believe. Nevertheless, for many, their dividend yields make them attractive income stocks, in our opinion, and worth the effort to take a closer look at several. In particular, we like the dividend plays in the telecom sector. AT&T's shares yield the second highest dividend income of the group, with a consistent track record of steadily growing the dividend.
In fact, CEO Randall Stephenson describes AT&T as, "one of the world's largest communications companies, with more than $147 billion in 2015 revenues and 32 consecutive years of dividend growth." The most recent dividend increase came in December of 2015. The company raised its quarterly dividend by 2.1% to $0.48, which equates to an annual dividend of $1.92 and the 4.90% yield noted earlier. We believe this is an attractive yield from a blue-chip name that offers the potential for further dividend increases down the road.
Disclosure: I/we have no positions in any stocks mentioned, and no plans to initiate any positions within the next 72 hours.
I wrote this article myself, and it expresses my own opinions. I am not receiving compensation for it (other than from Seeking Alpha). I have no business relationship with any company whose stock is mentioned in this article.