Monthly retirement income generated from the portfolios of retirees should come primarily from fixed income securities - corporate bonds, CDs, Treasuries and the like. Retirees should also be kicking off income from the equity portion of their portfolios mainly through large cap, cash intensive businesses that focus on generating significant cash flows. The S&P 500 (NYSEARCA:SPY) currently offers a nice dividend yield of around 2.1%.
But what if you could generate an income from the equity part of your portfolio that is around 40% higher than that of the S&P 500 while also reducing risk?
The FlexShares Quality Dividend ETF (NYSEARCA:QDF) is a fund that focuses primarily on large-cap issues that not only provide a higher yield but also come from companies demonstrating a strong financial position and the ability to sustain and raise their dividends on a regular basis. The fund currently yields 2.9% versus the S&P 500's yield of 2.1%.
Three Part Methodology
The Quality Dividend ETF uses an analytical focus on three primary factors to maximize both dividend quality and yield. The methodology focuses on…
Management efficiency through an examination of both capital expenditure and financing. This screen looks to weed out companies that have experienced rapid growth in either capital expenditure or debt financing. Such companies have less flexibility in maintaining and growing their dividends.

An examination of both profitability and margins. Firms with higher levels of net income and wider profit and operating margins demonstrate a greater ability to sustain and grow dividend payments.

Cash flow assessment. Companies that generate significant levels of cash flow and can easily support liabilities, debt payments and other expenses have a greater likelihood of sustaining their dividends. Free cash flow levels indicate how much liquidity is available after capex investments.
The fund's managers automatically eliminate non-dividend payers and companies that fall in the bottom 20% of the dividend quality screen. Once this screen is complete, the fund aims to accomplish four things…
Skew to the higher end of the dividend quality score range

Maximize the fund's yield

Maintain a beta near 1 when compared to the S&P 500

Apply several diversification controls in order to manage portfolio risk
The entire process is summarized in the graphic here.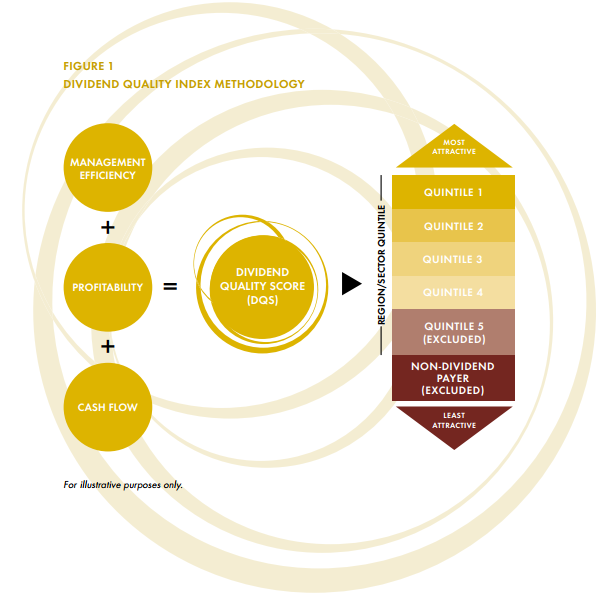 Portfolio Composition
What you end up with is a portfolio that doesn't look all that dissimilar to the S&P 500 with a couple of noteworthy exceptions.

The notable allocation differences between the Quality Dividend ETF and the S&P 500 come from the financial and healthcare sectors. Financials (NYSEARCA:XLF) are overweighted (19% vs. 15%) while healthcare (NYSEARCA:XLV) is underweighted (11% vs. 15%). All other sector weightings are roughly in line with the S&P 500 with the exception of utilities (NYSEARCA:XLU) which have roughly double the weighting (6% vs. 3%) in the ETF.
Within the financial sector, the top two portfolio holdings are Wells Fargo (NYSE:WFC) and JPMorgan Chase (NYSE:JPM) which account for nearly one-third of the sector's allocation. Part of the fund's yield boost comes from investments in real estate. As of the end of the 1st quarter of 2016, the fund has positions in Liberty Property Trust (NYSE:LPT), EPR Properties (NYSE:EPR), Hospitality Properties Trust (NYSE:HPT), LaSalle Hotel Properties (NYSE:LHO), Ryman Hospitality Properties (NYSE:RHP) and CBL & Associates (NYSE:CBL). All of these have yields of at least 5%.
The top 10 holdings in the fund account for 28% of the fund's total assets, six of which yield 3% or greater.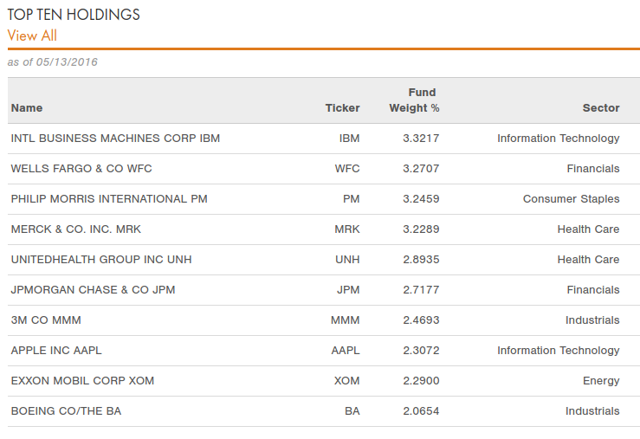 Portfolio Risk
While the goal of the fund is to maintain a beta equal to that of the S&P 500, the fund has managed to come in under that.
The fund's managers quote a weighted average beta of 0.98, as of March 2016, while the fund's three-year beta, as of April 2016, is 0.95. The fund's three-year standard deviation of 11.05 also comes in slightly under the S&P 500's 11.32.
Conclusion
The result of the Quality Dividend ETF's dividend quality score model is a portfolio that produces a yield roughly 40% higher than that of the S&P 500 while doing so with 2-5% less risk.
Retirees looking to increase the monthly income produced by their investments in the current low rate environment may want to consider adding this fund their portfolios. Increasing risk in order to enhance yield has come with its share of problems lately (see MLPs and junk bonds) but the Quality Dividend ETF may provide a boost to overall retirement portfolio income in a risk-controlled manner.
----------
If you're interested in more retirement portfolio strategies and fund analysis, please consider following me by clicking on the "Follow" button at the top of this article next to my name. Even if you don't, thanks for taking the time to read!
----------
Disclosure: I/we have no positions in any stocks mentioned, and no plans to initiate any positions within the next 72 hours.
I wrote this article myself, and it expresses my own opinions. I am not receiving compensation for it (other than from Seeking Alpha). I have no business relationship with any company whose stock is mentioned in this article.