Introduction
In this article, I will discuss the principal financial takeaways from GrubHub's (NYSE:GRUB) most recent quarter. While I recognize that an investment in GrubHub is not swayed too dramatically by the quarter-to-quarter business progress, it is important to stay aware of important trends. By most indications, the quarter was strong, and the thesis appears to be coming to fruition. Recently, however, the discussion surrounding competitive pressures faced by the company are mounting and it appears that the company's positioning in the food delivery chain appears misunderstood. I will also offer my thoughts on that front, and why I believe the company is far better insulated from the likes of Uber (Private:UBER) and Amazon (NASDAQ:AMZN) than one would think from reading some of the headlines.
Quarterly Highlights
GRUB grew revenues 23% y/y ex. acquisitions vs. 4Q's +27%. Management highlighted unfavorable (warmer) weather which negatively impacted order growth and revenue by 200 bps. Gross-food-sale increased 20% ex. acquisitions vs. 4Q's 23%. Organic commission rate +19 bps q/q on mix to delivery. For the upcoming quarter, the company is expected to grow revenues 25% at the midpoint of management guidance. The only disappointing element of the quarter was a deceleration in daily active diner growth, although this was to be expected. As the company expands into markets with structurally lower order frequencies (especially compared to New York City), this should be the norm. I do not believe Street models have properly impacted for this, and it is admittedly very difficult to predict precisely. That being said, the stock has fallen meaningfully for what I assume is the miss in daily active diners, which I believe should have been expected. Importantly, GRUB acquired delivery firm LAbite for $65M in cash to enhance the company's delivery network in Los Angeles, Austin & Bay area. LAbite is operating at annual run-rate of $90M gross food-sales, $24M of revenue and $6M in EBITDA for FY16. Currently, its focus appears to be on more upscale restaurants with higher delivery fee, as this is where delivery economics are most sensible. Impact from this acquisition is excluded from Q2 guidance. GRUB's last-mile delivery business has a run-rate of $250M in gross food-sales before contribution from LABite. Despite strong execution and robust investment in growth initiatives, GrubHub is consistently seen as an impending victim of competition from Uber and Amazon, a claim that is important to address.
Competitive Pressures
On March 15 th, Uber launched a stand-alone food delivery app, "UberEats" in the US in four cities: San Francisco, Los Angeles, Houston, and Chicago. It subsequently launched in New York City on March 22nd. This follows the app's initial December 2015 launch in Toronto, and the launch of the UberEats program which occurred in the US in April 2015. The new stand-alone app evolves the UberEats program to represent a more comprehensive marketplace offering versus the program's initial launch. To this end, the UberEats product now appears more directly competitive with GrubHub. Consequently, a number of concerns have arisen regarding GrubHub's ability to effectively compete and gain dominance in its space.
Although beginning as a platform for order facilitation, GRUB has made significant inroads into last-mile delivery. This has created some misconceptions regarding GrubHub. Principally, one must answer whether GrubHub is a marketplace for orders (that competes against smaller subscale startups) or a delivery company that competes against the likes of Amazon or Uber. I see it as both a marketplace-model company AND a delivery company, whereas Uber is exclusively a delivery company. Moreover, I view its principal asset to be its order facilitation service, which I feel is relatively well-insulated from competition. The CEO likes to compare Uber to another restaurant on its platform, and rightly so. The vast majority of restaurants on GrubHub/Seamless possess their own delivery capabilities. One does not need to use a third-party delivery firm (such as Uber) to order from GrubHub, and it can actually be quite cost-prohibitive to do so. This is the principal reason why those who believe Uber will substantially disrupt the marketplace aspect of GRUB's business are not entirely correct.
Morgan Stanley estimates that roughly 17% of the restaurants on UberEats are unique to the platform. As there is no additional cost for a restaurant to list on multiple platforms, it is likely that neither GrubHub nor Uber will hold unique restaurants for very long. With that said, is there truly a meaningful value proposition for ordering from Uber versus GrubHub? To answer this, consider a standard order and how much it would cost to deliver that (remember the Uber driver needs to be paid as well). On the latest quarterly earnings conference call, GRUB management mentioned that the average take rate for LABites (their recent delivery startup acquisition) is roughly 30%. Since this is the only reference we have, let us assume that Uber charges a similar rate. On a standard $15-25 order, would the average customer really be willing to pay an additional $5-7.5 just for the pleasure of having Uber conduct the delivery? Especially considering that most restaurants on GRUB's platform offer free delivery, this is highly unlikely.
Of course, this also assumes that Uber is even really a superior competitor, an assumption which is predicated on the company's ability to magically shorten delivery times. Let us analyze that further. Fifty percent of the time it takes for the average 40 minute take-out delivery in New York is consumed by restaurant and kitchen workflows, which Uber has absolutely no influence over. Given Uber's logistics expertise, it seems reasonable to expect that it could improve upon the last 20 minute segment of last-mile delivery. Even in this segment, Uber's capability is limited. Real world constraints exists: time to drive to the customer, traffic issues, time to secure bicycles, time to enter the building, time for stairs/elevators. Moreover, for the unit economics of last mile food delivery to make sense, couriers need to deliver more than one order per route, which places further constraints on a couriers' ability to deliver in an efficient manner. As such, I question whether Uber can even meaningfully improve the delivery experience, let alone do it well enough to entice a customer to pay for it. GRUB management has commented that unless Uber "invents a flying bicycle," it is highly unlikely to shorten the last-mile delivery process. As far as logistical advantage is concerned, contemporary software, GPS alerts, geofencing, auto dispatch, and proper algorithms will ensure that GrubHub drivers can perform their delivery in a competent fashion. Moreover, because there is no real reason to order from Uber in the first place, it appears highly unlikely that GRUB's marketplace will face major threats and it also seems plausible that last-mile delivery will not be too severely disrupted. For all of the reasons stated in my previous article, the marketplace will be completely dominated by GRUB, and investors are receiving a free call option on whether their last-mile efforts succeed or not.
Uber's ability to offer quality delivery is also not an assumption set-in-stone. From the looks of it, the company has seen a strong growth in downloads (see graph below). Given the parent company's reach, it is no surprise that UberEats can be cross-marketed effectively. However, this does not guarantee success, for the aforementioned reasons. App downloads are but one measure of top of funnel traffic. Given the higher prices paid for delivery, a flawless consumer experience is needed to drive conversion and retention, and so far consumer reviews are mixed. Morgan Stanley's survey of app store reviews suggests ~50% of iOS and ~70% of Android user reviews rated the app with a negative review of 1 or 2 stars; this compares with only 13% rating GrubHub this poorly. Reviewers pointed to both technical issues with the app and mixed experiences with the service quality. Thus, it is increasingly difficult to imagine UberEats being the competitive threat many see it to be.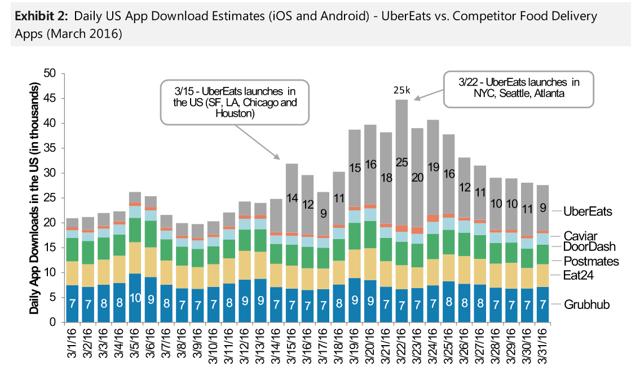 Source: Morgan Stanley
Disclosure: I am/we are long GRUB.
I wrote this article myself, and it expresses my own opinions. I am not receiving compensation for it (other than from Seeking Alpha). I have no business relationship with any company whose stock is mentioned in this article.