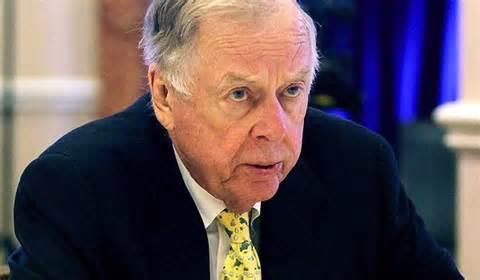 Source: businessweek
With the U.S. rig count continuing to fall, T. Boone Pickens recently said he sees supply in the U.S. tightening quickly going forward. He also noted there won't be a return to the 1,600 rigs in operation near the latter part of 2014.
This followed on the heels of Goldman Sachs (NYSE:GS) saying in a note that the outages and ongoing demand will push the price of oil higher through the rest of the year, with a target of $50 per barrel. Pickens sees oil climbing to $50 to $60 per barrel.
As to the current rig count, the latest numbers from Baker Hughes Inc. (BHI) showed the overall total has dropped to 406 rigs for the week ended May 13, 2016 - a decline of nine rigs week-over-week.
For a long time, the plunge in rig counts was expected to result in a disastrous decline in U.S. supply, yet it continues to remain resilient, dropping at a much slower pace than most people had thought it would.
Breaking down the recent rig count
The rig count of 406, which is down from 482 in the same period last year, includes oil and gas rigs. Of the 406 rigs, Texas accounts for 181 of them, or 45 percent.
Those operating on land fell from 388 to 382. Rigs engaged in inland water operations dropped from three to two. Offshore rigs fell from 24 to 22; both of them located in the Gulf of Mexico, where the rig count now stands at 21.
Taking away the natural gas rig count of 87 last week, the oil rig count came in at 318, a drop of 10 rigs from the week before.
Rig count doesn't need to return to past levels
There's a reason the plunge in U.S. oil rigs hasn't been mirrored by U.S. oil supply - the vast improvement in technology and methodology has resulted in wells producing at much higher levels than in the past; it's why supply continues to surprise to the upside.
So when Pickens suggests the oil rig count won't return to where it was two years ago, and concludes that will bring about a severe tightening of supply, he's not correct in his assessment of the situation. Increased efficiencies has changed the oil rig game, and while there is no doubt U.S. production will continue to drop, it's not going to be at the extreme levels and pace Pickens sees it happening at. That has already been proven over the last couple of years.
With the recent, temporary outages from militants in Nigeria and fires in Canada, there will be a short-term tightening of global oil supply, but that shouldn't be correlated with the U.S. market, or the increase in supply that will continue to exceed demand over the next year.
Completing wells in 2016
Some of the low-cost shale producers in the U.S. are completing wells in 2016, which will offset some of the losses coming from lower rig counts and inactive wells. EOG Resources (NYSE:EOG) has the goal of completing 270 wells in 2016, about 50 lower than its original goal of 320 wells.
If oil is able to hold around the $45 mark, there will be more well completions from other producer that have stated they can be profitable at that price point. EOG says its new "premium" wells can make about 30 percent when oil is at $40 per barrel. They have to like the current price, and if it holds or increases, it will trigger even more completions going forward.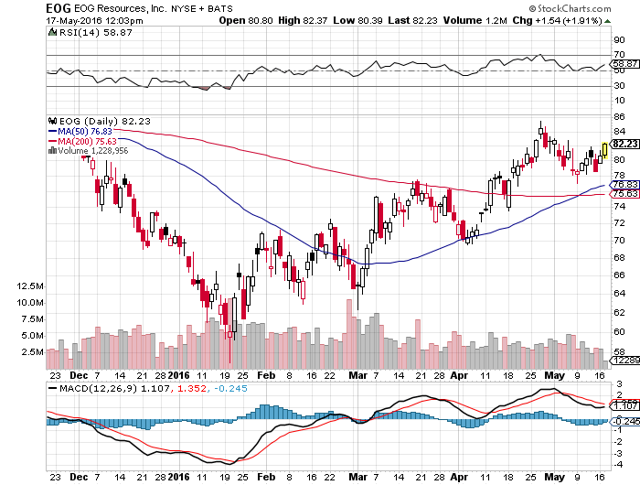 Source: StockCharts.com
This is important because a number of people still don't understand the disruption that U.S. shale has had on the market. I don't mean the obvious increase in oil supply, but the ability for companies to drill but not complete wells, while waiting for the price of oil to reach their targeted number.
Shale competitors don't want the price of oil to rise too quickly or too high. This is why there will be no production freeze or cuts, as it would undermine the market share of those low-cost producers able to make money at the current price of oil.
Conclusion
The relevance of oil rig counts has completely changed with the emergence of the U.S. shale industry. Major improvements have brought about much higher levels of oil extraction than in the past, which means rig counts don't have to return to prior levels. If supply had fallen in conjunction with the decline in rig counts, U.S. supply would be a lot less than it is at this time.
Pickens is basing his conclusions on a rig count environment that is no longer relevant and no longer exists. That of course doesn't mean lower rig counts don't equal lower supply. What it means is lower rig counts no longer equate to a comparable drop in supply, because of the aforementioned improvements in technology and methodology, which has boosted productivity from the wells.
I don't see any immediate and disastrous plummet in U.S. supply. We're going to see a gradual decline at the pace we're now accustomed to until there is a rebalancing based upon supply and demand. If there is no recession, that will probably come about in the latter part of 2017 at the earliest.
Disclosure: I/we have no positions in any stocks mentioned, and no plans to initiate any positions within the next 72 hours.
I wrote this article myself, and it expresses my own opinions. I am not receiving compensation for it (other than from Seeking Alpha). I have no business relationship with any company whose stock is mentioned in this article.