If you have any challenges reading the charts in this article, check out the first article on quick and dirty discounts to book value for mortgage REITs. This piece is designed to be short and to emphasize providing easy charts that help investors identify opportunities for further inspection. Some of these mREITs recently reported their Q1 book value. The changes aren't worked in yet, but I'll reference some of them.
The mREITs
I put most of the mREITs, two corporations, and one ETF into the table because I wanted to get a more complete estimation.
| | | |
| --- | --- | --- |
| (NASDAQ:AGNC) | American Capital Agency Corp | |
| (NYSE:AI) | Arlington Asset Investment Corporation | Not a REIT |
| (NYSE:AMTG) | Apollo Residential Mortgage | To Be Bought by ARI |
| (NYSE:ANH) | Anworth Mortgage Asset Corporation | |
| (NYSE:ARR) | ARMOUR Residential REIT | |
| (NYSE:BXMT) | Blackstone Mortgage Trust | |
| (NYSE:CHMI) | Cherry Hill Mortgage Investment | |
| (NYSE:CIM) | Chimera Investment Corporation | |
| (NYSE:CMO) | Capstead Mortgage Corporation | |
| (NYSE:CYS) | CYS Investments | |
| (NYSE:DX) | Dynex Capital | |
| (NYSE:EARN) | Ellington Residential Mortgage REIT | |
| (NYSE:JMI) | Javelin Mortgage Investment | To Be Bought by ARR |
| (NYSE:MFA) | MFA Financial | |
| (NASDAQ:MTGE) | American Capital Mortgage Investment | |
| (NYSE:NLY) | Annaly Capital Management | |
| (NYSE:NSM) | Nationstar Mortgage Holdings | Not a REIT |
| (NYSE:NRZ) | New Residential Investment Corp | |
| (NASDAQ:NYMT) | New York Mortgage Trust | |
| (NYSE:ORC) | Orchid Island Capital | |
| (NYSE:RSO) | Resource Capital Corporation | |
| (NYSE:TWO) | Two Harbors Investment Corp | |
| (NYSE:WMC) | Western Asset Mortgage Capital Corp. | |
| (NYSE:ZFC) | ZAIS Financial | To be "purchased" in a merger |
| (NYSE:ARI) | Apollo Commercial Real Estate Finance, Inc. | |
| (NYSE:OAKS) | Five Oaks | |
| (NYSE:MITT) | AG Mortgage Investment Trust, Inc. | |
| (NYSEARCA:REM) | iShares Mortgage Real Estate Capped ETF | |
| | | |
The goal here is to have a fairly large sample size so we can identify trends and similarities throughout the sector. The mREIT sector only contains about 25 total organizations but the investing and hedging strategies have very material differences.
Further Revising the Presentation
The new big table I used last week felt like a large improvement, but there was still room for further improvement. Even now, the new method probably isn't perfect. Feedback is appreciated as I'm working to refine these tools and you might have an idea that would help me make it easier to read.
I've temporarily removed NSM and NRZ from the discount charts as I get the latest values. I also removed Starwood Property Trust (NYSE:STWD) from my calculations because they are so unique in the sector that it isn't a great comparison. As I'm working on building out some of my tools I don't expect to offer much coverage on STWD in the next several months. This is nothing against the mortgage REIT, it would simply take too much time to include them.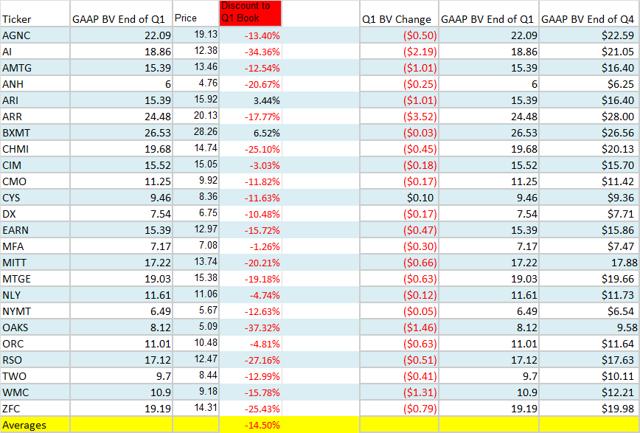 I added the light blue coloring simply to help readers scan the chart faster while keeping their eyes on the intended line.
It is also worth emphasizing that I opted to use the GAAP book value for each mREIT. Most of the time this was available from the earnings release.
The new discounts to the Q1 book value are indicated in the column with the red heading.
The huge discounts to book value should look fairly compelling but I want to emphasize that all mortgage REITs are not created equal. Differences in their cost structure can materially alter their ability to deliver long term performance.
Table 2
The next table compares the latest discount with the discount that existed on the final day of Q1 (to unreported Q1 book value) and the discount that existed on the last day of Q4 2015 (to unreported Q4 book value).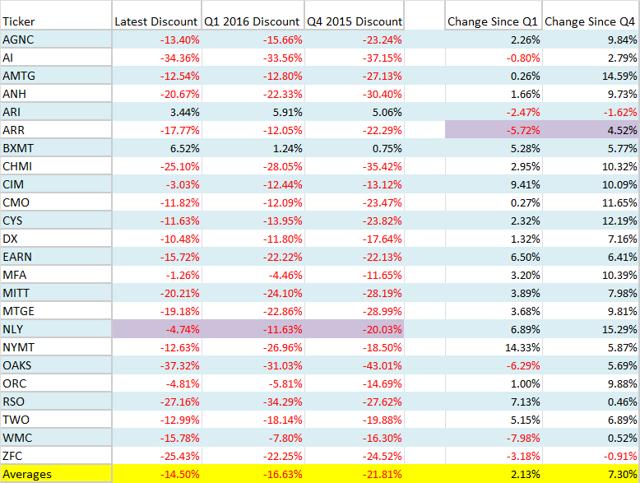 The first point I want to emphasize is the dramatic decrease in the discount to book value for Annaly Capital Management. This is the largest mortgage REIT and can be seen as an indication of where the mREIT industry is headed. The dramatic decline in their discount suggests that discounts across the industry are going to continue to shrink. This creates a huge challenge for me as an analyst. I see the fundamentals (such as net interest spread) declining as the yield curve flattens, but I also see a strong sign indicating that many of these mortgage REITs are very likely to move higher.
The second area I want to highlight is the irony of the situation with ARMOUR Residential REIT. ARR saw their discount decreasing significantly from the end of Q4 2015 to the end of Q1 2015. Now the discount has increased again. They slashed the dividend twice, but I was able to predict those cuts quarters in advance. Their discount was slightly larger than Annaly Capital Management at the end of both quarters but now it is dramatically larger. This reinforces the concept that buyers coming into the sector don't understand how to do the necessary fundamental research.
Table 3
It occurs to me that I may be making more work for myself than necessary by having so any tables, but I find each of these useful in understanding what is happening.
The next chart shows the prices as of the previous article and the change in price since then. One weakness of this method is that it doesn't automatically incorporate dividends paid during that time.
I added a red square next the ones that lost the most.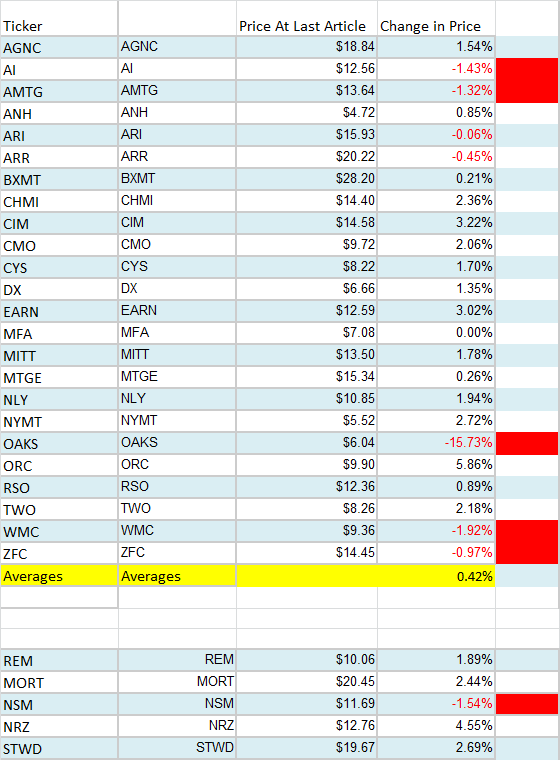 I want to point out the huge loss for OAKS. I wouldn't be surprised if there is a short-term bounce back, but I am heavily concerned by their future prospects.
AMTG and ZFC both have buyout deals in place, so that was interesting.
Conclusion
This article was primarily prepared over the weekend, but I've been so busy it took me until Tuesday morning to finish it. I am heavily concerned about the continual increase in the share price of Orchid Island Capital. Since the weekend the price continued to climber higher. As of my finishing this article Orchid Island Capital is trading at $10.80. Scott Kennedy looks like a genius for buying it on the slide after earnings. To be fair, I believe he is a great analyst. I think the share price is now absurdly high and I'll be surprised if he stays in it after this huge bounce back.
I'm finding ANH interesting as a relative value play and may try to take a closer look at them within the next few weeks.
I'm currently doing some deep digging into MTGE and CIM.
The strong prices on ARI and BXMT are also interesting. I may want to some digging there as well.
I like CMO as a mortgage REIT, but feel most mortgage REITs are overvalued. I expect CMO to announce a dividend cut in Q2 or Q3 absent a material change in the interest rate environment.
I am long in the preferred shares of Dynex Capital, but not in the common stock of any mortgage REIT. As I'm working on some relative value plays, I might enter other positions. I have some buy-limit orders open on preferred shares including more limit orders on the preferred shares for Dynex Capital.
Disclosure: I/we have no positions in any stocks mentioned, but may initiate a long position in ANY MORTGAGE REIT OR THEIR PREFERRED SHARES over the next 72 hours.
I wrote this article myself, and it expresses my own opinions. I am not receiving compensation for it (other than from Seeking Alpha). I have no business relationship with any company whose stock is mentioned in this article.
Additional disclosure: Information in this article represents the opinion of the analyst. All statements are represented as opinions, rather than facts, and should not be construed as advice to buy or sell a security. This article is prepared solely for publication on Seeking Alpha and any reproduction of it on other sites is unauthorized. Ratings of "outperform" and "underperform" reflect the analyst's estimation of a divergence between the market value for a security and the price that would be appropriate given the potential for risks and returns relative to other securities. The analyst does not know your particular objectives for returns or constraints upon investing. All investors are encouraged to do their own research before making any investment decision. Information is regularly obtained from Yahoo Finance, Google Finance, and SEC Database. If Yahoo, Google, or the SEC database contained faulty or old information it could be incorporated into my analysis.
Editor's Note: This article covers one or more stocks trading at less than $1 per share and/or with less than a $100 million market cap. Please be aware of the risks associated with these stocks.