I've been following Bellatrix Exploration (NYSE:BXE) for several quarters and have been long the stock on and off during the past 12 months. Three issues currently concern me, and they need to be resolved before I buy BXE again. First, I need to see positive FCF under the new increased interest cost structure. Second, I need to see the large BXE stock stakes that are for sale to be actually sold or resolved otherwise. Third, natural gas and oil prices need to prove they have stabilized around the current levels, if not rise further (in case of the natural gas).
Has the debt position really improved?
First, there is the perceived debt situation improvement post Q1 earnings announcement because of the sale of "certain production facilities which included primarily compression and ancillary infrastructure" for net proceeds of CAD 75M, which were primarily used to partially repay and thus decrease the revolving credit facilities. This sounds fantastic. Until you read the press release carefully and connect the dots from various parts. Here are the important details regarding the transaction (emphasis mine):
"Bellatrix maintains operatorship and preferential access to the facilities for its operated production volumes and will pay an annual rental fee over the duration of the agreement period. In addition, Bellatrix retains, at its sole discretion, the option to repurchase the facilities at any time during the agreement period.

The estimated rental costs associated with the arrangement will have a modest impact on the Company's overall corporate operating cost profile, which Bellatrix believes will be partially offset by continued cost reduction initiatives and third party processing revenue generated and retained by Bellatrix from the facilities."
In other words, this sale of facilities is not really just a sale but effectively a sale and leaseback with an option to repurchase the assets back. This sale in effect decreases the assets and liabilities (and improves the credit facility covenants, thus improving the position with the specific creditors), but does not really decrease the total net liabilities (if leases are included) as the company is just borrowing from one party to repay another at a higher interest rate. Due to the higher interest payments, the transaction does not decrease the cost structure either.
Just on the contrary, it actually increases it by ~CAD 0.20/boe in the form of higher interest payments going forward (CAD 0.40 increase from the new leaseback fees minus CAD 0.20 decrease in interest paid on the now lower credit facility). Due to this, the company had to update its H1 guidance to include this increase and will manage to offset this increase only partially by continued cost cutting. The company also decreased its capex outlook. So, in the updated guidance, the company's sales decreased while the fixed costs rose. The net liabilities will remain roughly the same. So, this sale and leaseback transaction in effect increases the leverage to energy prices both ways, putting more pressure on the financial stability should natural gas and oil prices fall again.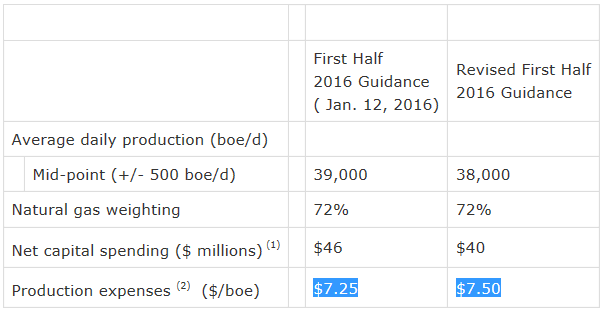 Source: Q1 earnings press release
In other words, Bellatrix will cut into productive activities (capex as well as human and other opex) in order to pay more on interest costs. This is not a positive change for shareholders at all. This is a clear shift of power towards debt holders (credit line providers) from shareholders. Given the company's long history of share dilution, this situation makes me nervous.
There is still a large volume of Orange shares, most probably looking for a buyer
The second concern I currently have is that Orange Capital still holds roughly 30M shares as per its 13D/A filing from April 21. Bellatrix is Orange's only position not liquidated yet. Its stake represents almost a month of average trading volume. The probable impracticality to sell in the open market in a short time without affecting the price may be the reason for Orange to still holding the position.
This is purely my speculation, but I suspect Orange may be trying to negotiate a private deal to sell the entire stake off the market in order to avoid affecting the market price from the very beginning of its sale attempt. Even a private sale of this size is still likely to result in a discount to the market price. In any case, this large Orange stake will continue to keep a lid on the stock price until the situation is resolved.
Mr. Klarman joined the selling camp
Interestingly, Seth Klarman, a large Bellatrix shareholder, has unloaded more than half of his stake recently, as per the Baupost 13G filing from April 8.
There are at least two interpretations of this move that I see, but they are both purely my speculation, and I have no specific information as to their likelihood of being true. First, Mr. Klarman could be losing confidence in the company or he could be seeing better risk/reward opportunities in energy, such as Cheniere Energy (NYSEMKT:LNG), which makes up a large portion of his long portfolio (I am long Cheniere as well). Why else would Klarman sell such a tiny position (relative to the size of his portfolio)? The stake is too small to generate meaningful cash if he was in need of cash. He also liquidated the BXE stake at a loss, which is unusual for him. He tends to add on the downside move and lightens up on the way up if he has a high conviction in his pick, similarly to other truly long-term value investors such as Warren Buffett.
So clearly, Mr. Klarman must have a strong reason to sell BXE now. This should at least make investors pause and make sure they know why they are invested in the stock. As I wrote in one of my previous articles about Mr. Klarman, blindly following a guru and not digging into details of his moves is not a suitable strategy for most. Bellatrix is a leveraged bet on the price of natural gas and oil, so Mr. Klarman's selling of BXE seems to fit the conclusion I made in that article two months ago that he was not really bullish on the prices of natural gas and oil but rather mostly only on the related infrastructure.
The second explanation that comes to mind is that Baupost could be selling BXE because the fund could be planning to make an off-market purchase of the Orange capital's BXE stake and tries to unload some BXE stock to decrease the total post-Orange deal BXE stake. If that was the case, by selling BXE now, Baupost would also be keeping the pressure on the stock price in order to negotiate a better (lower) price and a higher discount to the market price on the BXE deal. I will reiterate that this second reason is even more speculative than the first explanation, and I have no indications that this is the case.
Whatever the reason for Baupost's selling, the fund still owns ~4.5% of the stock of the company. Should it continue selling, this would put even more pressure on the stock price, temporarily. On the other hand, this Orange and Baupost selling pressure is temporary and will likely present a unique buying opportunity right before it ends.
Concluding thoughts
I was long Bellatrix Exploration several times during the past 12 months. As of now, I am still on the sidelines, waiting for the Orange and Baupost potential selling pressure to subside. I also need more confidence that the company is able to generate positive FCF under the new increased interest cost structure in conjunction with the current natural gas and oil prices, which need to at least stabilize at current levels. I am looking forward to open a long Bellatrix position once again as soon as these three issues are resolved most probably within the next couple of months or at most quarters.
If you would like to receive future free updates on Bellatrix and other interesting companies, please click the "Follow" button at the top of this page next to my profile name and picture.
Disclosure: I/we have no positions in any stocks mentioned, and no plans to initiate any positions within the next 72 hours.
I wrote this article myself, and it expresses my own opinions. I am not receiving compensation for it (other than from Seeking Alpha). I have no business relationship with any company whose stock is mentioned in this article.