Last month, I wrote an article about athenahealth (NASDAQ:ATHN) and David Einhorn's bearish views about the company. While at the time I was undecided on whether the company is a real short play, after its latest earnings results, I opened short position.
I believe that the biggest problem that athenahealth is currently facing is the falling number of bookings and its inability to sustain growth in the long term. This was also one of Einhorn's biggest concerns when he pitched his idea to the public. If we look at the latest earnings results, we would see that the company's bookings were below target during the first quarter. And in one of its recent 8-K filings, we would see that the customer satisfaction rate during Q1 was lower than expected.
Besides that, athenahealth faces strong competition from other electronic health record providers like Cerner (NASDAQ:CERN) and Epic. Cerner is also a public company and has a market value of $18 billion vs. athenahealth's $5 billion.
During Q1, Cerner's bookings were in the expectations range, and the company signed a number of important contracts in the recent months, which will give it a competitive advantage in the long term. One of those contracts was signed couple of months ago with the Department of Defense. According to the deal, Cerner will replace DoD's legacy health IT system in more than 55 hospitals and 350 clinics worldwide.
Epic, on the other hand, is a private company with the long history of successful deal making. Last year, Epic became the official EHR provider for Walgreens (NASDAQ:WBA), Mayo and others. And last week, St. Charles Health System, which is one of the biggest employers in Oregon, decided to join Epic's ecosystem and currently preps for its EHR implementation.
And besides competition, there are a number of other red flags that make a short case for athenahealth stronger. One of them is taxes that are being paid related to the net share settlement of stock reward. In Q1, they continued to increase year over year and are currently bigger than the company's free cash flow.

Source: SEC
Here's what Einhorn had to say about this:
Athena wants everyone to back out the stock compensation because it's a "non-cash" expense. Yet, it pays out cash taxes as part of its stock compensation scheme.
athenahealth also fails to make profit from its activities. While we see revenue growth Y/Y, its net profit is below zero. And in order to fund its operations, the company continues to borrow more debt.

Source: GuruFocus
At the same time, athenahealth's stock tumbled since the beginning of this year, and there are no signs of recovery at the moment. Its year-to-date return is -17%.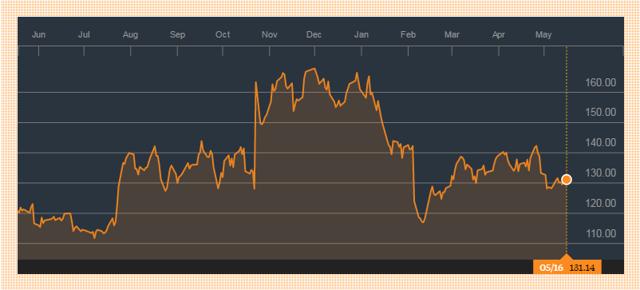 Source: Bloomberg
And with the P/E ratio of over 200 and P/B value of 9.46, athenahealth's current valuation of $5 billion doesn't make any sense.
Also, yesterday's 13-F filings showed that two investment advisory firms Highland Capital Management and Criterion Capital Management decreased their stake in athenahealth due to its underperformance against the market. And according to the facts that I described above, I believe that athenahealth will have a hard time competing with its rivals, and the additional borrowing of debt and slow bookings growth will only make the situation worse. In the last couple of weeks, I opened a short position in the company and have no intention to close it in the coming months.
Disclosure: I am/we are short ATHN.
I wrote this article myself, and it expresses my own opinions. I am not receiving compensation for it (other than from Seeking Alpha). I have no business relationship with any company whose stock is mentioned in this article.