By Rupert Hargreaves
Thanks to fundamental volatility, the oil market has gone from nearing storage saturation to being in deficit much earlier than many analysts were expecting, that's according to a new report from Goldman Sachs' commodities research department.
Supply disruptions in Nigeria, along with a faster than anticipated decline in non-OPEC production and higher than expected global demand for petroleum products, are the three factors that have thrown the oil market into a deficit, from the supply surplus experienced for much of the past 12 months.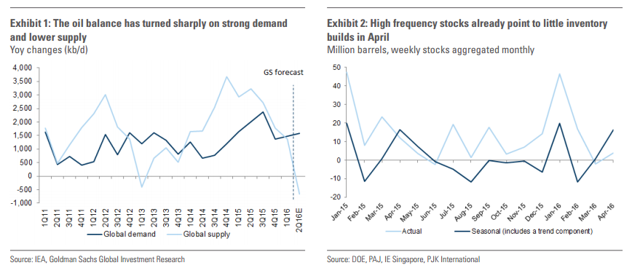 As a result, Goldman is pulling forward its price forecast for WTI. The bank's Q2 2016 WTI price target is now $45/bbl and its 2H 2016 target is $50/bbl.
However, the faster than expected return to normality in the oil market is going to have long-term repercussions.
Goldman believes that restitution of production from regions such as Iran and Iraq will offset lingering issues in Nigeria and higher prices in the second half of 2016 will draw lower cost producers back to the market.
With this being the case, Goldman is now forecasting a more gradual decline in inventories throughout the second half of 2016 and the bank's commodities analysts believe that the oil market is set to return to surplus during the first quarter of 2017- so producers are by no means out of the woods just yet.
With supply set to increase an inventory drawdown set to moderate, Goldman has lowered its 2017 oil outlook and now expects WTI prices to average $45/bbl in Q1 2017 only reaching $60/bbl by Q4 2017.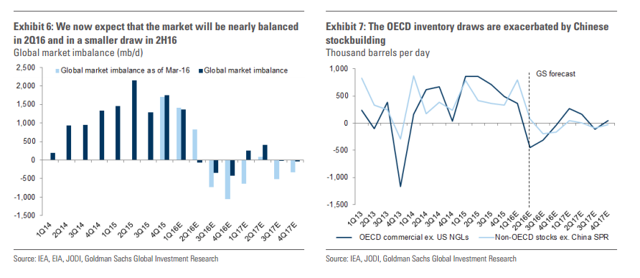 Oil prices: Robust demand
The real surprise for oil traders has been the robust increase in demand, which has surprised to the upside this year. Stronger vehicle sales and a bigger harvest have led to better-than-expected levels of petroleum product consumption in India, Russia, and China where new government stimulus is expected to increase oil demand even more. Goldman is raising its oil demand growth forecast to 1.4 mb/d for 2016, up from 1.2 mb/d previously. Based on the trends seen so far this year, risks to this forecast are skewed to the upside.
On the supply side, production has rolled over faster than many analysts expected so far this year and a wave of supply disruptions has improved the supply-side picture. Several weeks ago, the Kuwait oil workers strike marked a high point in the year as the supply disruptions with around 2.7 mb/d of supply taken went offline including other disruptions. Around 1 mb/d of supply is expected to remain offline throughout the rest year.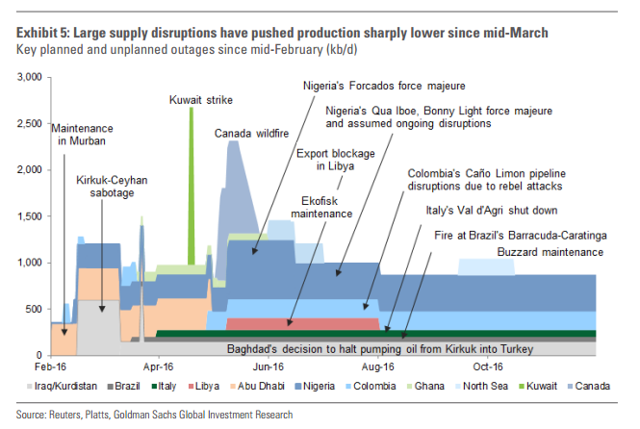 Oil prices: Structural imbalance
While the physical rebalancing has started across the oil market, there continues to be one structural imbalance that continues to inhibit a much faster decline in supply.
Capital markets remain accommodative to oil companies, providing up to $45 billion of equity and bond financing to US oil producers so far this year. The additional funding allowed companies to maintain production and has slowed down the market rebalancing. Unfortunately, as oil prices recover it's possible, it will become easier for oil companies to finance loss-making operations with cheap debt and equity, which is why Goldman is taking a somewhat cautious view on the outlook for oil prices and is avoiding making any overly optimistic price forecast. Cautious optimism remains the name of the game.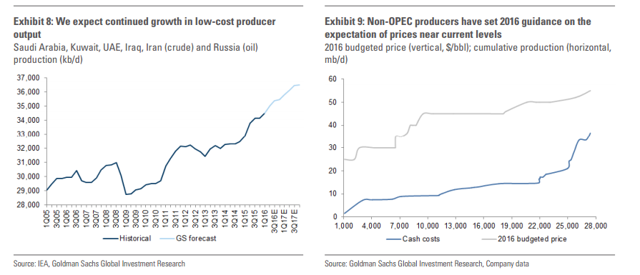 Disclosure: Rupert may hold positions in one or more of the companies mentioned in this article. You can find a full list of Rupert's positions on his blog.
Disclaimer: This should not be interpreted as investment advice, or a recommendation to buy or sell securities. You should make your own decisions and seek independent professional advice before doing so. Past performance is not a guide to future performance.