Prologue
It was exactly ten months ago when I named my original A-Team, a group of 5 high-yield dividend stocks investors should stick with for the long run.
The original group consisted of the following five stocks: Ares Capital Corporation (ARCC), Apollo Commercial Real Estate Finance (ARI), Gladstone Investment (GAIN), Main Street Capital (MAIN) and Starwood Property Trust (STWD). Back then, in July 2015, I also took advantage of the opportunity to nominate Prospect Capital (PSEC) as "the sixth element"; a top candidate to enter my A-Team - and it recently did.
PSEC, together with additional four new names - Hercules Technology Growth Capital (HTGC), Ladder Capital (LADR), Newtek Business Services (NEWT) and New Residential Investment (NRZ) - are now part of my current ten-members A-Team that, for itself, has turned from being a "Fab Five" into a "Top Ten".
Following the end of Q1, I've started a series of articles that break my A-Team into pieces. Each article is focusing on a different company that is part of my A-Team.
In order to know or be reminded what is required in order to make it into my A-Team and what were the closing prices at the end of Q1/2016 - please look at previous parts of this series of articles:
Part I of the series focuses on MAIN (Main Street Capital), the Captain of my A-Team (Golden) Warriors (Stephen Curry).
Part II of the series focuses on ARCC (Ares Capital Corporation), the power-forward of the team (Draymond Green).
Part III of the series focuses on STWD (Starwood Property Trust, Inc.), the small-forward of the team (Harrison Barnes).
After already introducing the point guard and Captain - Stephen Curry aka MAIN, the power-forward - Draymond Green aka ARCC, and the small-forward, Harrison Barnes aka STWD, part IV of the series is presenting the Shooting Guard of the team: Klay Thompson aka NRZ.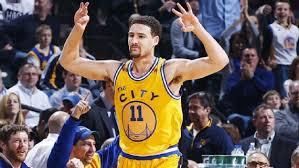 A Bulls Warrior
Stephen Curry is a superb player but without Klay Thompson the Golden State Warriors wouldn't be able to demonstrate the same levels of quality and consistency. Klay Thompson to Stephen Curry is what Scottie Pippen had been to Michael Jordan throughout the Chicago Bulls amazing run during the 1990s: A great supporter, a great matador (bulls warrior), a shoulder to lean and/or cry on.

Klay Thompson is expected to replace the Captain, while the latter is injured, from both production and leadership perspectives. Klay Thompson is expected to be both an explosive star and a loyal servant at the same time. He is the type of player that is expected to balance, complete and sometimes even to overcome the superstar without creating the same buzz, noise or attraction of a superstar.
So is NRZ! Let me say it loud and clear: NRZ is not only a star but it has at least the same qualities that any other A-Team component has. What NRZ lacks is exactly what Klay Thompson lacks: More room and more time to shine, as much as the more experienced and more prominent enjoy from.
Aside of LADR, NRZ is offering the highest dividend yield (currently 13.74%) out of the A-Team but it's definitely not offering the second highest level of risk; quite the contrary! Taking into consideration both sides (yield and risk), NRZ is probably offering the best risk/reward play out of the entire A-Team!
A quick look at how the A-Team components have performed (total return) since the starting point (closing prices of 3/31/2016) reveal how well NRZ has done: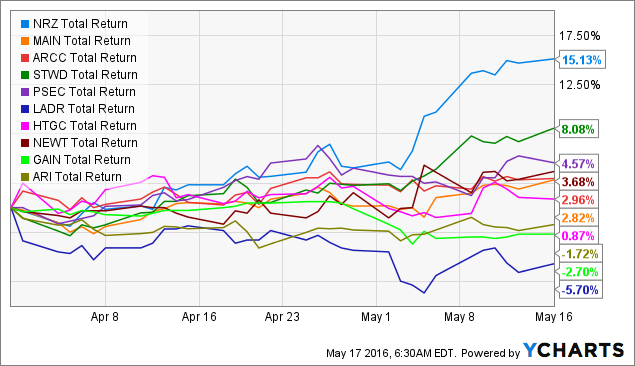 Breaking (last month) the Chicago Bulls' record of 72 wins during a regular season doesn't necessarily make the Golden State Warriors a better team than the Bulls of 1996. It has the potential and it has the talent but there's still a long way to go - and many trophies to achieve - in order to mention these two teams in the same breath.
Similarly, NRZ recent run doesn't and can't put it neck to neck with MAIN, ARCC or STWD track record. Nonetheless, NRZ definitely has the potential and talent to challenge these much more experienced and decorated names.
NRZ is a fearless warrior that on one hand comfortably dancing with and competing against bulls but on the other hand requires courage and balls.

Company Profile and Focus Areas
NRZ. is a publicly traded REIT that focuses on investing in, and actively managing, investments primarily related to residential real estate.
The company aims to drive strong risk-adjusted returns primarily through investments in (1) Excess Mortgage Servicing Rights ("MSRs"), (2) Servicer Advances, (3) non-Agency residential mortgage backed securities ("RMBS") and associated call rights.
The company's objective is to leverage its proven investment expertise to deliver attractive returns that will help drive strong and growing dividends to shareholders. NRZ is targeting assets that generate stable long term cash flows and employ conservative capital structures to generate returns throughout different interest rate environments.
Over the last few decades the complexity of the market for residential mortgage loans in the US has dramatically increased. The company's management believes that unfolding developments in the approximately $21 trillion US residential housing market are generating significant investment opportunities. For example, in the aftermath of the US financial crisis, the residential mortgage industry is undergoing major structural changes that are transforming the way mortgages are originated, owned and serviced. These changes are creating a compelling set of investment opportunities. As such, the management believes that NRZ is one of only a select number of market participants that have the combination of capital, industry experience and key business relationships we think are necessary to take advantage of this opportunity.
NRZ was formed as a wholly owned subsidiary of Newcastle Investment Corp. NRZ was subsequently spun off as a separate publicly-traded entity on May 15, 2013. the company is externally managed and advised by an affiliate of Fortress Investment Group LLC and benefit from the resources of a highly diversified global alternative investment manager with $70.5 billion of Assets under Management ("AuM") as of December 31, 2015.
Main Areas of Activities and Respective Results
Excess MSRs
According to the company's view, the approximately $10 trillion mortgage servicing market presents a number of compelling investment opportunities. A mortgage servicing right ("MSR") provides a mortgage servicer with the right to service a pool of mortgage loans in exchange for a fee.
Approximately 74% of MSRs are currently owned by banks. NRZ expects this number will continue to decline as banks face pressure to reduce their MSR exposure as a result of heightened capital reserve requirements under Basel III, regulatory scrutiny and a more challenging servicing environment. As banks continue to sell MSRs, there is an opportunity for entities such as New Residential to participate through co-investment in the corresponding Excess MSRs.
An MSR is made up of two components: a basic fee and an Excess MSR. The basic fee is the amount of compensation for the performance of servicing duties, and the Excess MSR is the amount that exceeds the basic fee. As the owner of an Excess MSR, NRZ collects monthly cash flows from the MSR, but do not assume any servicing duties, advance obligations or liabilities associated with the portfolios underlying our investment.
As a wholly owned subsidiary of Newcastle, NRZ pioneered investments in Excess MSRs.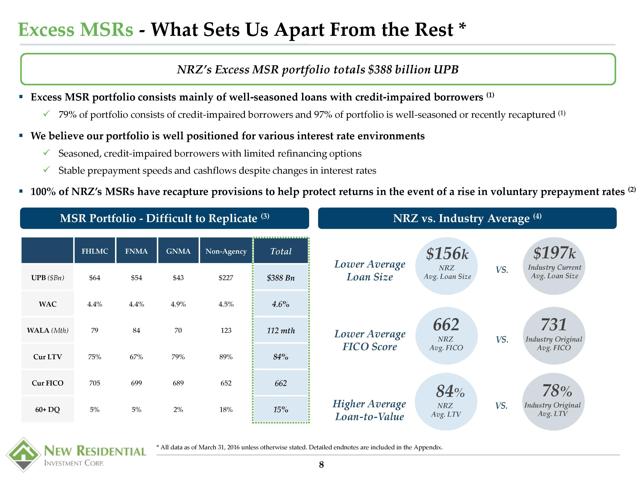 Furthermore, as a leading MSRs player, NRZ is able to maintain a slower prepayment rates than the industry average. That, for itself, ensures that NRZ is able to benefit from the assets over a longer period of time compare to its peers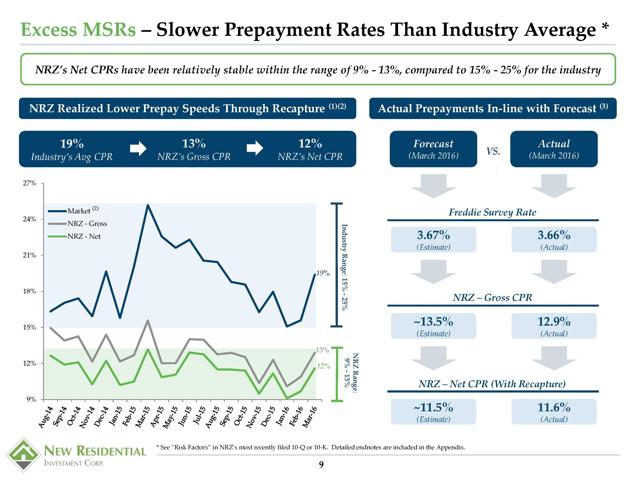 Finally, being NRZ main activity, MSRs generate a substantial cash flow that is carrying a fantastic 21% IRR: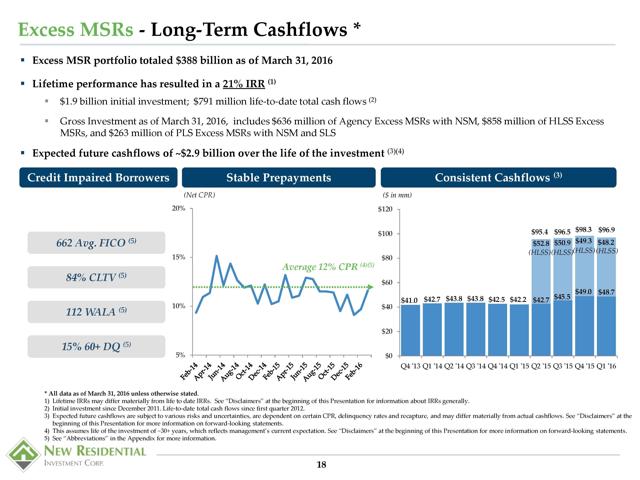 Servicer Advances
Servicer advances are a customary feature of residential mortgage securitization transactions and represent one of the duties for which a servicer is compensated through the basic fee component of the related MSR, since the advances are non-interest bearing. Servicer advances are generally reimbursable cash payments made by a servicer when the borrower fails to make scheduled payments due on a mortgage loan or (ii) to support the value of the collateral property. The purpose of the advances is to provide liquidity, rather than credit enhancement, to the underlying residential mortgage securitization transaction. Servicer advances are usually repaid from amounts received with respect to the related mortgage loan.
Advances are typically "top of the waterfall"; first in line to be repaid and thus are very high credit-quality. Furthermore, NRZ expects advance balances to decline substantially over time as delinquencies continue to improve and foreclosure timelines normalize. The company believes advances will provide an opportunity to invest in core servicing assets that generate attractive yields.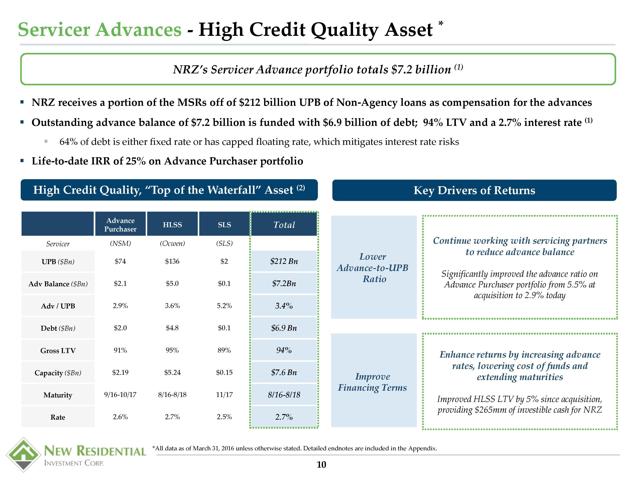 Non-Agency RMBS and Associated Call Rights
NRZ acquires and manages a diversified portfolio of credit sensitive real estate securities, including non-Agency RMBS, which the company believes complement the Excess MSR investments.
Residential mortgage backed securities ("RMBS") are securities created through the securitization of a pool of residential mortgage loans. As of the fourth quarter of 2014, approximately $7 trillion of the $10 trillion of residential mortgage loans outstanding was securitized.
Since the onset of the financial crisis in 2007, there has been significant volatility in the prices for non-Agency RMBS. This has resulted from a widespread contraction in capital available for this asset class, deteriorating housing fundamentals, and an increase in forced selling by institutional investors (often in response to rating agency downgrades). While the prices of these assets have recovered from their lows, from time to time there may be opportunities to acquire non-Agency RMBS at attractive risk-adjusted yields, with the potential for upside if the US economy and housing market continue to strengthen. Furthermore, NRZ believes that in many non-Agency RMBS vehicles there is a discrepancy between the value of the non-Agency RMBS and the recovery value of the underlying collateral. The company intends to pursue opportunities to structure transactions that would enable us to realize this difference, particularly through the exercise of call rights.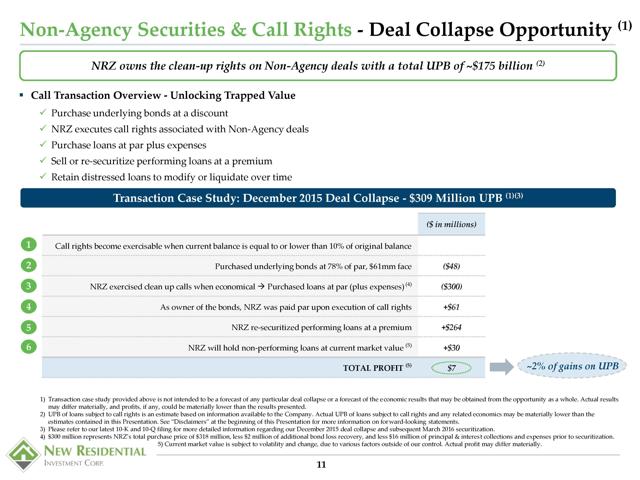 NRZ holds call rights on non-Agency residential mortgage securitizations which become exercisable once the current collateral balance reduces below a certain threshold of the original balance. The company believes a call right is profitable when aggregate loan value is greater than the sum of par on the loans minus any discount from acquired bonds, plus expenses related to such exercise. Profit with respect to our call rights is generated by selectively retaining loans that meet our return thresholds or re-securitizing or selling performing loans for a gain and, prior to exercise, purchasing certain underlying tranches at a discount to par. Upon exercise, NRZ is able to realize any remaining accretion to par.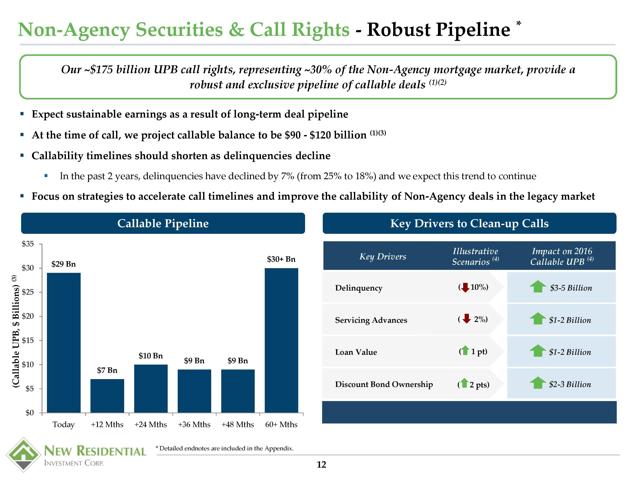 Other Investments
NRZ may pursue other types of investments as the market evolves, such as:
RESIDENTIAL MORTGAGE LOANS:
NRZ believes there are pockets of opportunity for the company to invest in portfolios of non-performing and other residential mortgage loans, including performing, re-performing and reverse mortgage loans.
In certain of these investments, the company would expect to acquire the loans at a discount to their face amount, and (either independently or with a servicing co-investor) would seek to resolve the loans at a substantially higher valuation. NRZ would seek to improve performance by transferring the servicing to a reputable servicer, which we believe could increase unlevered yields. In addition, the company may seek to employ leverage to increase returns, either through traditional financing lines or, if available, securitization options.
While a number of portfolios of non-performing residential loans have been sold since the financial crisis, NRZ believes the volume of such sales may increase for a number of reasons:
As bank balance sheets become healthier, many large banks will have more financial flexibility to recognize losses on non-performing assets.
The US Department of Housing and Urban Development ("HUD"), which acquires non-performing loans from Ginnie Mae securitizations, has been increasing the number of portfolio sales.
Residential loan servicers-which have traditionally resorted to loan foreclosure procedures and subsequent property sales to maximize recoveries on non-performing loans-may increase sales of defaulted loans.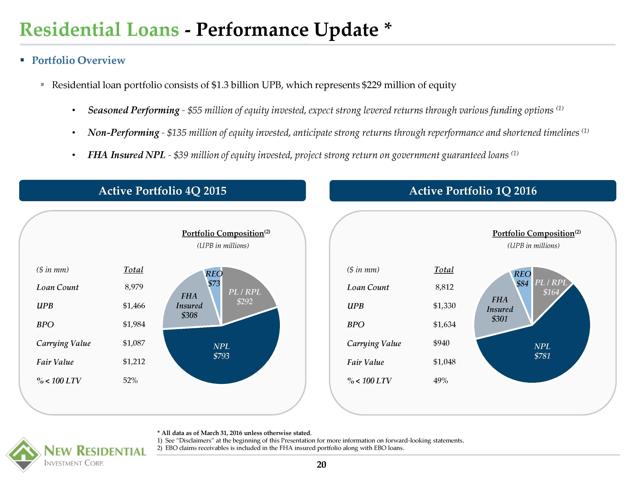 CONSUMER LOAN PORTFOLIO:
On April 1, 2013 NRZ acquired from HSBC Finance Corporation (NYSE:HSBC) a 30% equity interest in a consumer loan portfolio with an unpaid principal balance ("UPB") of $4.2 billion as of December 31, 2012. The company invested alongside Springleaf Finance, Inc., a Fortress (NYSE:FIG) affiliate who will also be responsible for servicing the loans, and another third party (collectively the "co-investors").
The total purchase price for the portfolio was approximately $3.0 billion, inclusive of closing costs, fees and adjustments related to estimated net cash flows received by HSBC between December 31, 2012 and March 31, 2013. The investment was initially financed using $2.2 billion of asset backed notes and the balance of the purchase price was funded with approximately $800 million of equity. Newcastle's initial equity investment was approximately $250 million.
In September 2013, NRZ and the other co-investors issued and sold an additional $372 million of asset-backed notes for 96% of par. These notes were subordinate to the $2.2 billion of debt issued in April 2013, had a maturity of December 2024 and paid a coupon of 4%.
In October 2014, NRZ and its co-investors refinanced the outstanding asset-backed notes with an asset-backed securitization for approximately $2.6 billion. Through a combination of distributions and refinancing proceeds, our life-to-date cash flows exceeded our basis such that, as of March 31, 2015, the carrying value of the company's investment in consumer loans had been reduced to zero. NRZ continues to own an interest in this entity, from which it expects to receive significant future cash flows.
NRZ's Main Strengths and Most Compelling Features
Eligibility to own MSRs. The company has been very vocal about its desire to be a fully licensed MSR owner, not necessarily an operator, in all 50 states. NRZ is currently licensed in 46 states and it's working on the remaining four. The company expects this to be achieved by the end of the Q2 or early Q3. Such eligibility would gives NRZ a lot of flexibility through the ability to own MSRs, not necessarily operate a servicing company. For example: If a company wants to sell $20bn of MSRs and (assuming) one of NRZ servicing partners doesn't want to acquire those with them, NRZ will be able to acquire those in their own name and then (if they wish to) sub-service those at/to a number of different ways/counterparties. While this is more of a strategic move, it will allow the company much more flexibility in running its business and, consequently, taking better decisions as well as allow more business when it comes to its main (MSRs) activity.
A large funding capacity is both available and growing. Keeping dry powder is always warranted, especially at times with higher levels of uncertainty and confusion. In 2016, we have seen the credit markets (yields and spreads) going through a manic-depression roller coaster: "Depresia" first (till mid February), that has followed by an even greater "Mania" (since then) but, as we all know, this mood can easily and quickly shift. At such times, where we see sharp swings in investors' sentiments - maintaining a significant fire power is as important is using it (when it is being deployed) wisely.
A potential large increase in NAV. At the end Q1 NRZ entered into a significant deal that may affect its future landscape very favorably: Together with funds managed by Blackstone (NYSE:BX), NRZ purchased OneMain (NYSE:OMF) Holdings' 47% stake in four JV LLCs (known as the "SpringCastle Joint Venture") for $111.6M. The SpringCastle JV was formed in 2013 to purchase a consumer loan portfolio from HSBC. The purchase brings NRZ's stake in the JV from 30% to 53.5%, and as a result, the fair value of SpingCastle's assets and liabilities are being reflected on the NRZ balance sheet as of March 31. Upsizing its stake substantially should benefit NRZ greatly because this deal has been a great sucess for the company along the years. OMF's CEO Jay Levine notes the sale monetizes what has been an enormously successful investment, cuts balance sheet leverage, and significantly adds to capital. He anticipates minimal impact on near-term earnings, and the company will continue to make money servicing the portfolio. During the past quarter, NRZ completed its 6th Non-Agency called loan securitization, totaling $261 million. Adding to that the ability to own MSRs - expected to be obtained inside 2016 - and you got yourself a recipe for future potential growth of revenues, profits and NAV.
Earnings are comfortably covering the dividend. Both core and GAAP earnings leaves a cushion of more than 5% above the distribution. A payout ratio of <95% and the current earnings growth rate that NRZ achieves are very encouraging. As a matter of fact, should NRZ is able to maintain its current earnings growth path - Q1/16 represent an 11% increase YoY in core earnings - I wouldn't be surprised to see a dividend increase towards the end of 2016 or the beginning of 2017 (based on end of year reports).
The portfolio is well positioned for different interest rate scenarios. We don't know when and we don't know how much but if and when the Fed hikes - it's better to be ready. NRZ is ready and while I don't expect any significant rise in interest rates in the foreseeable future I like a company that is always hoping for the best but preparing for the worst. While the recent filings haven't reveal much information, it's worthwhile quoting two paragraphs from the company's annual 10-K that shows how fluctuations in the credit markets have different-opposite effects on the company's assets valuations: "As of December 31, 2015, an immediate 50 basis point increase in short term interest rates, based on a shift in the yield curve, would increase our net book value by approximately $135.9 million, and a 50 basis point decrease in short term interest rates would decrease our net book value by approximately $144.3 million, based on the present value of estimated cash flows on a static portfolio of investments. This does not include changes in our book value resulting from potential related changes in discount rates"
"As of December 31, 2015, a 25 basis point increase in credit spreads would decrease our net book value by approximately $81.5 million, and a 25 basis point decrease in credit spreads would increase our net book value by approximately $83.3 million, based on a static portfolio of investments, but would not directly affect our earnings or cash flow."
NRZ is trying to be as neutral as possible to interest rates. It's not easy and it's probably not fully achievable but principally, the areas in which NRZ is active and the way the company operates aims to balance the result of interest rates and spreads movements. As such, (in an ideal world) while some of the assets are being marked up, others are being marked down; similarly, the BV is expected to remain resilient to such movements and to remain about the same (assuming everything else remain stable/equal) if it's only up to these movements.
NRZ high dividend yield is an opportunity, not a threat!
NRZ high dividend yield may be a red signal for many investors but I truly believe that this is the wrong way to look at it. A high dividend yield is usually a result of a weak stock price action that for itself is usually a result of a weak operational performance. NRZ is a classic case where the dividend yield went higher while the operational performance got better. This is quite a unique case that, for itself, is a result of few NRZ related issues (see hereinafter) but the main point remains intact: NRZ high dividend yield is an opportunity, not a threat!
Take a look at the below chart that cover the past year. While the diluted EPS rose circa 30% (!) and while the dividend only went up slightly, the stock price sank about 22.6%.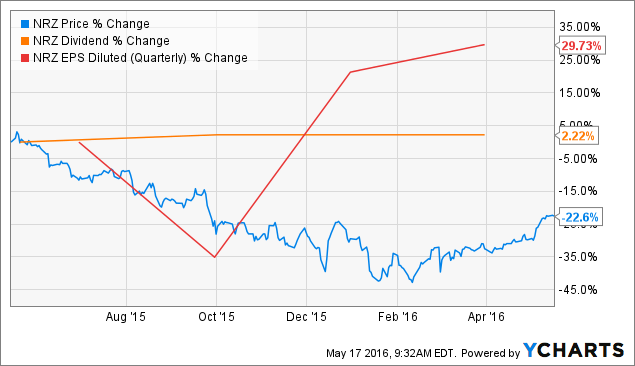 Conclusion: When an investor evaluate the dividend yield a simple assumption of "high yield = something wrong" is not always true. It's important to understand whether the high yield is a result of an operational underperformance or of a Mr. Market (stock price) malfunction. While the former should definitely be seen as a red flag the latter should be more closely looked at. In many cases - high yield is simply a result of too many people knowing too little about the company they are dumping its shares.
Why is NRZ Stock Price Has Been so Depressed Then?
In one word: OCWEN.
Ocwen Financial Corporation (NYSE:OCN) has been a major headache and probably the main concern for NRZ shareholders. Being one of two main mortgage service providers of NRZ, together with Nationstar (NYSE:NSM) OCN solvency is of significant importance to NRZ.
OCN experienced a sequence of bad events: Terrible Q4/2015, combined with (another) SEC probe (per the company's 10-K) followed by another terrible Q3/2016 ER saw its share price losing more than 2/3 of its value.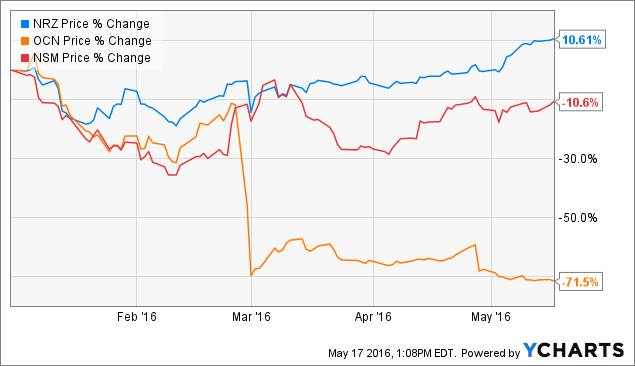 NRZ could - and perhaps should - had not remained untouched by the news and there's no doubt that OCN status had - and still has - a significant impact on NRZ performance. I believe that much of NRZ inability to move higher in a substantial way is related to the "OCN effect".
Admittedly, I'm no expert when it comes to OCN and when I can use other people's expertise I'm happily doing so. Therefore, allow me to use two fine articles that shed more light on this matter:
The first article, written by Tim Plaehn, is actually making a case for NRZ possibly benefiting out of Ocwen's problems.
The second article, written by Michael Boyd, is making a case for Ocwen maintaining its solvency and actually sees a great potential in being long OCN.
Once again, I'm definitely not an OCN-expert but reading these two fine articles helped me maintain my already high confidence in NRZ.
What I do know and like to emphasize are the following:
1. NRZ becoming licensed in all US states would allow it to own MSRs and would reduce its dependence on and ties with its current service providers, i.e. OCN and NSM. Nonetheless, it's important to note that the old purchase agreement with Ocwen allow NRZ to transfer assets under its own name. Nonetheless, although NRZ economically own the old HLSS Ocwen MSRs, the legal ownership can't be transferred to NRZ name (and own balance sheet) until April 2017.
2. This situation, while completely different, reminds me of what has happened to Corenergy Infrastructure Trust (NYSE:CORR) following the recent chapter-11 filings of its two leading tenants: Energy XXI (NASDAQ:EXXI) and Ultra Petroleum (NYSE:UPL). Looking at the chart below it's clear that while the short-term reaction to the bankruptcy announcements have been negative, the market did realize very quickly that a threat is also an opportunity.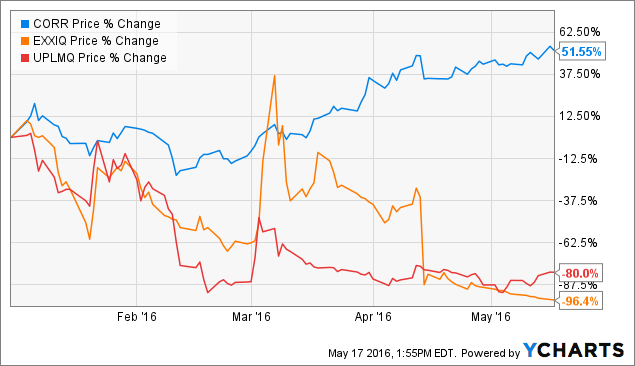 Once again, I do not imply and I do not wish anyone to think that the assets owned by CORR (and used by EXXI and UPL) are similar to the assets economically belong to NRZ but legally owned by OCN. These are two very different stories from a legal and legal implication perspectives. What I am trying to emphasize is that a threat is also an opportunity and that while there's no doubt that NRZ would very much like OCN to remain solvent - it won't be the end of the world if it doesn't.
NRZ from a Trading Perspective
Unlike the previous three components that I already covered where the dividend "suppose" to outweigh the price appreciation over time, in NRZ - in spite of the very rich dividend yield - I wouldn't be surprised if the price appreciation would be as significant as the income generation.
The reason for this is quite simple: I don't rule out a significant increase into NRZ NAV. While most REITs and BDCs struggle to increase its NAV these days, I believe that NRZ has many "hidden pockets" of value.
Furthermore, NRZ is a unique-special breed. It's classified as an mREIT but it's a kind of hybrid REIT that is operating as both a mortgage and equity REIT; perhaps (to some extent) as a BDC too... With a market cap that only recently went over $3bn, I believe that it's only the beginning or an era where more and more investors discover this gem.
NRZ Investment Recommendation
Share price
Rating
>21
Strong SELL
18 - 21
SELL
15 - 18
HOLD
12 - 15
BUY
<12
Strong BUY
In spite of the past few months significant run up, I still consider the current stock price of NRZ, ~$13.39, to be relatively cheap as it's comfortably located at the middle of my "BUY" trading recommendation.
Epilogue
New Residential Investment Corp. is a unique component among my A-Team. While the basic requirement of any component is to generate an annual total return of 10% (on average) over the 12 and 50 months (since 31 March 2016), I admit that I have higher expectations from NRZ.
I don't "only" see a 50% total return out of income generation but I wouldn't be surprised to see a 50% price appreciation even from the current level. Obviously, this is neither guaranteed nor simple and it's subject to the starts lining up in the right way for NRZ.
Unlike MAIN, NRZ management still needs time (and track record) to be defined as a top quality.
Unlike ARCC, NRZ portfolio is less diversified and more complex.
Unlike STWD, NRZ is anything but boring...
But unlike all these great three names, NRZ is young and restless, NRZ is charming and magnificent, NRZ is more interesting and more complex.
Remember: NRZ high dividend yield is an opportunity, not a threat!
NRZ is the Scottie Pippen and Klay Thompson of my A-Team; the shoulder that all components are happy to lean on and possibly even (over time) learn from.
Disclosure: I am/we are long ARCC, ARI, PSEC, HTGC, GAIN, MAIN, STWD, LADR, NEWT, NRZ, BX, CORR.
I wrote this article myself, and it expresses my own opinions. I am not receiving compensation for it (other than from Seeking Alpha). I have no business relationship with any company whose stock is mentioned in this article.
Editor's Note: This article covers one or more stocks trading at less than $1 per share and/or with less than a $100 million market cap. Please be aware of the risks associated with these stocks.