Treasury yields are historically low, and dividend yields are near lows as well. The market does not want to give up yield cheaply.
What about yield growth? Let's have a look at the Dividend Growth ETFs to see what the investment environment is like, and to see if we can identify the best Dividend Growth ETF in the market.
Screening the Dividend Growers
We'll start by running a screen with the following criteria:
At Least $100 Million in Assets - Large enough be run efficiently and have ample liquidity.
1.75% Current Yield - A low hurdle.
Domestic Only - We'll take advantage of a degree of inflation protection by staying in American equities.
Index Funds Only - We'll save on expenses and guard against underperformance by screening out actively managed funds.
Dividend Growth Methodology - We'll only include funds that track an index focused on dividend growth.
Our screen returns seven ETFs: Vanguard Dividend Appreciation ETF (NYSEARCA:VIG), SPDR S&P Dividend ETF (NYSEARCA:SDY), S&P 500 DIVIDEND ARISTOCRATS ETF (NYSEARCA:NOBL), PowerShares High Yield Equity Dividend Achievers Portfolio ETF (NYSEARCA:PEY), WisdomTree U.S. Quality Dividend Growth Fund (NASDAQ:DGRW), iShares Core Dividend Growth ETF (NYSEARCA:DGRO), and the PowerShares Dividend Achievers Portfolio ETF(NYSEARCA:PFM).
-- all data from etfdb.com where available, also Google Finance and Morningstar)

Let's also compare these funds to High Yield and the broad market. We recently wrote about the best High Yield ETFs, and our favorite was the PowerShares S&P 500 High Dividend Low Volatility ETF (NYSEARCA:SPHD). We'll also include the popular Vanguard High Yield Fund (NYSEARCA:VYM), and the SPDR S&P 500 ETF (NYSEARCA:SPY).
-- all data from etfdb.com where available, also Google Finance and Morningstar)

Most of the Dividend Growth ETFs have a predictably low yield, about the same as the broad market: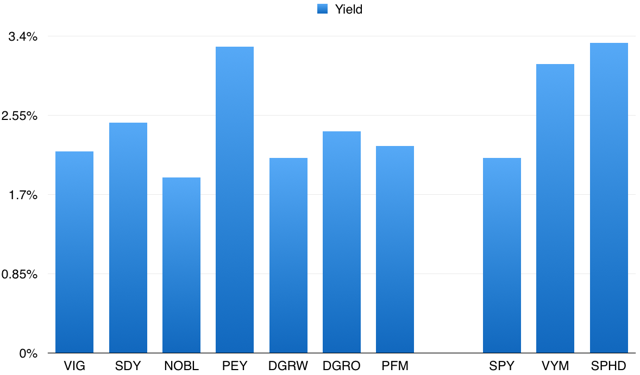 What we did not predict, though, was that the Dividend Growth ETFs would only equal the High Yield ETFs in 5 year dividend growth, and lagged the broad market badly (remember some of these numbers are less than five years):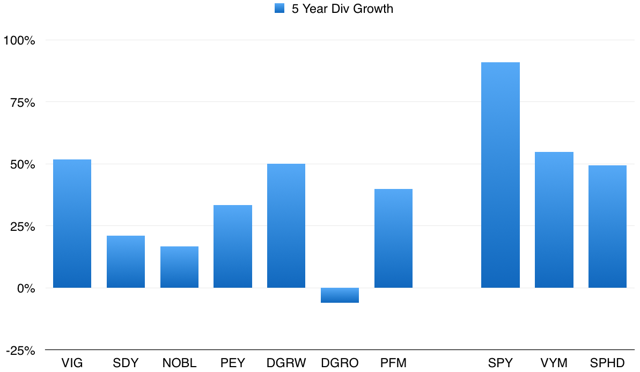 That is concerning, to say the least. Dividend Growth investors are foregoing the "pleasure" of a higher dividend today in hopes of a higher one tomorrow, but they are not getting it.
Looking at assets, Vanguard and the SPDR Dividend ETF are the leaders in the class, but SPY puts their size in perspective: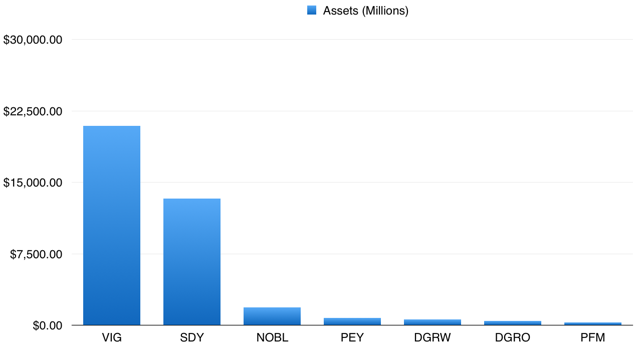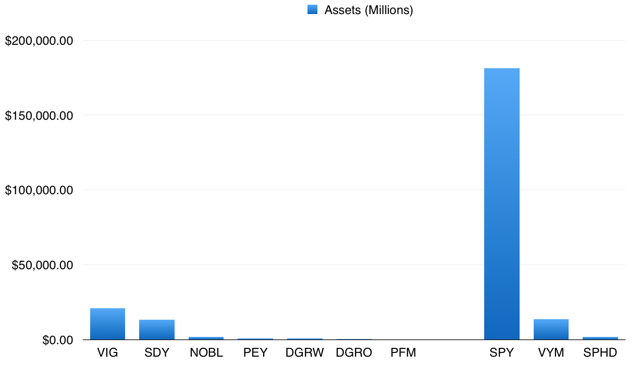 Do the Dividend Growth ETFs make up for their lack of growth with low expenses? Outside of Vanguard and iShares Core, they do not.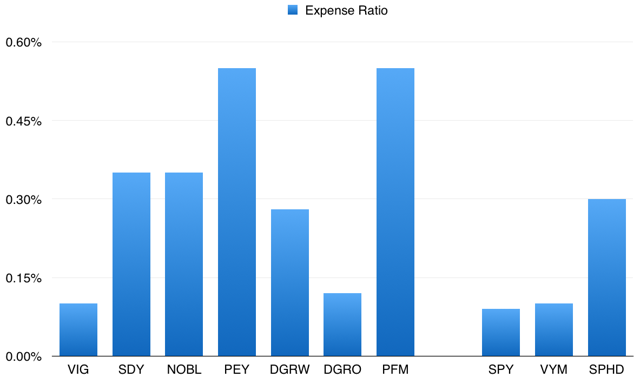 In total returns, the Dividend Growth ETFs have mostly held their own: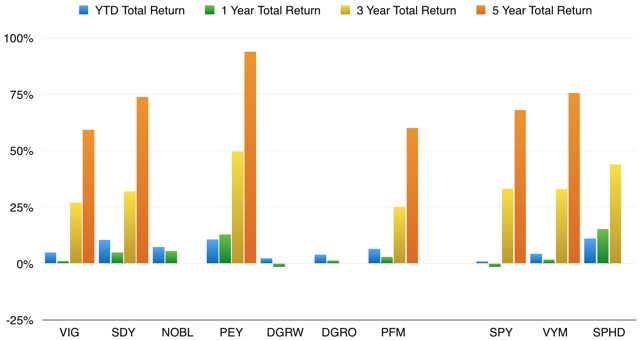 Dividend Growth ETFs vary pretty widely in the number of holdings: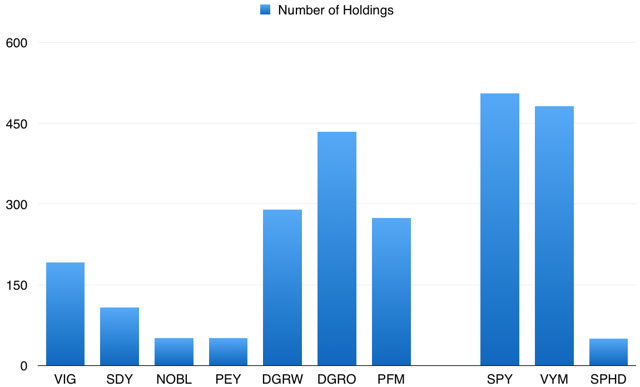 An Underwhelming Class
So the Dividend Growth ETFs are yielding about the same as the broad market, but growing dividends at half the rate. We are surprised at how poorly this group of ETFs stacks up to the field. Let's look at individual names and see if we are missing anything.
Power Under-Achiever
The PowerShares Dividend Achievers ETF seems to have nothing going for it, and a high expense ratio. But ETF dividends can be erratic, so to get a better idea of how it has really done, let's look at its performance since 2011: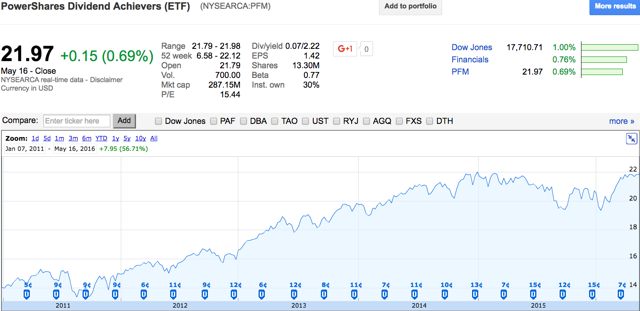 That makes its dividend growth look a little better. But it is still not better than the broad market or High Yield: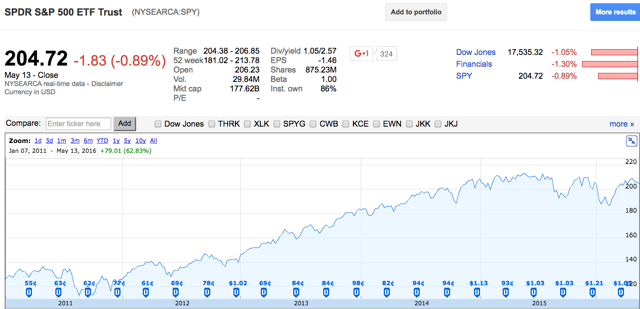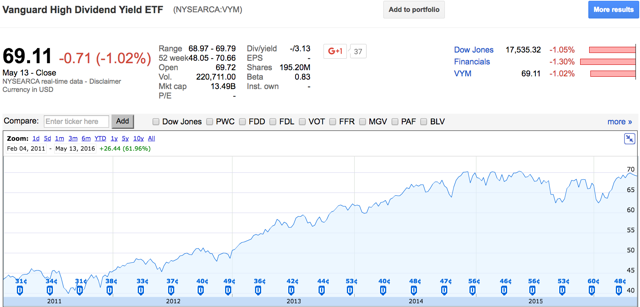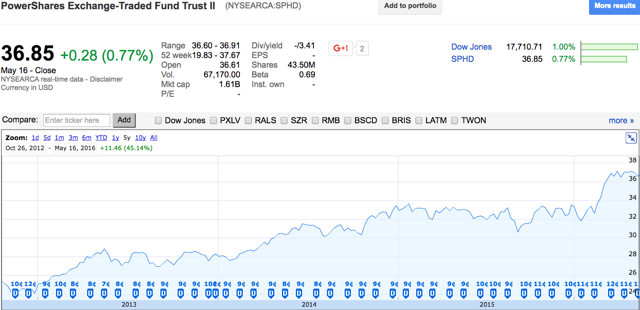 There's no reason to pay up for the PowerShares Achievers ETF, we will drop it from the list.
WisdomTree Shade
We will also drop the WisdomTree Dividend Growth ETF here. It's the only dividend-focused ETF that managed to log a loss over the last year, and it's got nothing on the other ETFs that justifies the higher expense ratio.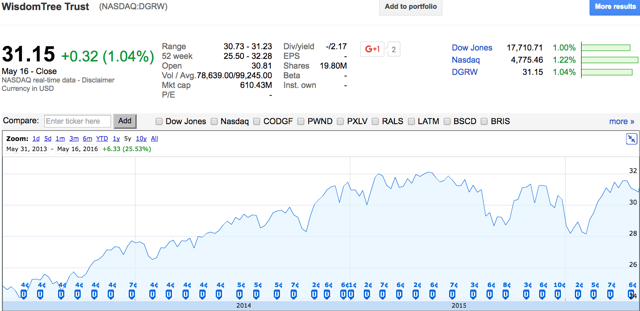 No Nobility in NOBL
We also cannot get behind the S&P 500 Dividend Aristocrats ETF. In its short history it has not distinguished itself, the yield is below 2%, and the expense ratio is not worth it at 0.35%.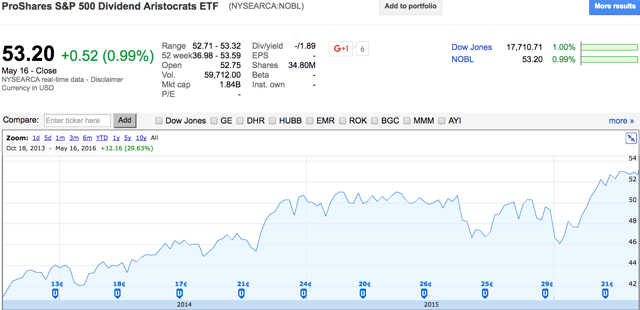 You're Growing the Wrong Way
One more easy cut is the iShares Core Dividend Growth ETF. The expense ratio is right at 0.12% -- but it has no history to judge, and its latest dividend is down from last year.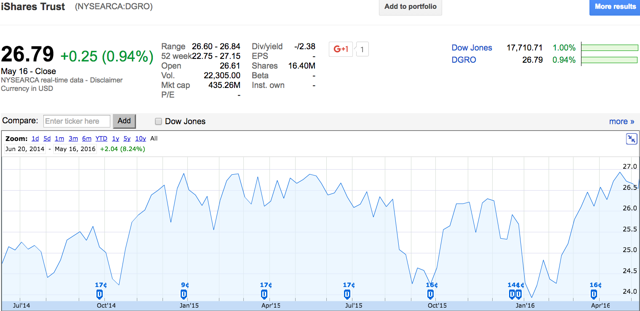 High Yielding Growth, Hmmm
Our first honorable mention is the PowerShares High Yield Equity Dividend Achievers ETF. This fund tracks the Dividend Achiever 50 Index, which includes stocks that have increased their dividend each year for the last 10 years or more. The top fifty yielding stocks are chosen, and then yield-weighted, with the highest yielding stocks being largest. There are caps by sector (no more than 12 stocks per sector and 25% total sector cap) and individual stock (4% cap).
This fund is structured for dividend growth, high yield, and diversification. It has a terrific yield for a dividend growth fund, and the best performance of any of the funds.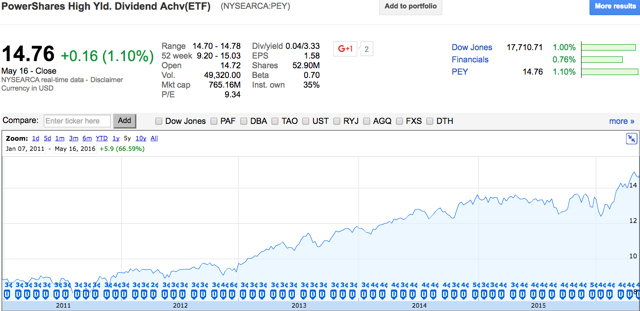 But ultimately this is a search for the best Dividend Growth ETF, and this fund is one of the worst performers there. The 0.55% expense ratio is just way too high as well, and we will strike it from the list.
Vanguard Dividend Appreciation ETF: Mr. Popular
Vanguard's ETF is the largest in the class by assets, but is it worth a buy?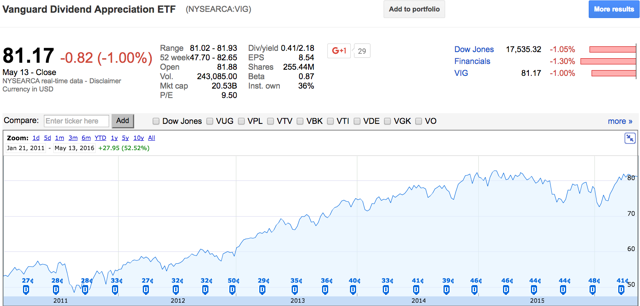 The fund tracks the NASDAQ US Dividend Achievers Select Index, comprised of stocks that have raised their regular dividend for at least ten consecutive years. But the fund is cap-weighted, not yield-weighted, so the largest companies by market cap are the largest holdings. This keeps the yield rather low, but allows the expenses to be low as well.
Let's look at the last ETF before we pass judgment on the Vanguard Dividend Appreciation ETF.
Spider Dividend Growth
The SPDR S&P Dividend ETF tracks the S&P High Yield Dividend Aristocrats index, comprised of S&P Composite 1500 stocks with at least 20 years of consistent dividend increases. The fund is yield-weighted and re-balanced quarterly, with a 4% cap on individual stocks.
This fund's dividends have come in very high and low, with a pattern emerging of a large year-end dividend. SDY's last dividend was only 21% higher than it was five years ago. But on a trailing twelve month basis, the yield is over 5% and has more than doubled in the last five years.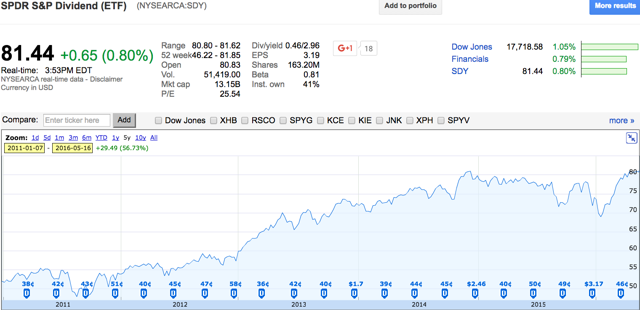 This is an interesting ETF. The yield-weighting helps it have a higher yield, whatever that correct yield is. It also gives the ETF more exposure to smaller stocks, making for a good complement to something like the Vanguard Dividend Appreciation ETF.
But SDY does not do so well with taxes. It holds some REITs, and its yield weighting causes a lot of selling out of stocks whose yields have gone down -- usually meaning that the price has gone up. This generates a lot of capital gains, and owners of this ETF in a taxable account typically give up about one-fifth or one-sixth of their gains to taxes: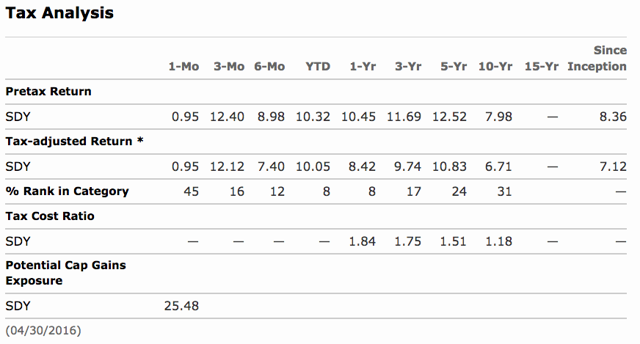 Something like the cap-weighted Vanguard fund does much better: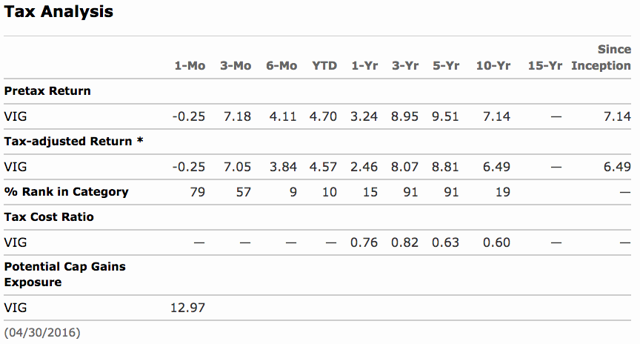 Also note the potential capital gain exposure -- the percent of the fund's assets that represent gains. Looks like more capital gains ahead for SDY.
The Verdict
For an IRA, we like the SPDR S&P Dividend ETF. If the capital gains and REIT exposure are not hindering it, the fund has excellent returns. It also has a much better yield than its last quarterly dividend suggested. The quarterly rebalancing around a yield weighting looks like it is worth the expense ratio of 0.35%.
What about for a taxable account? The Vanguard ETF wins if we really want a Dividend Growth ETF that is based on past growth.
But in an economy with an accelerating change of pace, it seems that past dividend growth may not be as good an indicator of future dividend growth as it once was. We would prefer to own any of the three alternatives listed -- the SPDR S&P 500 ETF, the Vanguard High Dividend Yield ETF, or the PowerShares S&P 500 High Dividend Low Volatility fund.
Conclusion
For an IRA, the yield-weighted SPDR S&P Dividend ETF looks like the best Dividend Growth ETF. Its dividend growth, yield, and returns are all excellent, and its expense ratio is palatable for the service provided.
Outside of the SDY in an IRA, there look to be better options than the Dividend Growth ETFs -- like High Yield or the broad market. The methodology of projecting future dividend growth based on past growth may not work as well as it once did. For investors that do want to invest that way outside of an IRA, the Vanguard Dividend Appreciation ETF looks like the best bet.
Get More Ideas Like This One
If you like this idea and would like to find more of our favorite ideas in the market, check out our newly launched Best Overall Return Assets subscription service.
Please follow us by clicking "follow" next to "Premium Research" at the top of the page under the article's title.
Disclosure: I/we have no positions in any stocks mentioned, and no plans to initiate any positions within the next 72 hours.
I wrote this article myself, and it expresses my own opinions. I am not receiving compensation for it (other than from Seeking Alpha). I have no business relationship with any company whose stock is mentioned in this article.