Ever since major central banks drastically cut interest rates almost a decade ago, investors have been in a continuous pursuit for higher yielding securities. And with the prospect that interest rates in the developed markets will remain close to their historical lows for an extended period of time, the search horizon keeps widening. This has brought emerging markets government bond ETFs to the spotlight.
By far the largest and most popular ETF in this space is the iShares J.P. Morgan USD Emerging Markets Bond ETF (NYSEARCA:EMB). With $6.5bn of assets under management, it has attracted roughly the same amount of funds as all other similar funds combined.
So what does EMB bring to your portfolio?
Yield
As of 13 May 2016, EMB had a weighted average yield-to-maturity of 5.38% with weighted average maturity of 11.2 years. This compares favourably with other fixed income ETFs of similar maturities:
Naturally, higher reward carries higher risk. With significant allocations to countries like Mexico, Indonesia, Russia and Turkey, EMB is by no means not a safe bet. However, comparing statistical risk parameters of the above-mentioned ETFs on the portfolio analytics tool InvestSpy, it turns out that EMB's realised volatility over the last 5 years has been in the middle of the pack: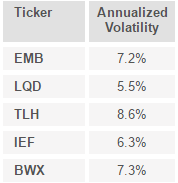 Source: InvestSpy.
Therefore, at least on the yield per unit of volatility basis, EMB is a clear leader in this set of funds.
Diversification
In addition to its attractive yield, EMB is a fairly independent member of the fixed income family. The table below summarizes its correlations with the same group of ETFs:

Source: InvestSpy.
All the correlation coefficients are in the low to very low territory, suggesting that EMB is likely to complement your bond allocation well.
Conclusion
In the current low interest rate environment, the yield offered by government bonds in emerging markets appears to be an attractive proposition. Even though developing countries are associated with higher political and economic risks, the actual realized volatility of EMB has not been materially different from other fixed income securities of similar maturity. Last but not least, this ETF offers a substantial diversification benefit. It is not hard to explain why it has just hit a new all-time high.
Disclosure: I/we have no positions in any stocks mentioned, and no plans to initiate any positions within the next 72 hours.
I wrote this article myself, and it expresses my own opinions. I am not receiving compensation for it (other than from Seeking Alpha). I have no business relationship with any company whose stock is mentioned in this article.