I am personally finding plenty of interesting bargains and reasonable valuations in the industrial sector these days, one of the few places they exist.
Dividend investors might be tired of investing in the same old consumer staples or consider those trades too crowded to invest new money into. So where do they go?
Below I have outlined a few interesting industrial plays that have very cheap or reasonable valuations and competitive yields or future dividend growth prospects if the current yield is very low.

Crane Co. (NYSE:CR) is a $3.2b diversified manufacturer of Fiberglass paneling; telecom equipment; fluid handling parts, like valves and pumps; vending machines; aerospace components, including control systems; and more.
These product segments serve industries ranging from chemical to aviation to food and beverage, commercial construction, and power generation. The company might be best known for its vending machines, but rest assured there is much more here.
Fundamentals
Owning Crane Co. has been and will likely continue to be a bumpy ride. The below chart shows price, volume, and EPS: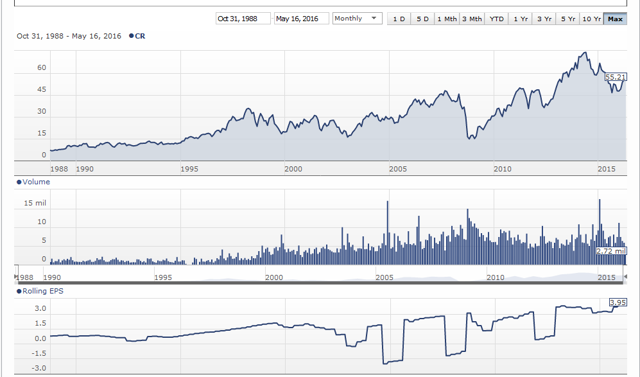 EPS has grown 8.48% on an annualized basis over the past 5 years and free cash flow has grown a similar 7.13% over the same time frame.
The company's own goal, per their 2015 annual report, is to achieve 10% annualized EPS growth. It appears they have some work to do to achieve that goal.
2016 predictions were not strong either with the company expecting flat to sharply negative EPS and FCF due to headwinds such as low oil prices, increased investment to turnaround the aerospace business, and general industrial weakness.
Crane Co. has surprisingly strong ROE and profit margins, both slightly above the industry average for Industrials-Machinery, according to Fidelity.
Dividends
The first place I look when researching a company like this and its dividend is 2008-2009. One would expect to see a sharp cut in the dividend, but you would be wrong. The company kept their dividend flat for 2008-2009 but then went right on ahead raising in when things settled down.
The payout ratio is low at 33.33% and the 5 year growth rate is 7.49%, although that is distorted because the company has kept their dividend flat at $0.33 since Q3 2014.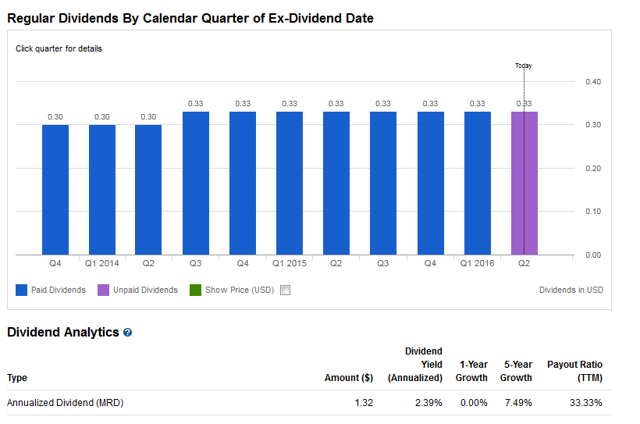 The performance during the GR is encouraging, but it appears the company does not mind keeping their dividend flat to align with business conditions. This can be viewed either as solid, conservative management, or as shareholder-unfriendly.
One could make a case even for a few cent raise even if EPS and FCF are experiencing a dip, but constantly doing this can and has got many companies in trouble in the past.
The yield is average at 2.39%.
Valuation
The company trades at 13.76 times TTM earnings. Projections on my screen for next years' earnings are $4.34 although the company projects $3.85 to $4.15 so those likely will be adjusted downward. This puts the future PE somewhere between 13.36 and 14.4.
The question is where or not this valuation is low enough to justify buying a very cyclical company with unpredictable earnings here. It is definitely much lower than the market but that multiple may be deserved. In addition, the yield does not offer much support as it would at 4-6%, although the payout ratio is very low.
Overall I think Crane Co. is an interesting opportunity for investors who are struggling to find anything to buy at sane prices in the current environment, but the cyclical nature of the company and conservative dividend policy may turn some off.

Steelcase (NYSE:SCS) is the world's largest manufacturer of office furniture, but also makes furniture for healthcare, education, retail, and other settings.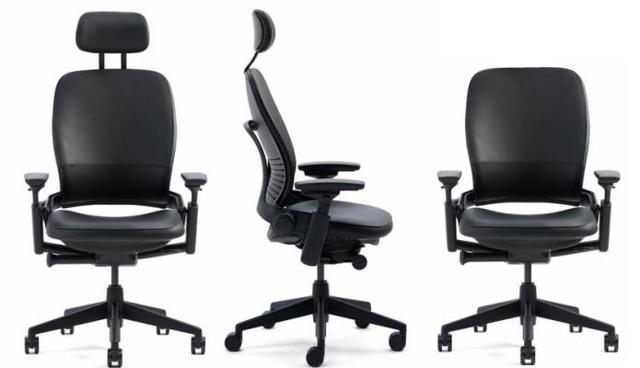 The company looks very, very cheap on a statistical basis with a TTM PE of 11.08 against an average 5 year PE of 27.76 and a industry average PE of 31.13 for Commercial Services & Supplies. Price to sales is 0.60.
The company has struggled to grow sales in recent years. Sales the last 5 years were $2.75b, $2.869b, $2.989b, $3.060b, and $3.060b in 2015. EPS grew at a much faster rate and almost tripled since 2011.
The balance sheet looks strong with long term debt of $297m compared to $266m cash on hand at the end of 2015.
Dividends
Steelcase has impressive dividend metrics on the surface. Payout ratio of 35.29%, 5 year growth of 14.87%.
The company did cut their dividend substantially during the Great Recession but it has been growing back like a weed since.
Recent Results
The past few quarters for Steelcase have been mixed. They missed on revenue and EPS two quarters ago but beat on both slightly this past quarter.
The large drop after the Q4 2015 results can be seen in the stock's chart.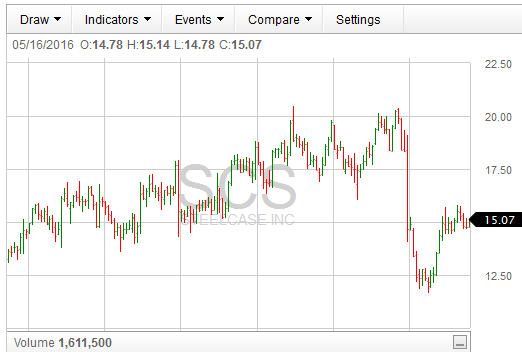 Vince Martin has a great article where he goes into the troubles the company has faced in the Europe segment with some production and inventory issues, as well as losing out on some order growth to competitors like Herman Miller.
I think SCS may well be a bargain here if you have enough time to wait for the operational setbacks to be worked through. While I am not crazy about the particular industry--I do not like awake at night thinking about how I need to own a furniture maker if only the price would go down--I see a long term future for this industry and that is more than I can say about some others.
A potential macro headwind is the shift from office environments to tele-commuting and other non traditional work arrangements. I think at the end of the day companies are still showing a strong desire for employees to be in the same place as much as possible as it has numerous benefits like team-building, efficiency, oversight, etc.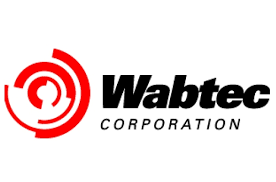 Wabtec (NYSE:WAB) is a leading manufacturer of brakes and other value added parts for Commerical Freight railroads like Union Pacific(NYSE:UNP) and CSX(NYSE:CSX), as well as to other transportation industries like buses and subway cars. The company makes monitoring equipment such as the controversial Positive Train Control that is being forced on all US railroads for safety reasons, windows, ramps for cars and buses, and a host of other items.
While this may seem like an odd choice for this list given the company's very low yield under 1%, I included this company because I truly think it is a gem. I like Wabtec for two reasons: International potential and focus on aftermarket parts.
International
The company had $1.6 billion in sales overseas in 2015, up tremendously from $644 million in 2008. In 2008 the company had just begun to set up shop in important growth countries like China and South Africa.
The company cites a 17 percent growth number for international sales since 2006.
Most of the long term economic growth is going to come from emerging markets despite how volatile and crazy they may seem in the short term. I believe Wabtech is well positioned to continue to grow even if the US economy, or at least the freight side of things, remains weak.
Aftermarket parts
The company has expanded its parts business to 62% of sales in 2015 from 53% in 2008. This is important because it reduces the variance in sales and the overall cyclical nature of the company's results.
During economic downturns companies tend, on a macro basis, to keep assets longer and fix used ones versus investing a large amount of capital into replacing them.
This is one of the secrets to Caterpillar's (NYSE:CAT) success because when new machine sales slow their parts business picks up and provides consistent business for their dealer network and the parent company.
The company's backlog is also impressive at $2.1b. This log does not include the aforementioned After Market parts, which makes that number more impressive.
A perfect example of this is to look at the company's 2009 results: Sales fell 10.9% from 2008 levels, which sounds horrible but compare that to most of other companies and it will compare favorably.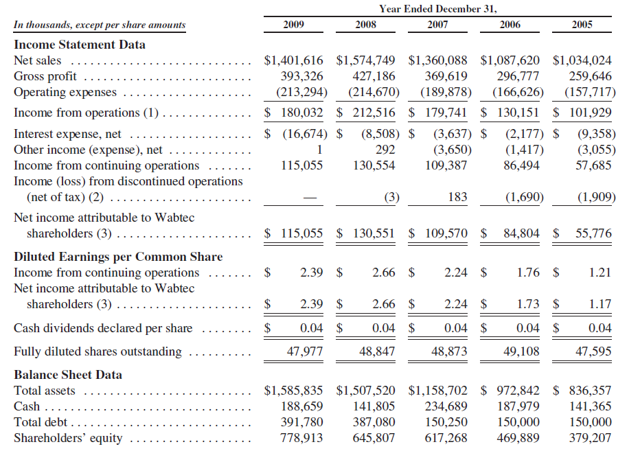 For an industrial company to have that low of a swoon during one of the worst downturn's in history is a positive sign. Investors often think it is the end of the world when a company has a bad year or bad quarter but fail to understand that private businesses experience this type of thing all the time and it is more normal than the shouting heads will have you believe.
As a part business owner if you invest in stocks it helps to take a long term, patient view and read the annual report rather than every quarterly release.
Dividends
As I mentioned, this may seem like a strange choice for dividend investors, but I believe that this company may be appropriate for the part of the portfolio focused on growing payments, rather than immediate yield.
The company had maintained a paltry .005 dividend for some time until mid 2011 when they began to prioritize and raise the dividend.
The 5 year growth rate is an blistering 74% with a payout ratio still low at 7.75%.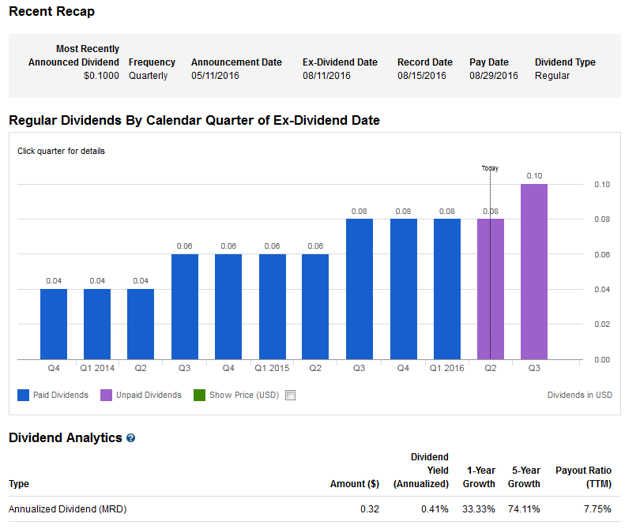 I think there is a lot to like here and foresee many future dividend raises. The company returned $400 million through dividends and share repurchases in 2015 while continue with a flurry of acquisitions and joint ventures.
The company has over 2,300 patents worldwide and has performed admirably in the most recent downturn.
Conclusion
These three industrials all appear to be interesting long-term ideas. While they may lack some of the shine and qualitative attraction of familiar consumer products companies, in a market such as this one there can still be smart investments you might just have to dig a little deeper and think outside the box of "buying what you know."
Disclosure: I/we have no positions in any stocks mentioned, and no plans to initiate any positions within the next 72 hours.
I wrote this article myself, and it expresses my own opinions. I am not receiving compensation for it (other than from Seeking Alpha). I have no business relationship with any company whose stock is mentioned in this article.