There is a lot of talking on Seeking Alpha about strategies to buy stocks. What is discussed less is when to sell. But it is maybe even more important to know when to sell than when to buy. After all, your investing success depends on the moment that you sell your stocks: has it been profitable or not?
As indicated in my profile, my positions are bought for the real long run: 20 years or more. That is why I normally do not sell any stocks. Buy-and-accumulate, that is what I consider a proper description for my investment style. But I do sell stocks in my portfolio if I think my capital is in danger for the longer term.
One of the reasons to sell is when the fundamentals of a company change. For me, this was the case with the news about AbbVie (NYSE:ABBV). The U.S.P.T.O. (which is the abbreviation for the U.S. Patent and Trademark Office) will review five patents of AbbVie's top seller Humira.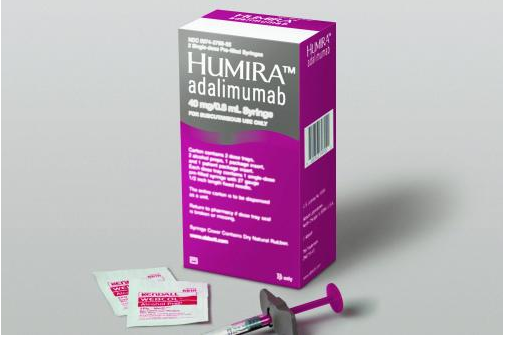 I also read this sentence in the news message: "The USPTO grants the hearing if the petitioner (challenger) has a reasonable chance of prevailing." The petitioner in this case is Coherus (NASDAQ:CHRS), which wants to launch a biosimilar to AbbVie's blockbuster.
Now, blockbuster is no exaggeration when it comes to Humira. Look at this chart of the drugs that generate the most revenue.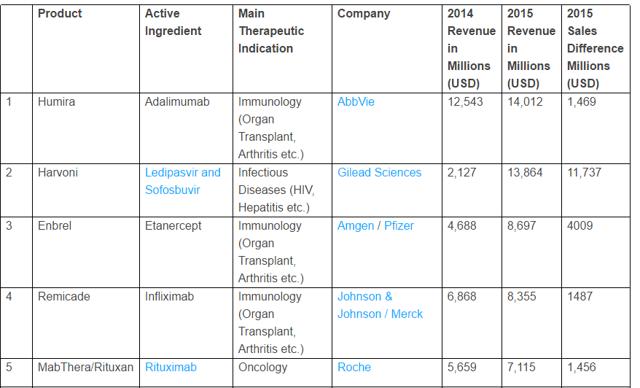 Source: Pharmacompass.com
Humira has the single most revenue of all drugs, almost double that of number five MabThera/Rituxan.
If Coherus wins the case, biosimilars to Humira could come to the market. This doesn't mean that all doctors would jump on those biosimilars and prescribe them blindly. It is not as simple as with generic drugs. Doctors really would have to be convinced that the biosimilar is as good as Humira.
What worries me most is that Coherus is not alone. A yearly revenue of $14B (and growing) attracts competition, of course. Normally that competition is held off because of patents, but other biotechs seem to smell something. And I think they smell fear on AbbVie's side. More and more AbbVie makes me think of a deer attacked by the hungry wolves.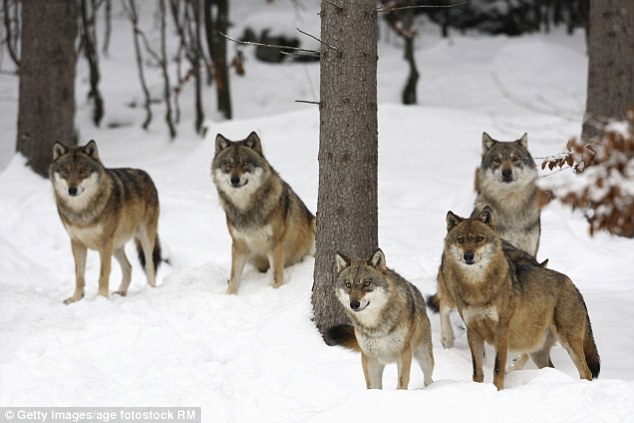 Because this was not the first case against Humira's patent. AbbVie could fight off Amgen's claim successfully. This was news in January 2016 and here is the next attack already.
The reason is, next to Humira's huge sales, that the drug's composition loses its patent exclusivity in December 2016. Therefore Amgen (NASDAQ:AMGN) has already a biosimilar ready. Merck (NYSE:MRK) and Samsung Bioepis are working on biosimilars too, just as Baxalta (BXLT), Allergan (NYSE:AGN), Pfizer (NYSE:PFE), Momenta (NASDAQ:MNTA), Novartis and of course Coherus. Boehringer Ingelheim has also already filed for a review of certain Humira patents because they have a biosimilar as well. Maybe there are even more wolves lurking in the dark.
AbbVie's defence is that it has about 70 other patents surrounding Humira. But to be granted patent exclusivity, it must be proven that there is something new: a new composition, a new method of application, a treatment for another disease … What AbbVie did was creating a maze of patents around Humira.
The patent that is challenged now by Coherus is a cornerstone of AbbVie's defence. The challenged patent is about a treatment method of rheumatoid arthritis: a 40 mg injection every two weeks.
Coherus is convinced that the dosage regimen was not something to be patented because it was 'a routine optimization of the therapy defence system'. The complaint in fact also includes that the U.S.P.T.O. has been misled by AbbVie. By granting the review, the U.S.P.T.O. indicates that this could be certainly the case.
The fact that the claim of Coherus is taken into consideration, means that there is really a change that this cornerstone defense of Humira is in danger. Is it the first domino to fall? Will the bulwark that AbbVie has built around Humira be penetrated by the first enemy? This is quite possible. Because if the U.S.P.T.O. decides that it has been tricked into this patent, how many other patents would have to be taken into consideration?
It could take two years before all is clear: it takes over a year for the case to be judged about and probably another year for the appeal. That could mean that in 2018 or 2019 biosimilars could be launched to attack the market share of Humira.
AbbVie's revenue from Humira accounted for about 60.0% of its revenue in 1Q16. If such an important cash cow is in danger, I thought it wise to sell my shares. My original thesis was that Humira would be protected with patents until at least 2022, like the management said. I do not want to wonder every now and then how it things are in court, if the case or the cases against a company I have a (little) part of is going well or not. That is why I sold my shares. I made a small profit (just a bit under 10%) and I was glad to be out. There just seem to be too much uncertainties at this moment.
Does this mean that I consider AbbVie as a bad company or broken stock? No, not at all, I think that AbbVie is a very competent company that will thrive in the future. It has a very impressive pipeline and several very important collaborations.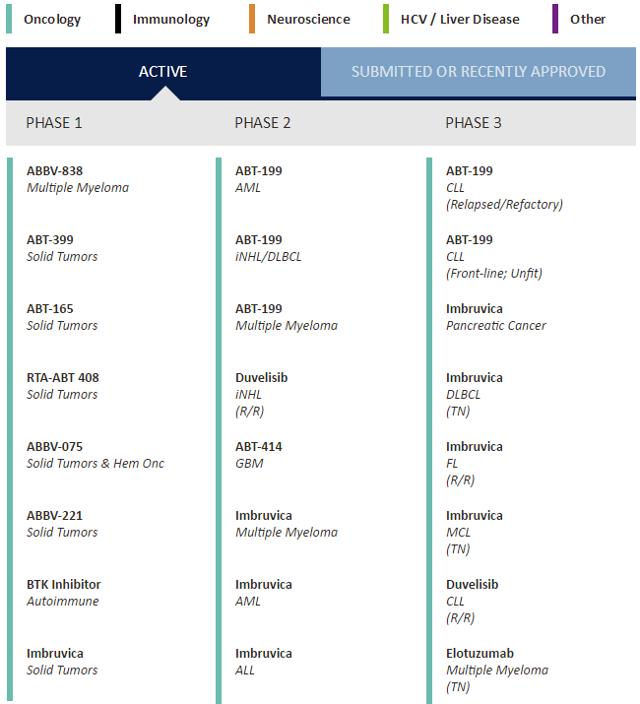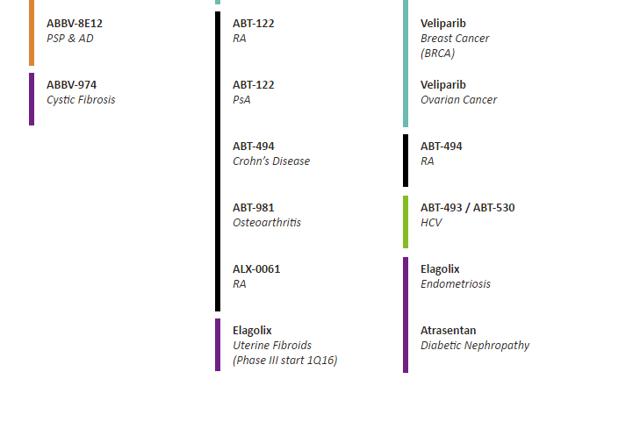 Source: the company's website
But I also think that holding the stock is too risky now because the focus will be on Humira and the competition that is coming. I could be picking shares up if the situation becomes clearer. After all, as I already mentioned, the sales of Humira are not going to drop dead from one day to the other, even with several biosimilars on the market. But for now it feels good to feel safe again by having sold the shares.
Keep growing!
Disclosure: I am/we are long AMGN.
I wrote this article myself, and it expresses my own opinions. I am not receiving compensation for it (other than from Seeking Alpha). I have no business relationship with any company whose stock is mentioned in this article.
Additional disclosure: I currently don't have any shares of ABBV anymore.