Our View On SQ Advisors LLC
Overall Score: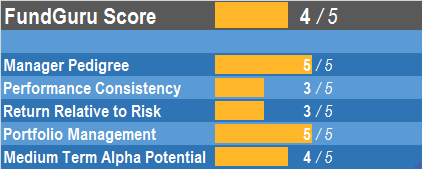 Return and Volatility Relative to Peers: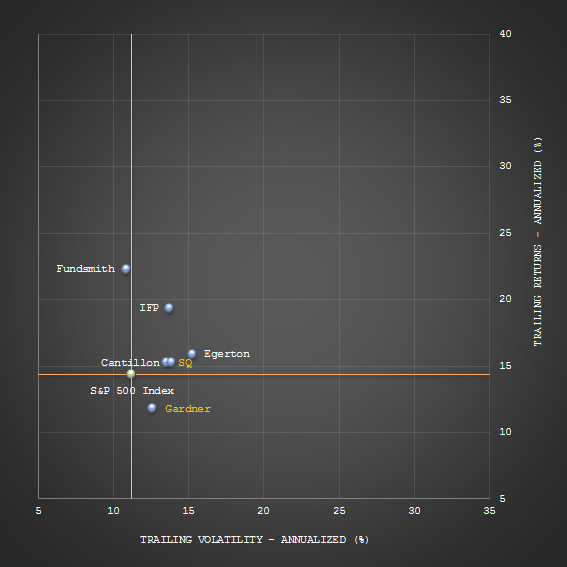 Orange data points denote manager portfolios we recommend readers to consider. For the full list of managers we cover, please visit Schedule of Manager Reviews.
I. Introduction
This is part of a series of quarterly reviews that analyze the performance and portfolio characteristics of interesting equity managers running public (mutual funds) or private pooled investment vehicles (hedge funds) that are not accessible by mainstream investors. Our aim is to provide readers:
An overview of the manager's background (Section II)
An analysis of the manager's historical return and risk characteristics based on its 13-F portfolio (Section III)
An analysis of the manager's portfolio characteristics and top holdings (Section IV)
An overview of the most interesting holdings (Section V)
An opinion on whether readers should follow the manager's ideas or copy its portfolio (Section VI)
All analysis is based on a clone portfolio of the manager's top 10 disclosed holdings. It may not be an accurate reflection of the manager's actual investment performance.
For more information on why our analysis is focused only on the top 10 holdings, please refer to our Schedule of Manager Reviews referenced above.
II. Manager Brief
| | |
| --- | --- |
| Manager Name: | SQ Advisors LLC |
| Location: | Naples, FL |
| Year Founded: | 2010 |
| Investment Style: | Value |
| Lead Portfolio Manager(s): | Lou Simpson |
| Number of Employees: | 6 |
| MV of Latest 13-F Holdings: | $2.7bn ($3.0bn at 12/31/15) |
Lou Simpson is a well-regarded value investor. Prior to establishing his own firm in 2010, he was widely seen as Warren Buffett's successor, managing the multi-billion dollar portfolio of Geico, the auto insurance subsidiary of Berkshire Hathaway (NYSE:BRK.A) (NYSE:BRK.B). His investment style is concentrated and extremely patient.
III. Performance Analysis (USD Total Returns)
Following stellar absolute and relative performance in 2013 and 2014, our clone portfolio of SQ Advisors have underperformed the S&P 500 in 2015 and 2016 Q1.
We would note that its trailing 1 year alpha is materially negative, underperforming the market by a whopping 10.4%.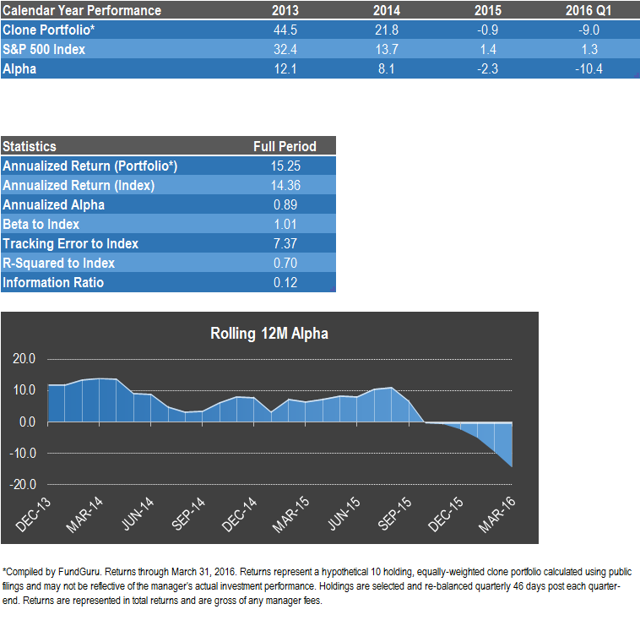 IV. Holdings Analysis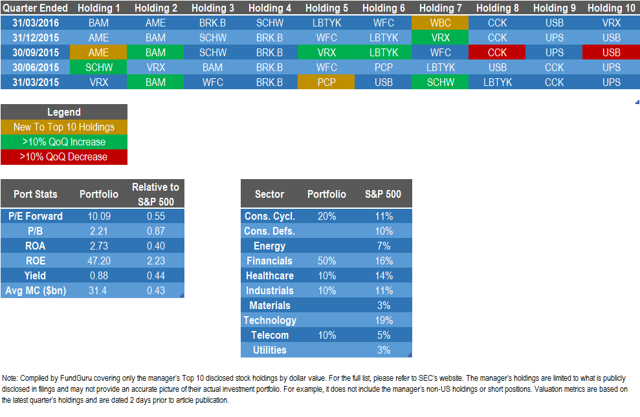 Portfolio Characteristics
This is no doubt a value-oriented portfolio judging by measures of P/E and P/B, which are both below the S&P 500 Index. Its ROE is however higher, suggesting a quality orientation. The portfolio has a large-cap tilt, with an average market cap of $31bn.
From a sector perspective, SQ's top 10 holdings are concentrated in the financial sector, consisting 50% of our clone portfolio, and includes the likes of Berkshire Hathaway , Brookfield Asset (NYSE:BAM), Charles Schwab (NYSE:SCHW), US Bancorp (NYSE:USB) and Wells Fargo (NYSE:WFC).
Below are the detailed stats by holding:

Individual Names
Below is the trailing 1 year performance of the current top 10 holdings: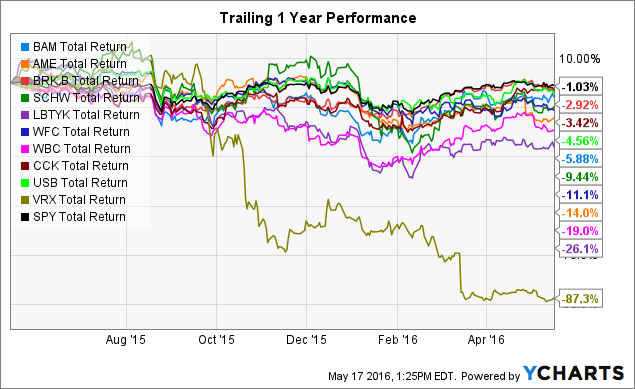 BAM Total Return Price data by YCharts
This charts explains why SQ has underperformed the market materially over the past year, as all of the 10 names have lagged the market. The three worst performers were Valeant Pharmaceuticals (NYSE:VRX), Liberty Global (NASDAQ:LBTYK) and Ametek (NYSE:AME). Wabco (NYSE:WBC) is a new holding and have not been in the portfolio over the trailing 1 year period.
Outside of the worst three, there is no question that financials as a group was a key detractor. This includes Wells Fargo, Charles Schwab, Brookfield Asset Management and US Bancorp.
This is the YTD return of the current top 10 holdings: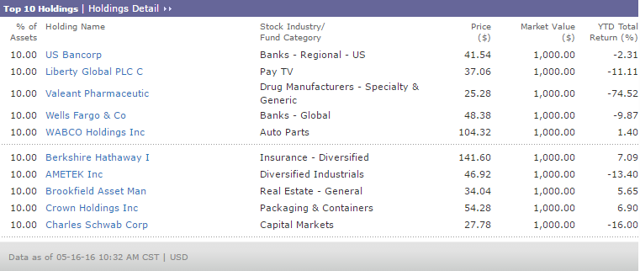 Recent Activity
During the first quarter of 2016, we observed the following portfolio activity:
New Entrant(s) to Top 10: Wabco Holdings
Notable Increase(s) in Top 10: None
Notable Reduction(s) in Top 10: None
V. Holding of Interest: Wabco Holdings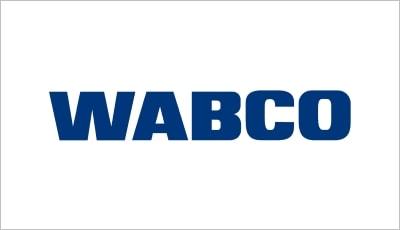 We have selected Wabco for a high-level analysis as it is the only new purchase in SQ's portfolio during Q1.
This is a $5.9bn market cap company operating in the Industrials sector. According to Wabco's website:
WABCO is the No.1 global supplier of technologies and services that improve the safety, efficiency and connectivity of commercial vehicles.

From concepts to finished products and beyond, we have been developing innovative systems to make vehicles safer and easier to control since 1869. Today, with an unbeatable list of industry firsts behind us, WABCO continues to pioneer breakthrough innovations for advanced driver assistance, braking, stability control, suspension, transmission automation and aerodynamics for the world's commercial truck, bus, trailer, car and off-highway manufacturers. Our success led to sales of $2.6 billion in 2015.
The company's share price has grown fairly consistently for over a decade, but took a hit in the second half of 2015. It has since then recovered half of its losses, but is still about 20% below its peak: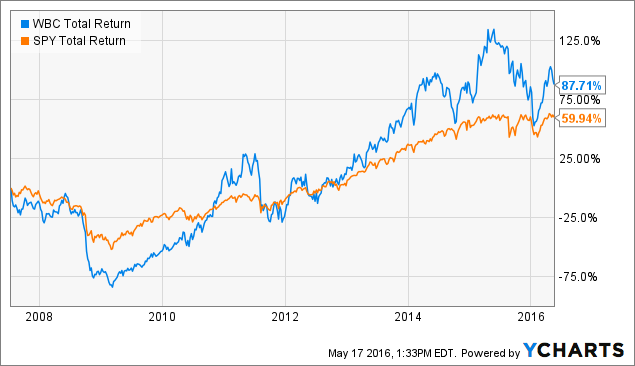 WBC Total Return Price data by YCharts
We believe SQ established its stake in the company during Q1 at a price range of $81.66-$108.78, based on daily closing prices. Shares in WBC is currently trading at about 13% above the middle of this price range.
The company reported its Q1 earnings on April 22. Here are the key points from SA:
Sales rose 9.7% in local currencies.
Adjusted gross profit rate fell 170 bps to 31.4%.
SG&A expense rate declined 130 bps to 17.5%.
Adjusted operating margin rate dropped 40 bps to 13.9%.
FY2016 Guidance: Sales growth: $2.7B to $2.83B (+6% to +11% in local currencies); Adjusted operating margin rate: 13.8% to 14.3%; GAAP operating margin rate: 12.7% to 13.2%; Adjusted net income: $296.8M to $324.8M; GAAP net income: $192.2M to $220.2M; Adjusted EPS: $5.30 to $5.80; Diluted EPS: $3.43 to $3.93; Diluted shares outstanding: ~56M.
Forward guidance appears to have disappointed investors and margins appears to be under pressure. However, over the long-term margins have remained fairly consistent, barring the dip in 2009: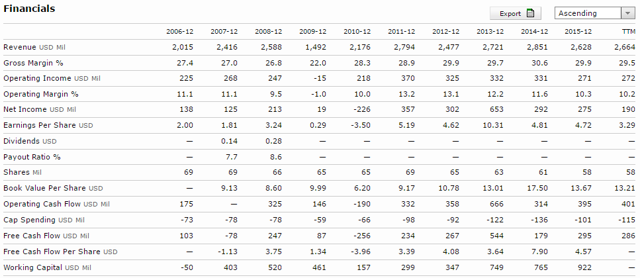 Free cash flow has been increasing in recent years and this is a high ROE/ROIC business, although does fluctuate quite a bit:

The company pays no dividend but management has been buying back shares in a very consistent manner: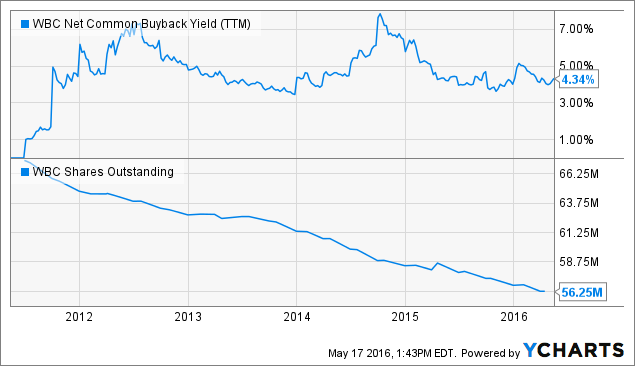 WBC Net Common Buyback Yield (NYSE:TTM) data by YCharts
Finally, on valuation grounds the company trades on a free cash flow yield of 4.7%, down from the close to 7% at the beginning of the year. We do not believe current levels is very attractive.
Other metrics, P/E, P/B and P/S have also recovered quite materially YTD: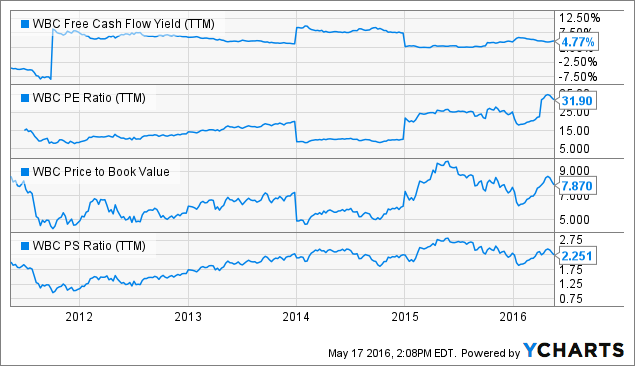 Our high-level analysis did not reveal anything intriguing about Wabco, judging from numbers alone. However, we do encourage readers to conduct further analysis independently.
VI. Summary Thoughts
We Liked:
Simpson is a very experienced, and patient investor with decades of experience under his belt
Low turnover and high conviction portfolio
We Didn't Like:
Concentration of the portfolio in the financial sector
Alpha generation is significantly negative over trailing 1 year period, driven by Valeant and the financial sector holdings
Bottom Line:
This is a large-cap value portfolio managed by an experienced investor who is seeking to maximize capital growth over a 5- or even 10-year time period, and will look beyond quarterly or annual performance numbers relative to the S&P.
We believe recent poor performance driven by financial sector holdings provides investors a rare entry point, if one believes that interest rates will indeed continue to normalize over a 3-5 year time horizon.
Interested in Following More Alpha?
Follow us now to get live updates as we post new reviews, and/or see our Schedule of Manager Reviews (linked above) for an up-to-date list of the managers we have assessed so far.
Disclaimer:
Returns represent a hypothetical 10 holding, equally-weighted clone portfolio calculated by FundGuru using public filings made with the SEC by the investment manager. All information presented here is not endorsed by, affiliated with, sponsored by, or fully reflective of the manager or their companies. The information contained here includes the names, brief biographical information, and references the companies of certain persons whom FundGuru has identified from publicly available information as equity managers. FundGuru does not communicate with and is not supported or endorsed by or affiliated or associated with any of these managers or their companies. To the extent the managers use their names or the names of their companies as trademarks, such trademarks belong to their respective holders, and FundGuru's use of the same does not imply any affiliation with or endorsement by them. Information about the investments of the manager is limited to that which is publicly available in regulatory filings and may not provide an accurate picture of their actual investment portfolio nor investment return.
Disclosure: I/we have no positions in any stocks mentioned, and no plans to initiate any positions within the next 72 hours.
I wrote this article myself, and it expresses my own opinions. I am not receiving compensation for it (other than from Seeking Alpha). I have no business relationship with any company whose stock is mentioned in this article.