Deutsche Bank's (NYSE:DB) shares have been down nearly 50% over the past year. It reported a record loss of €6.8 bn ($7.7 bn) in 2015, the second year of loss after the 2008 crisis. It has a market cap of $22.8 bn which is half that of HDFC Bank (NYSE:HDB), a local player in the Indian market. It has a P/B of 0.3, which roughly implies you would get more value after liquidating its assets than selling the entire company.
As you can see in Exhibit 1 below, DB's peers like JP Morgan (NYSE:JPM) with P/B of 1, HSBC (NYSE:HSBC) and Citigroup (NYSE:C) both with P/B of 0.6 have higher P/B ratios. In fact, all European banks, with the exception of UBS, are lagging behind their American counterparts. This is due to a worsening macroeconomic environment in Europe, including low GDP growth rate, negative interest rates and weakening of the Euro as compared to the dollar. But leaving aside these macro issues, DB suffers from deep structural issues of its own. And this is reflected in its low market valuation, which should not be construed as a no-brainer to buy.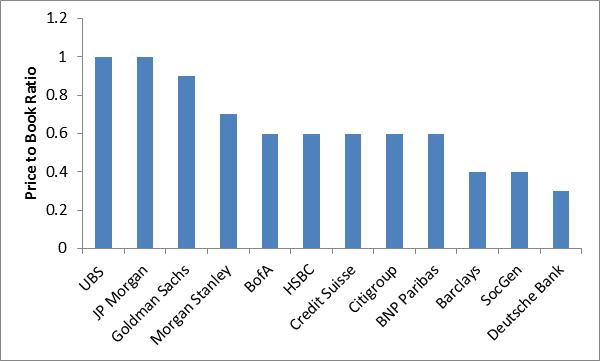 Exhibit 1: P/B ratios of Major International Banks as of 14th May 2016 (Source: Morningstar)
DB's co-CEOs Anshu Jain and Juergen Fitschen had to resign in the middle of 2015 after their names were dragged into the Libor rigging case. John Cryan, responsible for the turnaround of UBS, was brought in as the new CEO to put things in order. However, even Cryan couldn't reverse the fall in share price. In the week of February 8th, DB's shares dived 9.5% over impending fears of default in the interest payment of CoCo (Contingent Convertibles) bonds. These fears have made the stock look like a cheap buy with a good chance of solid returns. But these returns are based on the assumption that DB would be able to overcome its challenges and transform itself based on its Strategy 2020. However, given the poor track record of execution and the severity of the issues surrounding DB - it is highly unlikely.
Legal Troubles That Do Not End
After the sub-prime crisis, Deutsche Bank has been stuck in a quagmire of legal fines and penalties. In fact, as per company filings, it has spent €12.7 bn ($16.5 bn) in litigation since 2012. To put it in perspective, DB made a profit of c. $4.3 bn in the same period. In 2015, it paid a hefty fine of $2.5 bn to regulatory authorities in the US and UK over allegations of Libor rigging. Last year, it also suffered a $1.4 bn legal expense over 'legacy' US mortgage settlements. In fact, the Financial Conduct Authority (NASDAQ:FCA) in the UK has reprimanded Deutsche over 'serious' and 'systemic' failings in relation to financial crime after a review in 2015 and has subjected Deutsche to enhanced supervision. No other UK bank is under increased scrutiny from the FCA like Deutsche.
Although DB claims most of the litigation costs have been accounted for, there are many more skeletons in the closet. There has been a new probe over suspicious trades in the Russian business of the bank amounting to $10 bn. A few days back, it has come under investigation in Italy for alleged market manipulation in the sale of $8 bn of Italian state debt. It is also stuck in a lawsuit covering adequate disclosure of US mortgage-backed securities. Goldman Sachs (NYSE:GS) had to pay a fine of $5.1 bn in a similar case. The skewed compensation structure of awarding huge bonuses on cracking big ticket deals as well as lax compliance and anti-money laundering (AML) enforcement are responsible for these wrongdoings. As the scrutiny of regulators increase, Deutsche will face more blasts from the past.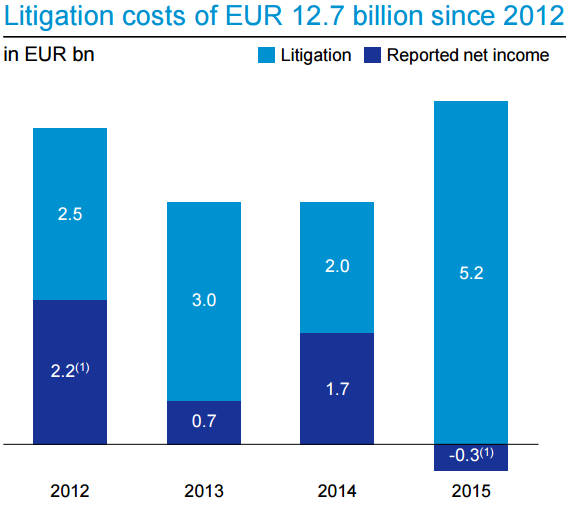 Exhibit 2: Litigation costs vs. Reported Net Income at Deutsche Bank (Source: Investor Presentation)
Conclusion
Litigation costs and increased regulatory scrutiny have hit DB hard and they will continue to do so. In Part 2, we will explore the additional headwinds facing DB as a company and a stock. Things do not look good. Among the factors negatively affecting DB are its bloated compensation practices and its antiquated IT systems. DB pays its employees way too much for shabby and sometimes nefarious performance, and the bank also is not ready for the increased competition in the banking sector necessitated by rapidly evolving technology. Once you get behind, it is almost impossible to catch up. Stay tuned for Part 2.
Disclosure: I/we have no positions in any stocks mentioned, and no plans to initiate any positions within the next 72 hours.
I wrote this article myself, and it expresses my own opinions. I am not receiving compensation for it (other than from Seeking Alpha). I have no business relationship with any company whose stock is mentioned in this article.