I have been a negative sour puss about Ford Motor Company (NYSE:F). The stock is almost impervious to positive news. The company made $7 billion last year, and the stock hasn't breached $16.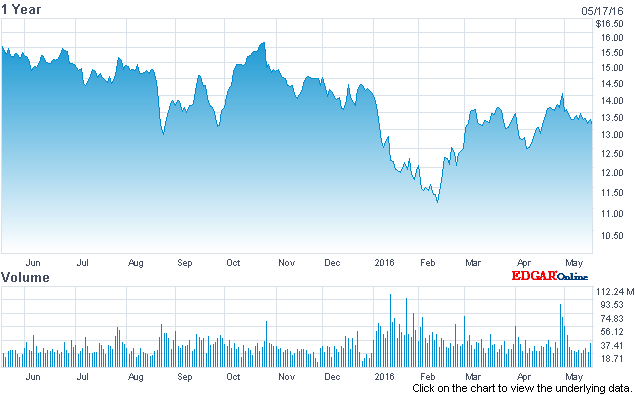 (Nasdaq.com)
Chalk it up to lack of trust (2008 was a bit of a traumatizing experience for everyone) or something that I'm missing, but this stock just will not take off. In the last five years the price has remained in this $14-18 range. Being an American car fan, I'd like to buy Ford but I don't want a stock with a track record of boredom. The last two quarters were solid beats on earnings per share and yet the stock is actually down versus the first quarter of 2015 when the company missed estimates! What gives?
A dividend company
The fact that the company dished out $1.58 billion in dividends in the first quarter of this year could have something to do with the stock price not reacting as much as I would like to their good financial situation. I prefer emphasis on building the stock rather than paying out yields, but you know what? Screw it. All my grumpy negativity aside, the stock is flirting with $13 a share which has increased my interest. Ford is paying a 4.5% dividend. They have been for quite some time, and it doesn't seem like they aim to change it. We might as well jump on the bandwagon.
The best way to do it?
The company started the year with nice sales as SUV's and trucks gained momentum. Granted this might not continue through the year, but it's certainly a good start. I would buy some Ford stock if the price were to get down around $12. Since the exponential moving average seems to be around $14 or just below it as of late, I think $12 would be a nice entry point. That way I can play for a 16% price gain at $14, with a nice dividend. Technically it would work if you bought now at $13.30 since the stock seems to jump up to $16 quite a bit.
As a whole though, you'd have to be buying this stock for the dividend because it clearly just doesn't have the support to go on a tear. Consider the fact that the companies net income in 2014 was $1.2 billion while 2015 brought income up to over $7 billion. Yet the stock price carried a much better average in 2014 than 2015. The stock just plain old confuses me. Earnings per share of Q1 2016 were double the same quarter last year. The stock price...down 9% over the past six months. You just can't buy this stock expecting massive gains. You have to buy it for the dividend. If anyone has any ideas about anything that may finally get this stock to $20 please let me know because based on their history it doesn't seem likely. This is just a short and simple idea about how to get a cheap stock with a nice dividend.
Disclosure: I/we have no positions in any stocks mentioned, but may initiate a long position in F over the next 72 hours.
I wrote this article myself, and it expresses my own opinions. I am not receiving compensation for it (other than from Seeking Alpha). I have no business relationship with any company whose stock is mentioned in this article.