Since January this year, Westport Innovations (NASDAQ:WPRT) had been gaining decent momentum on the stock market, but that has now come to an end following the company's woeful first-quarter results on May 12. Westport missed both the top and bottom line estimates by significant margins, posting a bigger-than-expected loss.
With Westport's latest results, the company has now missed earnings estimates in each of the last four quarters, and that too by sizable margins. This clearly indicates that Westport has been unable to take advantage of the growth in demand for natural gas powered trucks. In this article, we will take a closer look at Westport's performance and see why investors should consider staying away from the stock.
What gives?
A look at Westport Innovations' financial performance over the past few years indicates that the company has failed to bring about any operational improvement in its business. This can be seen in the chart below: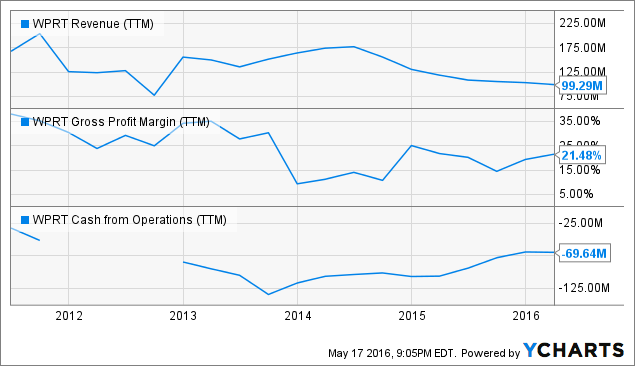 WPRT Revenue (NYSE:TTM) data by YCharts
As seen above, Westport's revenue has tailed off in the past few years, while its gross margin has been patchy at best. Moreover, the company has continued to burn cash and has not achieved positive cash flow. In effect, Westport has remained in the development stage for too long. What's even more alarming is that Westport's revenue from all of its revenue streams has been declining of late. This is shown in the chart below:

Source: Westport Innovations
As seen above, Westport's revenue from its joint ventures with Cummins (NYSE:CMI) and Weichai has declined in the past year. More specifically, the decline in revenue from the Weichai joint venture is more alarming as sales have dropped drastically. This is because the number of engines sold in 2015 by Weichai Westport dropped to just 15,956 from 51,006 in the preceding year, which is alarming news as the Weichai JV is the highest revenue generator for Westport.
This trend of declining engine sales from the Weichai JV continued in the latest quarter with units sold dropping 44% year-over-year. The massive drop in Westport's engine sales in China is a result of the economic slowdown in the country, along with weak oil prices that has led to a slowdown in natural gas vehicle conversions.
Looking ahead, I believe that Westport will continue to face challenges in its business due to weakness in China's industrial sector. This is because natural gas-powered trucks cost more than traditional trucks, so making a higher investment in challenging times for the economy does not make sense.
Westport will face more weakness
The weakness of the Chinese economy is one of the key reasons why Westport's joint venture revenue in China will continue to fall. Sales of heavy trucks in China have been on the decline since last year after hitting an apex in 2014, when 748,000 trucks were sold. This year, the seasonally-adjusted annual rate of truck sales in China stands at 440,000 units, indicating a sharp decline from 2014 highs.
In all, China's truck sales were down 26% in 2015 to 551,000 units, and it looks like the downtrend is all set to continue this year due to weak manufacturing activity in the country. In fact, China's manufacturing activity has been declining for the past 14 months and there won't be any turnaround in the near term as the country's economy declines.
Last year, China's economy grew at a rate of 6.9% and this year, the rate of growth is expected to slow down further to 6.5%. Now, the economic growth indicator is an important gauge for truck sales since better economic activity will lead to growth in construction and manufacturing, which will lead to higher truck demand for transporting goods.
However, as China's manufacturing sector is already on the decline and slower economic growth will present more challenges in this segment, truck sales in China will trend lower. As a result, Westport will find it difficult to sell more engines in China since the market size is already shrinking, while growing sales of electric-powered trucks is also hurting the NGV market.
Conclusion
Hence, it is evident that Westport's biggest revenue generator, the Weichai joint venture in China, is under trouble. Sales of engines from this venture have been declining due to weak economic conditions in China that are expected to persist going forward. So, in my opinion, investors should continue staying away from Westport Innovations as it is a company that's on the decline and will not be able to make a comeback anytime soon.
Disclosure: I/we have no positions in any stocks mentioned, and no plans to initiate any positions within the next 72 hours.
I wrote this article myself, and it expresses my own opinions. I am not receiving compensation for it (other than from Seeking Alpha). I have no business relationship with any company whose stock is mentioned in this article.