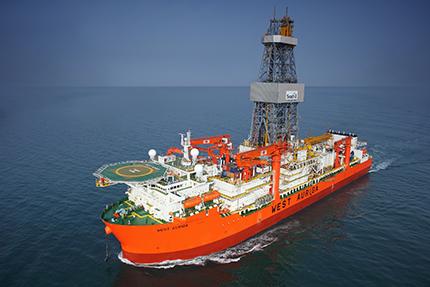 West Auriga
My idea of debt-for-equity swap was heavily criticized by both Seadrill (NYSE: SDRL) bulls and bears. I've seen various arguments why the debt-for-equity swap will never happen. The idea suffered another blow when Seadrill was able to negotiate relaxed covenants and postponed restructuring until the end of 2016. However, here comes the news that revives the debt-for-equity swap idea.
Seadrill has just announced that certain holders of 2017 notes agreed to a debt-for-equity exchange. The company will issue 8,184,340 shares at par value of $2.00 per share in exchange for $55 million of principal amount of the 2017 notes. Calculating at par value, the holders agreed to receive $16.37 million worth of shares, a huge 70% discount. Calculating at the latest market close, the holders received $30.45 million, a 45% discount.
Here are my takeaways from this transaction.
Bondholders agreed to a massive discount that reflects the current situation in the bond market. They were not able to get additional value from Seadrill. This fact can be interpreted in several ways.
First thought - Seadrill was a firm negotiator and did not allow more dilution, which was good for shareholders.
Second thought - bondholders were so desperate to get their money back that they decided to take chances with Seadrill's equity. In my view, this is also possible. Here's why.
Restructuring measures will be announced at the end of 2016. Meanwhile, oil is going up. Currently, oil price upside does little good for the drillers' shares, but if oil continues its march to new highs, drillers will surely catch up with oil price dynamics.
Rumors about various measures from Seadrill's founder John Fredriksen are also possible. All in all, there is plenty of time for another short squeeze based on rumors, hopes or even actual data, so bondholders that agreed to debt-for-equity swap may be able to bail out. On March 4, 148.8 million shares exchanged hands. Even if the next squeeze will be three times smaller, bondholders will easily liquidate their 8.18 million position.
I should admit that the transaction was small compared to the level of Seadrill's debt, so we should not derive far-reaching conclusions from this exchange. Both the dilution and the resulting decrease of debt don't have a significant impact on the company's position.
However, the fact that debt-for-equity swap is possible in principle is interesting. If the company were to exchange all its debt (a purely hypothetical scenario) for equity at a 45% discount, it would have to issue 1.59 billion shares. I am not calling that this will happen in reality. This is probably the worst-case scenario which will not happen, as Seadrill and John Fredriksen have their interest to protect and banks won't be too happy owning Seadrill instead of getting their money back. However, I'm still calling for some variation of debt-for-equity swap as I don't believe that banks will agree to write off some debt with nothing in exchange for this favor.
All in all, the transaction was not bad for Seadrill. It looks like rising oil lent a helping hand and improved the company's negotiating positions. The transaction also showed that equity price is becoming increasingly important for Seadrill. If the company is forced to provide adequate discounts with shares trading around $2, the resulting dilution will be massive. The opposite is true as well - if Seadrill's shares will be able to stabilize north of, say, $6, the company can get debt relief without catastrophic dilution.
Seadrill just made a minor step in its debt reduction plan. Share price performance will have influence on other bondholders' decision. If Seadrill's shares manage to stay at current levels, more small transactions could follow. From a bigger picture point of view, I am still skeptical that the upcoming restructuring will bring good news for current shareholders. Banks have a more solid position than bondholders in negotiations.
Disclosure: I/we have no positions in any stocks mentioned, and no plans to initiate any positions within the next 72 hours.
I wrote this article myself, and it expresses my own opinions. I am not receiving compensation for it (other than from Seeking Alpha). I have no business relationship with any company whose stock is mentioned in this article.
Additional disclosure: I may trade SDRL.