Penn West (NYSE:PWE) received a barrage of bad press this week on news that it might breach a debt covenant in Q2 2016. That news should not have been a surprise to the market since Penn West has been pretty transparent about its debt and its covenants. In Q1 2016 Penn West met all of its covenants as set out in the following table: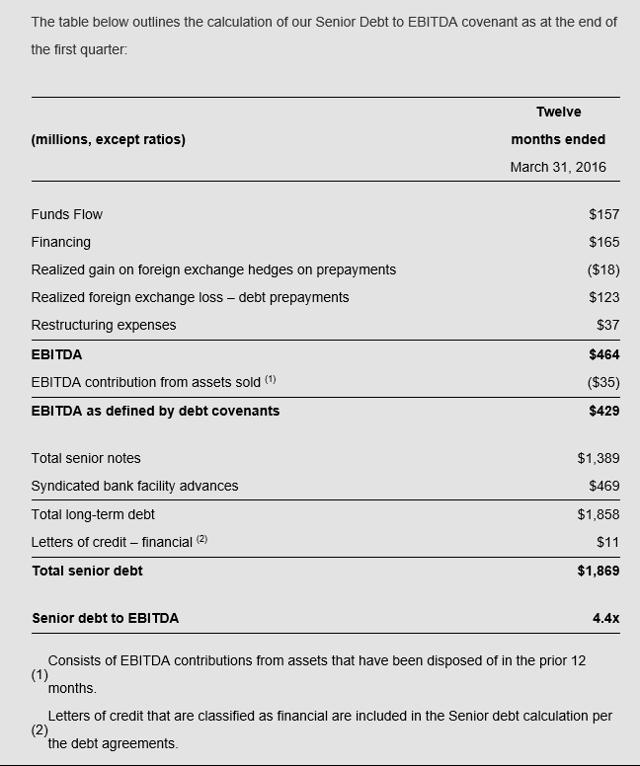 Source: Penn West
Penn West has been equally transparent about its operating profit at various prices for oil.

Source: Penn West
The important metric to pay attention to is the EBITDA of about $75 million quarterly at WTI of $45.00 per barrel. The company's key covenant is total debt of no more than 5 times EBITDA. Debt is currently $1.9 billion Canadian which requires trailing twelve month EBITDA of $380 million.
Penn West breaks out its quarterly EBITDA calculation in the management discussion and analysis section of its financial reports and disclosed the following table as at March 31, 2016.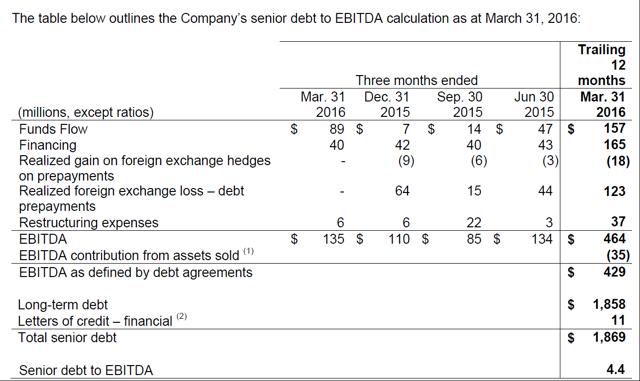 Source: Penn West
When Penn West reports its second quarter results, the $135 million EBITDA reported in June 2015 will be replaced by the EBITDA Penn West earns in the current quarter. I am going to go out on a limb and suggest Penn West EBITDA this quarter at worst will lie in the range $75 to $85 million based on a rough analysis of the sensitivity of Penn West EBITDA to oil prices and foreign exchange set out previously. Rolling four quarter EBITDA of as little as $370 Canadian dollars is possible, as set out below:
Q3 2015 - $85 million
Q4 2015 - $110 million
Q1 2016 - $134 million
Q2 2016 - $75 million
Adjustment - ($35 million - EBITDA of sold assets)
TTM est. - $370 million
Allowable debt - 5 x $370 = $1,850
That puts Penn West right on the cusp of a covenant breach. I don't think a default is likely:
First, Penn West has a substantial amount of U.S. denominated debt and the Canadian dollar is trending higher against the U.S. currency. Each 1 cent rise in the Canadian dollar translates into an approximately $9 million lower debt burden when the U.S. denominated debt is expressed in Canadian dollars.
Secondly, Penn West announced asset sales that close after March 31, 2016 for $200 million Canadian which will reduce the debt balance.
Finally, Penn West is benefiting not only from higher oil prices but also from sharply reduced operating costs which should increase the company's cash flow per barrel produced in the June quarter.
Penn West remains highly leveraged and faces liquidity risks if commodity prices fall. Having said that, management is doing a terrific job of deleveraging the company and improving operating ratios. With production of 60,000 Boe/day and debt approaching $1.7 billion Canadian ($1.4 billion) giving effect to the $200 million expected this quarter, Penn West is a leveraged play on continued strength in oil with the potential for gains that are a multiple of the current share price.
The greatest returns are made when the greatest risks are faced. I am long PWE. While not for the faint of heart and with a real risk of a total loss of investment dollars, I like the bet and am adding to my position.
Disclosure: I am/we are long PWE.
I wrote this article myself, and it expresses my own opinions. I am not receiving compensation for it (other than from Seeking Alpha). I have no business relationship with any company whose stock is mentioned in this article.
Editor's Note: This article covers one or more stocks trading at less than $1 per share and/or with less than a $100 million market cap. Please be aware of the risks associated with these stocks.