The biotech sector got off to a strong start to the trading week with an over 2.5% gain on Monday. Helping sentiment immensely was a significant acquisition with an over 50% premium (see below) as well as a bounce off deeply oversold levels after almost three weeks of straight declines.
Tuesday did see the major indices fall about one percent, but this was just in line with the decline in the overall market as biotech has been an outperformer so far this week, a welcome change and a rare one here in May.
Where we go for the rest of the week is pretty much up in the air as we are now past earnings season. A lot will depend on the overall health of the market and whether we see any more acquisitions in the sector for the remainder of the week.

While Medivation (NASDAQ:MDVN) remains squarely in focus as a potential takeover target as Sanofi (NYSE:SNY) readies an effort to change the board at that company, it was actually another mid-cap name in the sector that was actually purchased to start off the trading week.
Anacor Pharmaceuticals (NASDAQ:ANAC) was purchased out by Pfizer (NYSE:PFE) yesterday in an announcement that hit before the bell on Monday and contributed greatly to the large gains for the sector that day. Pfizer paid a little north of $5 billion after it agreed to a better than 50% premium. If Medivation does eventually succumb to Sanofi or another rumored interested buyer, these could be the first signs that the majors are opening up their wallets and taking advantage of the recent declines in the space to do some "bargain shopping." Sometimes when M&A heats up in the sector, it can quickly turn into a "feeding frenzy" as the giants worry about missing out on acquiring the quality assets available.
After the huge declines in the small and mid-cap space of this sector after the largest bear market since the financial crisis, there are certainly some good values available.
In a similar vein, after European regulators said in March that they'd clear Teva Pharmaceutical's (NYSE:TEVA) $40.5 billion pickup of Allergan's (NYSE:AGN) generics business - pending some castoffs, it appears both Mylan (NASDAQ:MYL) and Novartis (NYSE:NVS) are interested in acquiring these divestitures. These sales should bring some $1.5 billion to $2 billion to Teva and help clear the way for approval of their ~$40 billion purchase of Allergan's generic business, cementing the Israeli firm's market share leadership of this space. Allergan on its part plans to spend $10 billion of those funds on stock buybacks and make "bolt on" acquisitions.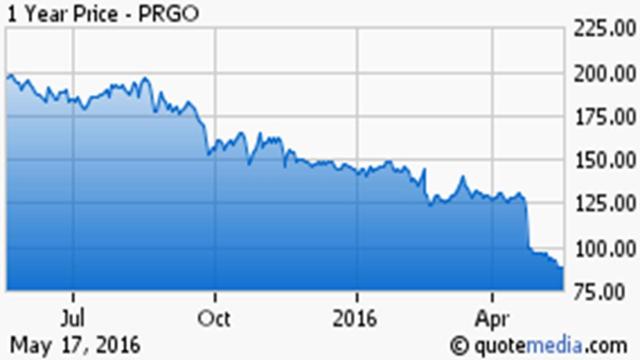 Another firm in the generic drug business continues to deliver bad news to its shareholders in 2016. The stock of Perrigo Group (NASDAQ:PRGO) continued its slide after the company announced before the bell that it had adjusted its Q1 GAAP net loss downward from ($133.1 million) to ($335 million) and its GAAP loss per share to ($2.34) from ($0.93). Non-GAAP results and 2016 guidance remain unchanged. Mylan shareholders can breathe a sigh of relief that it was unsuccessful in acquiring this firm at a much higher price earlier in the year.

Editas Medicine (NASDAQ:EDIT), one of the few IPOs in the sector in 2016, saw its first analyst activity in two months as Cowen & Co. reiterated its Buy rating on the gene editing firm. Previous to that, the last analyst activity I can find on Editas is a few months ago with JMP Securities with a Buy rating and a $40 price target on EDIT.
The stock was up over 10% in trading Monday after the company announced it had inked a deal with the Cystic Fibrosis Foundation nonprofit affiliate Cystic Fibrosis Foundation Therapeutics (CFFT) to support the discovery and development of CRISPR/Cas9-based medicines to treat CF. Under the terms of the deal, CFFT will pay up to $5 million to support the work and provide access to its extensive network of scientific advisors and clinical researchers.
Gene editing is going to be an increasingly hot part of the market. If biotech gets off the mat, I would expect a slew of new offerings much like immuno-therapy before it.
Analysts are lining up behind maker of scientific instruments, Agilent Technologies (NYSE:A), after this $14 billion market cap company beat quarterly earnings estimates and raised guidance. Evercore, BTIG and Jefferies have reiterated Buy ratings with price targets in a tight range of $48 to $51 per share. This does not imply much upside from the current price. At over 20 times forward earnings based on new guidance and less than 10% earnings growth this year, I don't think I would chase this one especially with a measly 1% dividend yield.
Relypsa (NASDAQ:RLYP) continues to be a battleground stock among analysts as the company released Veltassa script sales data earlier this week that continues to show growth, but the pace of the rollout of the first new hyperkalemia drug in several decades continues to disappoint some. I continue to believe the company will remain a buyout target. ZS-9, its potential competitor in the hyperkalemia space, has its PDUFA date next week. How/if it is approved and what if any label will be applied to the approval, should define the lay of the land in the space. Serious acquisition negotiations can then get underway as Relypsa and any potential suitors will know how the hyperkalemia market stacks up.
This week, permabear Andrew Behrens at Morgan Stanley reiterated yet another sell rating and $9 price target. Mizuhu Securities also turned negative for the first time after this script data was announced and downgraded the shares to a Sell rating with a $12 price target.
Maintaining the faith were Citigroup, Cantor Fitzgerald, Brean Capital and BTIG, which all reissued Buy ratings with price targets ranging from $25 to $41 this week. The stock of Relypsa is likely to be volatile through at least the end of May as it gets through the aftermath of ZS-9's PDUFA decision and it ebbs and flows between so many divergent opinions.
Note: New analyst ratings are a great place to start due diligence, but nothing substitutes for deeper individual research in this very volatile sector of the market. Many of the small-cap names highlighted in the "Analyst Insight" will eventually appear in the "Spotlight" section, where we do deeper dives on this type of promising but speculative small-cap concern.

Today, we spotlight a very high risk/very high reward small cap with a current stock price of just north of $1.00 a share and with a market capitalization of just $50 million. It is one of the few "lottery tickets" within my own portfolio but only should be considered for a minute investment for well-diversified and aggressive biotech investors. At this point, it does seem a binary play, either it is going to result in a "strike out" or a "home run."
Company Overview:
AVEO Pharmaceuticals (NASDAQ:AVEO) is a Cambridge, MA based oncology concern that came public in 2010. The company is developing targeted therapies through biomarker-driven insights to provide substantial improvements in patient outcomes where significant unmet medical needs exist. The company has been in the news this week as it announced it has raised some $17 million via a private placement. Although dilutive, it does take care of the company's funding needs.
Pipeline:
The company's main product candidate is Tivozanib. According to the company, this is a potent, selective, long half-life inhibitor of all three vascular endothelial growth factor ('VEGF') receptors that is designed to optimize VEGF blockade while minimizing off-target toxicities. AVEO has stated it remains encouraged by the clinical outcomes from its Phase 2 and Phase 3 studies in renal cell carcinoma and the efficacy and tolerability profile that tivozanib may offer to patients suffering from this challenging disease. In addition, AVEO has also commented it has seen promising biomarker results were observed in a Phase 2 study of tivozanib in colorectal cancer.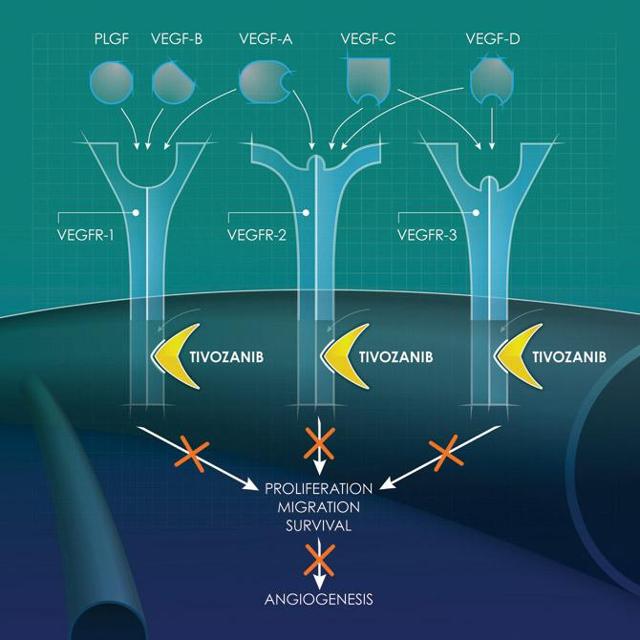 More importantly, others see value in Tivozanib. Late last year, the company announced that it had entered into an exclusive license agreement with EUSA Pharma for the European rights to tivozanib for the treatment of advanced renal cell carcinoma ('RCC'). The deal also includes South Africa and additional countries in South America as well as additional potential indications. AVEO received an upfront payment of $2.5 million, and can also earn $394 million in milestones and tiered royalties ranging from low-double digits to mid-20%.
Tivozanib was rejected by U.S. regulators three years ago, but was submitted to be approved by European regulators for approval this March. Obviously, EUSA Pharma is willing to make a decent bet that approval can be had on the other side of the pond. Independently AVEO has decided to conduct the TIVO-3 Phase III pivotal trial with tivozanib in third-line RCC, which is expected to begin enrollment this quarter in the United States.
The company has three other compounds in development, one in early Phase II, one in Phase I, and one in pre-clinical study. Two of the compounds are partnered with larger players such as Novartis. In the short and medium term, the company's fate is in the hands of whether Tivozanib gets approved in Europe.
Analyst Support & Outlook:
The company certainly is not without its warts. It recently settled a long standing case with the SEC for $4 million. AVEO, as one might expect, gets relatively little analyst coverage. Last week, FBR Capital did reiterate a Buy rating and a $3 price target on the stock.
Before this week's capital raise, the company already had over $20 million in net cash on the balance sheet, so the company has plenty of cash to continue its development. At under $1 a share, I like the overall risk/reward profile and I am willing to gamble that Eusa Pharma is correct and European approval has at least a puncher's chance of succeeding.
Approval obviously would be a major catalyst to upside potential. These shares are not for the faint of heart, but worthy of consideration of very aggressive investors willing to swing for a home run and are comfortable with more than a decent chance of a strike out.
Note: To get these Biotech Forum Daily Digests as soon as they are published, just click on my profile and hit the big orange "follow" button and choose the real-time alerts option

Thank You & Happy Hunting
Bret Jensen
Founder, Biotech Forum
Disclosure: I am/we are long AGN, AVEO, MYL, RLYP, TEVA.
I wrote this article myself, and it expresses my own opinions. I am not receiving compensation for it (other than from Seeking Alpha). I have no business relationship with any company whose stock is mentioned in this article.
Editor's Note: This article covers one or more stocks trading at less than $1 per share and/or with less than a $100 million market cap. Please be aware of the risks associated with these stocks.