Visa (NYSE:V) is currently trading at just under $77 a share and I wouldn't be surprised if the financial services company got to $90 a share before the end of June. Why? Well, I have written in previous articles that I believe that US equity markets have begun a brand new bullish cycle where we found a hard bottom on the 11th of February.

Now the first daily cycle since then has been definitely running on a bit as daily cycles in the S&P 500 (NYSEARCA:SPY) usually last around 40 days. In saying this, we may have printed a daily cycle low on the 6th of May when the S&P reached 2040 but sentiment didn't really reach oversold levels, so I was looking for a lower low. Daily cycle lows usually occur when sentiment is at extreme levels but we didn't get to usual numbers (when the market runs out of buyers) on the sentiment index this time around (see chart).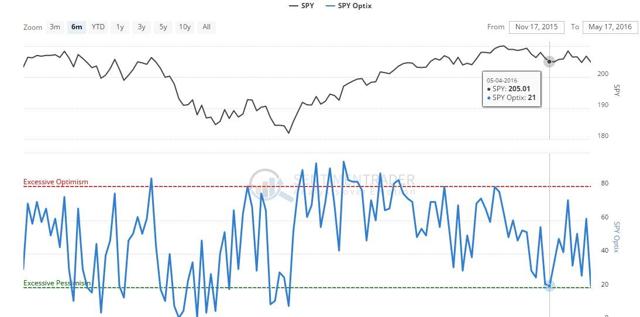 Source : Sentimentrader.com
We almost printed that low yesterday (05-17-2016) but still didn't penetrate through the 2,040 level. Furthermore with futures up this morning by 3 handles, it is getting more obvious by the day that the daily cycle low was printed on the 6th of May which means we should have at least a month of rising prices ahead of us (Futures trading at 2,049 as I write).
So where does this leave Visa? Well, I have impressed with this stock in recent years especially as it is one of the few US multinationals that has kept its top and bottom lines growing meaningfully (in currency neutral terms) despite having been operating in a strong dollar environment. Any stock that is heavily tied to the dollar and that has been growing revenues and earnings since mid-2014 should definitely be on investor's watchlists.
Why? Because many US multinationals have been hiding their negative growth trends behind their volume growth. Visa doesn't have such an issue. It has been able to consistently deliver net income and free cash flow despite the currency and macroeconomic headwinds it has been facing. In fact, management is still predicting to do around 7% in revenue growth this year despite dealing with a sluggish global economy especially in areas such as China and Brazil.
Visa currently has an earnings multiple of just over 27 and a forward earnings multiple of 23.9. Some analysts have stated that Visa is too expensive at this price, but I beg to differ. Value investors can't just look at valuation as it is only one part of the story. For example, electronic spending growth will continue to increase in the years ahead which is a bullish tailwind for Visa. Secondly, recent technical damage on the dollar index has me convinced that the dollar bull run is over (we will get a bear market rally in the near term).
This will drive nominal payment volume to double-digit percentages which again will act as a tailwind for the stock. Furthermore, with the powerful network effect this company has built up, I'm convinced that new payment methods will work alongside Visa's business instead of competing head on with it. Apple Pay (NASDAQ:AAPL) is one such example. In saying this, I expect Visa to invest heavily in technology to ensure its customers are at the forefront of payment options going forward.
So how does one play Visa going forward on a limited budget? Well, with implied volatility at 23%, which is well below Visa's historic averages, one could buy the $75.5-$77.5 call spread in July for just over $1. Now if I'm right with my directional assumption and Visa is trading well above $77.5 in July, you will make $100 per spread which would be a 100% return on your investment. On the contrary, if the trade goes against you, you still can exercise your long call ($75.5 strike price) for 100 shares of stock if you believe in Visa long term. Thinking like this can give you insights into how to enter stocks and also how to exit them. Remember always think with the end in mind. If you don't want to be underwater on a stock for a considerable period of time, study options and volatility as they can help you gain small wins initially which will build your confidence over time.
To sum up, I'm going to be adding a few good dividend and growth stocks to the Elevation Portfolio over the next several weeks, when I see value. It's imperative that they are not correlated and all don't have similar valuations in order to ensure that income is brought in every month; that, over time, will increase our share count. You can follow along by pressing the "Follow" button above.
Disclosure: I am/we are long V.
I wrote this article myself, and it expresses my own opinions. I am not receiving compensation for it (other than from Seeking Alpha). I have no business relationship with any company whose stock is mentioned in this article.