Shares of Sunworks (NASDAQ:SUNW) took another tumble yesterday afternoon and once again left investors puzzled. This article will be brief and focused on attempting to offer an explanation for share price movement over the last several days. I believe that dilution may have, once again, played a significant role in the movement of the share price. Because the new dilution occurred shortly after the filing of the quarterly report, it's difficult to determine the exact cause of the dilution. Another possible source for the decline in share price is that Daniel "Danny" Mitchell has been selling shares he acquired from a partial conversion of his promissory note in November of 2015.
First I will lay out the evidence that this dilution did indeed occur. To begin here is the share count as reported in their most recent 10-Q filed on May 11th, 2016. Note that the company made an error in their filing and wrote the incorrect year, using 2015 instead of 2016. I welcome readers to view the original filing linked below to verify that this number is indeed intended to be the 2016 share count.

And here is the share count according to amended preliminary proxy filed May 17th, 2016:

When you subtract the first share count from the second, it is revealed that the company added 1,091,077 shares. This equates to roughly 5% dilution in the past week, continuing a trend of dilution. While the date in the 10-Q showed the share count as of May 9th, the dilution did not show up in the subsequent events section of that filing. Therefore it can be assumed that the dilution occurred after the filing (filed pre-market on May 11th), and before the end of May 13th which was the date given in the proxy.
Below is a timeline of this dilution superimposed over the stock price action. The dates of this chart are from May 10th to May 17th.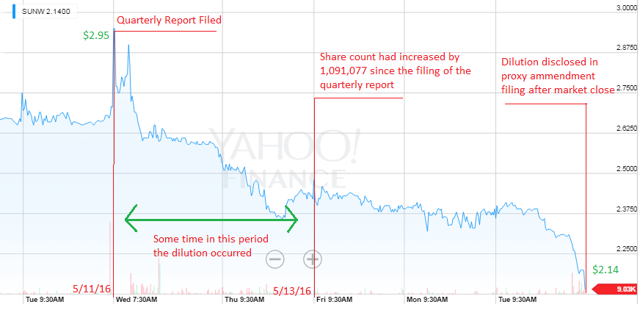 Source: Yahoo Finance with my annotations
When dilution is routinely disclosed in company filings, it's fairly simple for investors to determine the cause of the dilution. When it occurs in between filings, it can be more difficult. And when it occurs the day after a filing, investors may have to wait several months to figure it out. In the meantime interpreting changes in stock price as a result of dilution becomes much more difficult. So investors and observers like myself are forced make educated guesses as to the sources of dilution. Please let me know in the comments if you can figure out exactly where the dilution came from. I believe, because of the strong correlation between the decline in share price with the dilution, that the dilution may have had something to do with the decline in share price. But correlation does not necessarily imply causation, so I will offer an alternative theory as to the cause of the dilution.
As disclosed in the above linked annual report Danny Mitchell (who was head of their MD Energy unit) converted a portion of his promissory note into approximately 340,000 shares. At this point you might be thinking that if Danny had sold shares he would be required to file a Form 4 to disclose the sale. However, as some careful observers of the company have noticed and as I will reveal more broadly now, Danny Mitchell has left the company. His departure went unmentioned on the recent conference call, and their failure to disclose it then leads me to believe they do not intend to disclose his departure.
Some evidence of his departure:

This is a list of management as it appeared on their website in April: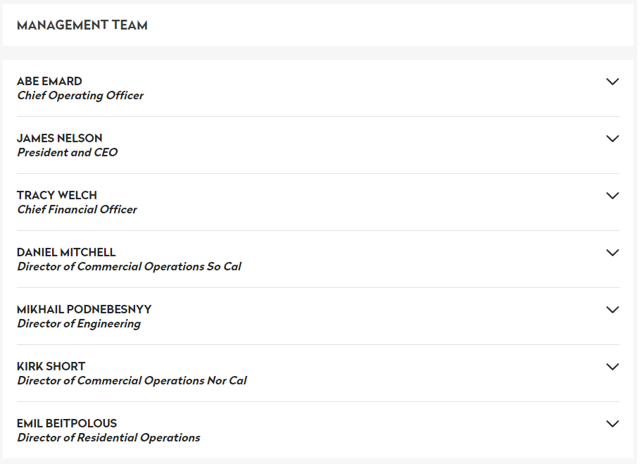 Source: Archive.org
This is the current list: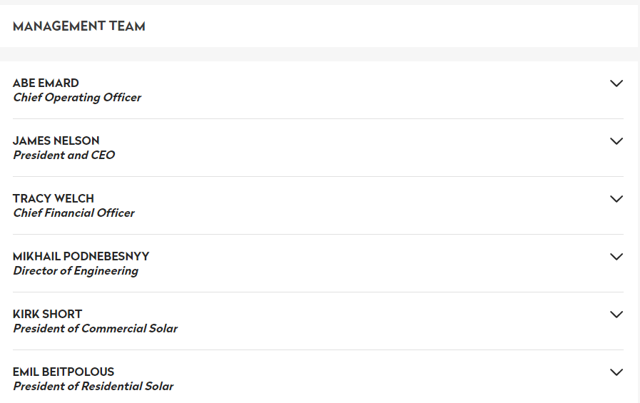 Source: Sunworksusa.com
While it's not that difficult for a diligent investor to figure out that Danny left the company, there appears to be a reluctance to be transparent in regards to his departure. For example, when an investor asked the company about his departure, the company did not respond to him but did fix their website.

Source: Ihub
In addition, there are stipulations in his employment contract that are contingent with the circumstances of his exit. For instance, whether he was fired for cause or let go changes the period in which he is not allowed to compete.
And finally, according to this interpretation of the regulations surrounding filing requirements for Form 4, it appears that Danny may not be required to file if he did or should he decide to dispose of his shares.
To summarize I continue to recommend all but the boldest of traders avoid this stock, long or short. Dilution will continue to be a downside risk that can materialize at any moment and implode price of the thinly traded shares of this company. In contrast small events, such as CEO Jim Nelson's shareholder letter from a few weeks ago can cause the share price to temporarily spike without notice, which could put pressure on a short position. Nelson also hinted during the conference call that he would be dropping bullish PR this week.
Disclosure: I/we have no positions in any stocks mentioned, and no plans to initiate any positions within the next 72 hours.
I wrote this article myself, and it expresses my own opinions. I am not receiving compensation for it (other than from Seeking Alpha). I have no business relationship with any company whose stock is mentioned in this article.
Editor's Note: This article covers one or more stocks trading at less than $1 per share and/or with less than a $100 million market cap. Please be aware of the risks associated with these stocks.