TJX Companies, Inc. (NYSE:TJX) has been one of the few retail stocks that has performed well in the past few quarters. Most analysts have blamed Amazon (NASDAQ:AMZN) for the decline in comp sales of heavyweights like Macy's (NYSE:M), Kohl's (NYSE:KSS), Nordstrom (NYSE:JWN) and J.C. Penney (NYSE:JCP), which saw a double-digit fall in their respective stock prices in the latest earnings results.
While Amazon has been making heavy investments in this segment, TJX and other off-price brands have also grabbed a strong share of the market. The move towards off-price brands is a recurring trend seen in the past few quarters as shoppers move towards value shopping instead of experiential shopping.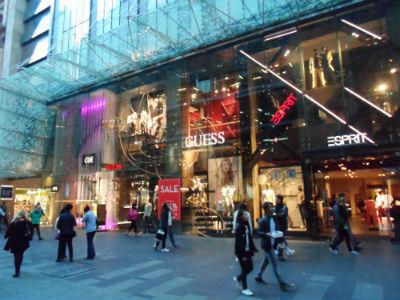 Growth of TJX's store count
TJX has increased its store count at a fast clip, even as other competitors have started imitating its business model.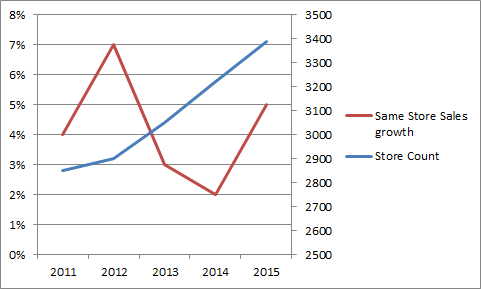 The cumulative increase in store count over the past four years is more than 18%, and at the same time, same-store sales are growing at a reasonable pace.
According to company research, there is still a lot of room for store growth. TJX estimates a final potential of 5,475 stores.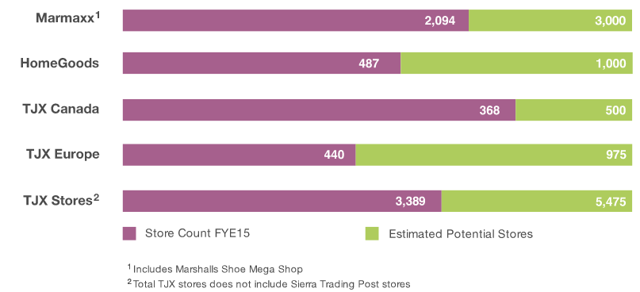 Estimated potential stores across all segments of TJX. This shows an additional store growth of above 60%, which can provide significant top line growth.
Risk from competitors
Other retailers also want to get a piece of pie in the off-price space and have ramped up their investments in this segment. In 2015, Macy entered this space with Macy's Backstage store and Kohl with its Off/Aisle store. Nordstrom already has 200 off-price Rack stores and expects to take that number to 300 by 2020. Whether TJX will be threatened by these investments is the main question.
Retail chains like Macy's, Kohl's and Nordstrom will find it very difficult to simply imitate TJX's business model, as it has been built with an off-price mindset, unlike other companies. The four main strengths which TJX mentions in its investor information are: it is a world-class buying organization, it has a global supply chain and distribution network, it can leverage its global presence and the fact of being the most flexible retailer in the world.
Other retail chains are loathe to think in these terms, leave alone building their organization around these principles. The managements of these companies want them to be better selling organizations and not buying organizations. Even customer perception for a Macy's and a TJX is totally different and would not change with a simple marketing campaign.
The future prospects of the off-price stores are reflected in their respective forward P/E ratios.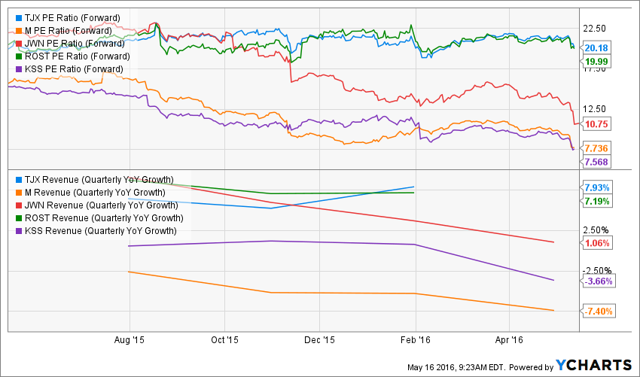 Both off-price chains, TJX and Ross Stores, have shown higher sales growth compared to Macy's and Kohl's, which have given them better valuation.
First-quarter results on May 17th
TJX will announce its fiscal 2017 first-quarter results on May 17th. Analyst estimates are for sales to grow 6.2% year over year to $7.3 billion. The company grew by 6.4% in fiscal 2016 on the back of a 4% contribution from new stores opened, and saw another 5% increase in same-store sales. It was adversely impacted by 3% due to currency headwinds. Note that TJX has been able to beat consensus sales estimate for the past four quarters.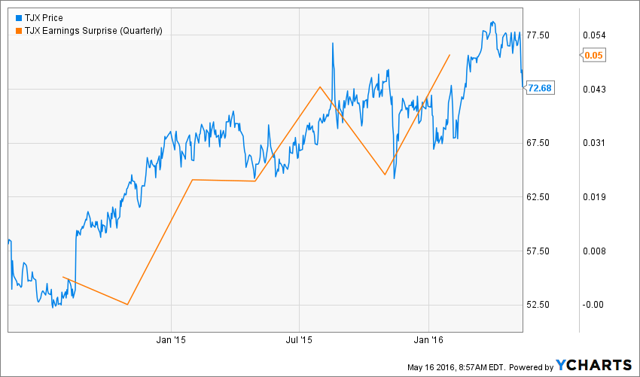 Earnings surprise in the past few quarters, and rise in stock price.
In the past few quarters, the company has delivered an earnings surprise, with good EPS growth despite facing currency and labor headwinds. In full year fiscal 2016, the EPS grew by 5.7%. In the current year, the company expects to show EPS growth of 1-2%. This is after including currency headwinds, which will negatively impact EPS by 4%, and higher labor wages, which will have a further 4% negative impact.
If TJX delivers above-average results on May 17th, it will not only show the ability of the company to perform well in difficult times, but will also show the trend towards off-price stores. This will help TJX Companies gain long-term momentum and also break the jinx around retail stocks.
Conclusion
TJX has shown rapid growth of store count and also managed strong same-store sales growth. Its growth has shown the shifting of trend from experiential shopping to value shopping for a large number of customers, and has also forced other retail chains to copy its business model. The company has been able to beat sales and earnings estimate in the past few quarters. If TJX is able to continue its winning streak in this quarter, the impact on the price can be much more pronounced, given the negative sentiment surrounding other retail stocks. It will be a perfect entry opportunity for this stock and should allow investors to ride a long-term bullish trend.
Disclosure: I/we have no positions in any stocks mentioned, and no plans to initiate any positions within the next 72 hours.
I wrote this article myself, and it expresses my own opinions. I am not receiving compensation for it (other than from Seeking Alpha). I have no business relationship with any company whose stock is mentioned in this article.