This is the third installment in a series of planned articles designed to initiate coverage on a handful of new biotech names. For those interested in the name, it provides a brief introduction and history of Bluebird Bio (NASDAQ:BLUE), a once high flying biotech that got its wings clipped due to early trial results that fell short of extremely optimistic expectations.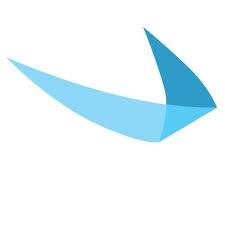 Admittedly, I am a self-professed biotech bull. In fact, I think the next couple of decades could be a golden era for biotech driven by an aging population and medical innovation. As U.S. investors adjust to the "new normal" of weak wage growth, low productivity, low inflation, and increased personal savings, the stock market could continue to stagnate. However, I view biotech as a sector where alpha can still be achieved. As a result, I advocate being overweight in the sector as part of a diversified portfolio strategy.
Bluebird operates in one of those new, innovative areas of biotech, namely genetic diseases and T cell-based immunotherapies. Even after a year long decline in stock price, Bluebird, an early, developmental stage biotech, still has a market cap measured in the billions, which speaks to the potential of the therapy.
Bluebird's Innovative Approach
Bluebird's approach to gene therapy is based on viral vectors that utilize the Human Immunodeficiency Virus Type 1 or HIV-1. The HIV-1 vector has been stripped of all the components that allow it to self-replicate and infect additional cells. HIV-1 is part of the lentivirus family of viruses. As a result, Bluebird refers to its vectors as lentiviral vectors.
The vectors are used to introduce a modified copy of a gene from the patients own blood stem cells called hematopoietic stem cells or HSCs, which reside in the patient's bone marrow. The HSCs are dividing cells that allow for sustained expression of the modified gene.
The gene therapy platform is being used for severe genetic and rare diseases and in oncology. In Bluebird's own words, the therapy is based on a simple notion; "to genetically modify a patient's own cells to fundamentally correct or address the genetic basis underlying a disease."
Bluebird's pipeline of therapies based on its genetic modification techniques and lentivirus approach is provided below: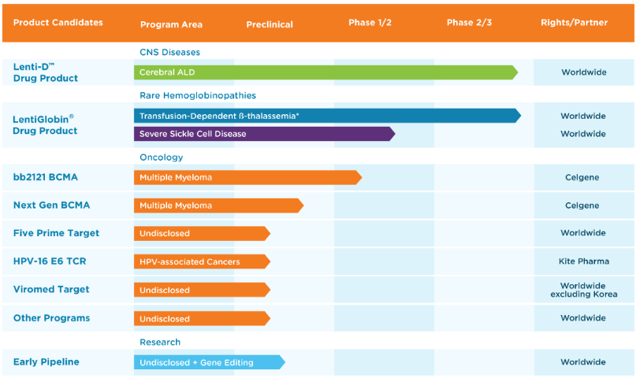 A Tail Of Two Trends
During the twelve month period from May 2014 to May 2015 Bluebird share price appreciated over 800%. It represents a period of progressively positive developments for the company. In May 2015 Bluebird reached its peak at $194 a share. Since that time, however, the stock has been in steady decline. To illustrate the point, below is a two year chart.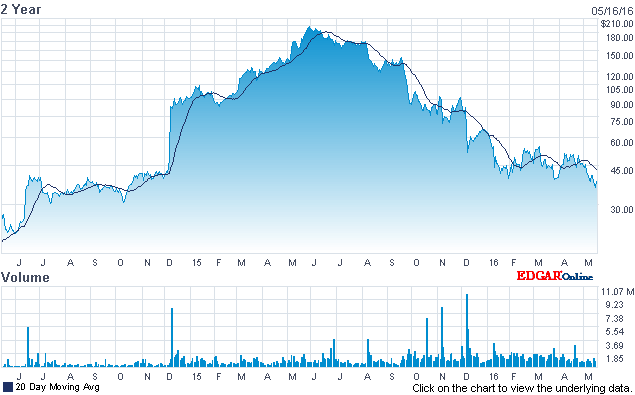 What went wrong?
Bluebird Falls Short Of Sky High Expectations
Rewind to approximately two years ago. Bluebird was planning to present beta-thalassemia data at a conference in June 2014. Beta-thalassemia patients suffer from chronic anemia and require regular blood transfusions. Results were a huge success. The data presented indicated that after a single infusion of Bluebird's gene therapy, the two beta-thalassemia patients started producing functional hemoglobin and were able to halt blood transfusions. Even though it was only two patients, the future looked bright for Bluebird and its shareholders and expectations were sky high. The following day, the stock was up 54% in pre-market.
Assuming continued success, market potential for the therapy was huge. Analysts were estimating cost of therapy at $1 million per patient. Based on patients with the disease, reasonable estimates for revenue for the company ranged from several billion to tens of billions.
An abstract released in November 2014 ahead of the American Society of Hematology annual meeting indicated that a third beta-thalassemia patient was responding more slowly compared to the first two patients. However, analysts at the time defended the results as being too early to pass judgment.
Bluebird was back on track in December 2014 after reporting 4 of the 7 patients with beta-thalasssemia were responding exceptionally well to the treatment. Adam Feuerstein, a Senior Columnist at TheStreet, wrote the following:
Four of the patients -- all followed for longer than three months -- are producing enough oxygen-carrying hemoglobin on their own to eliminate the need for chronic blood transfusions.

Two of these super-responding beta-thalassemia patients -- followed for a year and nine months, respectively -- have hemoglobin levels of healthy adults. At this point, a single infusion of Bluebird's gene therapy has essentially cured them of this serious, inherited blood disease.
The remaining three patients not mentioned were infused only a month prior, which was too early to give results. But with the patients reported, already high expectations of success were elevated even further as Bluebird entered 2015.
In February 2015 Bluebird received FDA breakthrough therapy designation for Lentiglobin in beta-thalassemia.
In May 2015 there was more positive news the therapy was working but this time in sickle cell disease. At the European Hematology Association annual meeting Bluebird once again presented results that were exceptional. After four and a half months of follow up, the sickle cell patient's total anti-sickling hemoglobin was 31.6%, and he hadn't been re-hospitalized for a sickle-cell related event since being treated. Importantly, the patient had continued to improve over the four month period.
After the data was presented, investors were declaring victory over sickle cell disease. But, it was only one patient!
Bluebird Reverses Course
Finally, after a year of positives where Bluebird could do no wrong, bad news struck in June 2015. An advisory panel recommended Bluebird Bio delay the start of its clinical trial in children with beta-thalassemia for one to two years until more safety data was obtained. It was an end to Bluebirds year long winning streak and would prove to be a defining moment in the stock price.
By August 2015 Bluebird appeared to be swept into the downdraft of the overall biotech sector as reflected in the IBB graph below.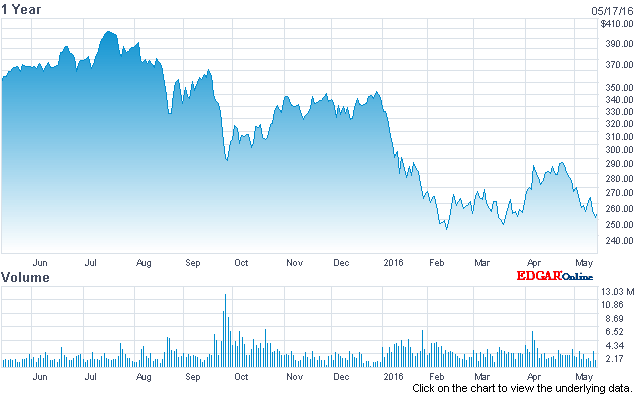 By September 2015 insiders were unloading shares. Further evidence of Bluebird's reversal of fortunes.
October 2015 brought further bad news. Bluebird reported a patient treated with a first-generation version of its gene therapy suffered a relapse seven years later. It was the first sign of cracks in the "100% cured" camp but it would not be the last.
In November 2015 Bluebird reported that three beta-thalassemia patients with a more severe genetic mutation had not been cured and at least six months out from treatment still required blood transfusions, but at a reduced level.
By December 2015 Bluebird had narrowed down the impact of treatment to various genotypes as the slide below indicates.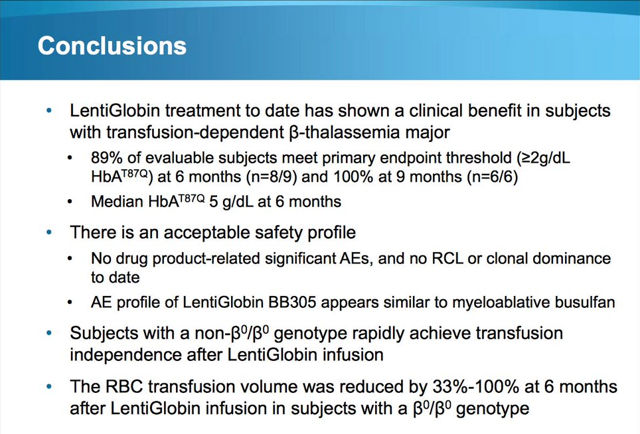 At the same conference, Bluebird reported two sickle cell patients infused with Bluebird's gene therapy only producing small quantities of normal-functioning red blood cells which were insufficient to impact their disease. A third patient was too early after treatment but appeared to also show signs of slow improvement.
In March of this year, Bluebird reported promising early results in treatment of cerebral adrenoleukodystrophy, or CALD. CALD is a genetic disease inherited through a defective X chromosome carried by the mother. CALD causes the destruction of a protective sheath around nerves cells in the brain which results in problems with thinking and muscle control. Over time patients lose the ability to think, move, see and speak and eventually become comatose and die. It's a very rare disease. Seventeen boys with CALD were enrolled into the study. Three had completed the endpoint of 2 years with no signs of major functional disabilities (the primary outcome). The remaining fourteen boys were also free of major functional disabilities but had not yet reached the two year mark. Results were very promising but also very preliminary.
Conclusion
That pretty much brings Bluebird up to date. The company doesn't plan to share additional data on beta-thalassemia and sickle cell patients until ASH later in the year. Clearly the stock got ahead of itself. Investors bid up the stock price over a twelve month period to unsustainable levels based on early success with just a few patients resulting in a multi-billion dollar valuation for Bluebird.
However, as a new investor looking at the company with fresh eyes, I see considerable promise. Sentiment is at an all time low. It's still an early stage developmental biotech with a billion dollar market cap. But, at these levels with promising results to date, I'm a buyer.
It's probably not going to "cure" sickle cell disease or beta-thalassemia, but with the right genotype, it could offer a cure for specific patients who were previously incurable. If analysts are correct about price per treatment, returns could be tremendous. With encouraging data presented later in the year, Bluebird could once again soar!
Disclosure: I am/we are long BLUE.
I wrote this article myself, and it expresses my own opinions. I am not receiving compensation for it (other than from Seeking Alpha). I have no business relationship with any company whose stock is mentioned in this article.