Kinder Morgan (NYSE:KMI) was the stalwart of many investors' portfolios, that is until the company broke its promise of growing dividends at a rate of 10% per year and cut payment instead. When commodities were down in the dumpster, there was a lot of questions regarding the survivability of E&P companies, and by extension, pipeline operators such as Kinder Morgan.
However, over the last little while, the commodity market has been booming, sending upstream and downstream stocks flying. The funny thing is that while Kinder Morgan participated in the industry-wide downward spiral, the stock was not able to pick itself back up.
Last time (Don't Trust Buffett's Pick) I talked about why you should think twice before following Buffett's lead (turned out it wasn't him after all). Funnily enough, while shares did edge up higher after Berkshire (NYSE:BRK.A) (NYSE:BRK.B) disclosed the stake, the stock has handily underperformed its peers since then.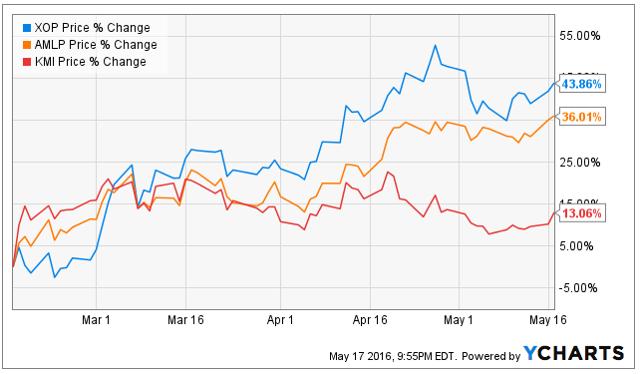 Many other midstream companies have variable-fee contracts, meaning that their profits rise and fall with commodity prices. This led to their downfall the first place, but now that things are looking better for oil and natural gas, what nearly killed them are now benefiting them. This is not the case for Kinder Morgan. According to the company's most recent presentation, more than 91% of cash flow is fee-based, so while volume may play a role, rising commodity prices will not significantly impact cash flow.
We know that cash inflow will be fairly stable, but we must also account for the outflow. Last time I talked a little bit about the company's capital program, which exceeded operating cash flow for the last three years, and how the supposed "growth" investments have not yielded any results. In Q1, shareholders were once again disappointed as the company continued to bleed cash without seeing any improvement. For example, even if we back out the $235 million of an impairment loss in Q1, the adjusted operating income still declined slightly quarter on quarter from $1.078 billion to $1.051 billion. Even if we take a more liberal approach using EBITDA, it's still not pretty. Despite the high and sustained level of capital spending, EBITDA has not grown. Take a look at the charts below: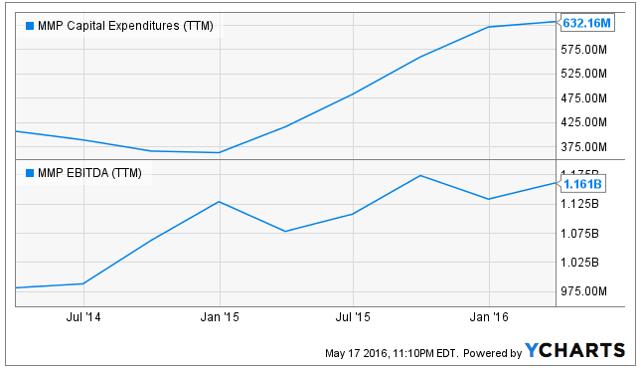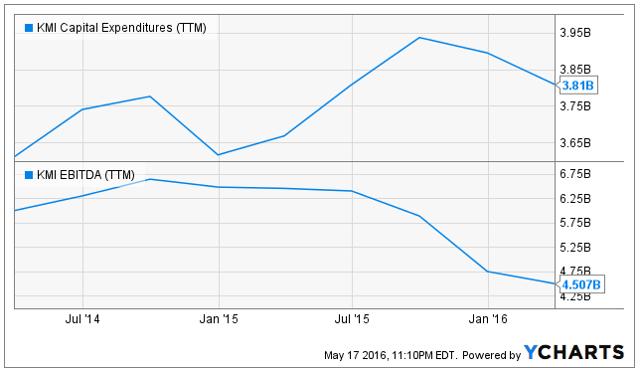 When compared to Magellan Midstream (NYSE:MMP), which has consistently increased EBITDA through capital spending, Kinder Morgan's EBITDA has meandered. EBITDA has fallen dramatically in Q4 2015 and Q1 2016 due to impairments, which do not fit into the strict definition of EBITDA. But even if we make this adjustment, TTM EBITDA is still just $6.75 billion.
The above comparison isn't perfect, since the underlying assets that make up the two businesses are different (KMI is diversified and MMP focuses on product pipelines). However, the fact that they are both large midstream companies focused on generating and growing cash flow means that capex should yield similar growth rate (or at least some growth), something that seems to be missing from Kinder Morgan.
Can The Stock Be Fixed?
If the management wants to demonstrate that Kinder Morgan is a good business, I believe that they should curb growth in the immediate future. Cash should instead be returned to shareholders through dividends or buybacks. The problem is that the company is currently tossing away billions of dollars a year without meaningful increases in profitability; and even if growth is currently generating a lot of value (though I fail to see how), the management clearly has failed to communicate their rationale. If the management can convey how capital spending has generated (or will generate) tangible value, then perhaps the stock will rebound. But given the current information, I fail to see how the company will improve.
Note: To understand how I structure the V20 Portfolio (+40% in 2015), whose goal is to compound capital at 20% over the long term, I encourage you to read the introduction to my investment process. If you are looking for some ideas that could complement your own portfolio, you can click the "Follow" button beside my name on the top of the page and be updated with my latest insights. Premium subscribers will get full access to the V20 Portfolio. You can follow my latest weekly update available to all here.
Disclosure: I/we have no positions in any stocks mentioned, and no plans to initiate any positions within the next 72 hours.
I wrote this article myself, and it expresses my own opinions. I am not receiving compensation for it (other than from Seeking Alpha). I have no business relationship with any company whose stock is mentioned in this article.