Grupo Supervielle S.A. (Pending: SUPV) hopes to raise about $190 million through its upcoming IPO. Based in Buenos Aires, Argentina, Grupo Supervielle S.A. is a financial group that was started in Argentina in 1887 by the Supervielle family. It owns Argentinian domestic bank Banco Supervielle S.A, which has branches located throughout the greater metropolitan area of Buenos Aires as well as in Mendoza and San Luis.
We previewed the IPO last week on our IPO Insights platform.
Grupo Supervielle S.A. plans to make a global offering of 104,166,667 shares of class B common stock through its IPO on May 20, 2016. It additionally will grant the international underwriters the option to purchase 15,625,000 additional class B shares in the form of American Depositary Shares, or ADS. Each ADS is comprised of five individual shares of stock. The individual shares have an expected price range of $2 to $2.60 while the ADS have an expected price range of $11 to $13.
Morgan Stanley, Raymond James Financial Inc. and Bank of America Corp. are in charge of organizing the sale.
Business Summary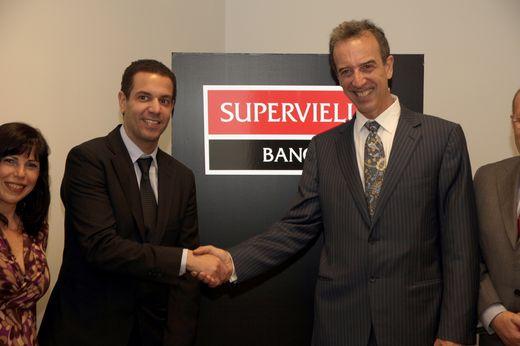 (Source)
The Superveille family first made their entry into the Argentinian financial sector in 1887. They control Grupo Supervielle S.A. Julio Patricio Supervielle is the controlling shareholder in the company. After the IPO, he will hold 85 percent of the voting rights and 62 percent of the company's capital stock. The company operates the privately owned domestic bank, Banco Supervielle S.A., which has locations throughout Buenos Aires, its metropolitan area, San Luis and Mendoza.
This would be the first IPO from Argentina since Mauricio Macri assumed office as the President of Argentina. During his first month in office in December 2015, Macri lifted restrictions on capital. The financial group states that it has more than two million customers and assets totaling $2.5 billion at the end of 2015.
Executive Management Overview
CEO and chairman Julio Patricio Supervielle also serves as the chairman of the board of directors for Cordial Compañía Financiera S.A., a financial services company that is a subsidiary of Banco Supervielle S.A. It provides credit cards and other financial services products. Mr. Supervielle will own 62 percent of Grupo Supervielle S.A.'s capital stock and will hold 85 percent of the voting rights for the company following its IPO. He is a member of the Supervielle family who controls the company and has been in the Argentinian financial sector since 1877.
Financial Highlights And Potential Risks
As per SUPV's prospectus filed with the S.E.C., the company showed 42% growth in financial income 2014-2015 to US $ 518,396,000 and 117% growth in net income over same time frame to US GAAP $ 48,510,000.
The economy in Argentina has been highly volatile in the past few decades. Foreign equity trading has been decimated since capital controls were implemented in the country in 2009. MSCI downgraded it to frontier-market status at that time because of the controls. With Macri's lifting of the capital controls, Argentina is now set for emerging-market status. Still, the constant market upheaval in the country could have a deleterious effect on the value of SUPV's shares.
Conclusion: Consider Caution
While Grupo Supervielle S.A. has a strong market presence in Argentina's financial sector, there are reasons for investors to pause. The capital controls were lifted only recently, and the economy there remains highly volatile.
Some new connections between Argentina and Wall Street could help drive interest in this deal, on the heels of a recent $16.5B debt issue, lead by J.P. Morgan. At the same time, high inflation continues.
We are interested but suggest investors consider a modest allocation at most.
Disclosure: I/we have no positions in any stocks mentioned, and no plans to initiate any positions within the next 72 hours.
I wrote this article myself, and it expresses my own opinions. I am not receiving compensation for it (other than from Seeking Alpha). I have no business relationship with any company whose stock is mentioned in this article.