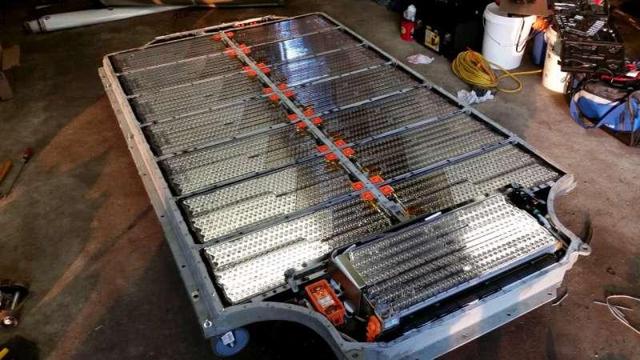 The battery is gonna change. Source for image: An Interview With Tesla Battery Hacker [WK057]
Tuesday brought an interesting piece of news on Tesla (NASDAQ:TSLA). Basically, The Korea Times put forward that Tesla was approaching LG Chem, Samsung (OTC:SSNLF) SDI and SK Innovation as possible suppliers for the Model 3. Indeed, it went as far as saying that LG Chem was already expected to win some of this business.
Direct Implications
There are obviously both understandable and weird implications of this approach. For instance, by seeking alternative suppliers:
Tesla can have better supply safety. If one supplier fails to deliver, another one can.
It can pit one supplier against another, and extract better terms from suppliers, allowing it to cut costs and increase margins.
It can rely less on its own supply. That is, it can rely less on the Gigafactory. This is where things get weird, of course, since the Gigafactory was supposed to be a Tesla advantage and this move basically makes it unnecessary. This goes towards what I've explained before (I, II): that the Gigafactory is not Giga anymore and its construction schedule has already slipped. Remember, the Gigafactory was an absolute must to be able to deliver 500,000 cars in 2020, and now Tesla is saying it will ship those by 2018 when it's obvious the Gigafactory will not be complete.
Of course, this move by Tesla can also sour relations with Panasonic (OTCPK:PCRFY), its sole existing supplier for the Model S and X. It can sour those relations to the point where Panasonic will be even less interested in investing in the Gigafactory.
Another Possible Implication
For a long time, Tesla's unique choice to use cylindrical 18650 battery cells was seen as a brilliant advantage leading to a lower battery cost. Well, investors might also have to revisit that assumption, because another thing The Korea Times implies is that the Model 3 might use pouch batteries:
Although LG is pushing the pouch-type battery as its mainstream product with Samsung SDI focusing on the rectangular-type battery, sources who are involved with the issue say Tesla may use LG and Samsung's mainstream technologies to keep adequate inventory levels as it's been widely expected the supply for the Model 3 will remain tight.
Here, The Korea Times does seem to fail to understand something - the Model 3 is certainly not going to use round and pouch batteries. It will only use one of those, not both - the battery design and packaging would be too different. Also, this looks like another nail on the Gigafactory coffin.
The Main Plate, Panasonic
While up to this point this article argued that it was rational for Tesla to seek alternative suppliers, there's also another possible interpretation. This interpretation is that Panasonic is already souring somewhat on Tesla itself.
This is not me imagining things: there are actually signs, very recent signs, that there is something to this thesis. I will point towards Panasonic's FY2016 annual earnings presentation and Q&A session. These took place on April 28, 2016.
In the Q&A session, while answering to questions on the Model 3, Panasonic had this to say on its rechargeable batteries business (where Tesla is a large factor):
Sales to Tesla didn't grow as much as expected … Model X number was not sufficient in terms of production. Rather difficult situation
@ 12:00 (question), 13:00 (answer), regarding FY2016 - ended on March 2016
We learned a lesson from that: To the extent that we can't foresee a major growth, we should see what would be the feasible growth … so that's the basis of our forecast
@ 13:00 (answer), regarding forecast for FY2017 - ends on March 2017
Over the longer term, Tesla's Model 3 orders should be larger than we were originally expecting... To the extent that we can supply them ahead of schedule, we are coordinating our efforts with Tesla to see what things we can do to make it happen.
@ 13:00 (answer), regarding FY2017, FY2018. To be fair it's still accepted wisdom that "the Model 3 is doing well"
Not just for Tesla … for next steps FY2018… rectangular type of batteries
@ 13:00 (answer), regarding FY2018. Seems to imply Tesla will also be one of those taking on rectangular (pouch) batteries.
Investments into that Gigafactory, we don't know at what timing we'll make that payment…
@ 20:00 (answer), regarding when investments into the Gigafactory will be made. On April 28, 2016, there was still no clarity. Panasonic says it expects the payment to be made earlier than expected, but it doesn't yet know when.
Regarding Panasonic, I should add that the forecast spoken about and highlighted above refers to the following slide (red highlight is mine):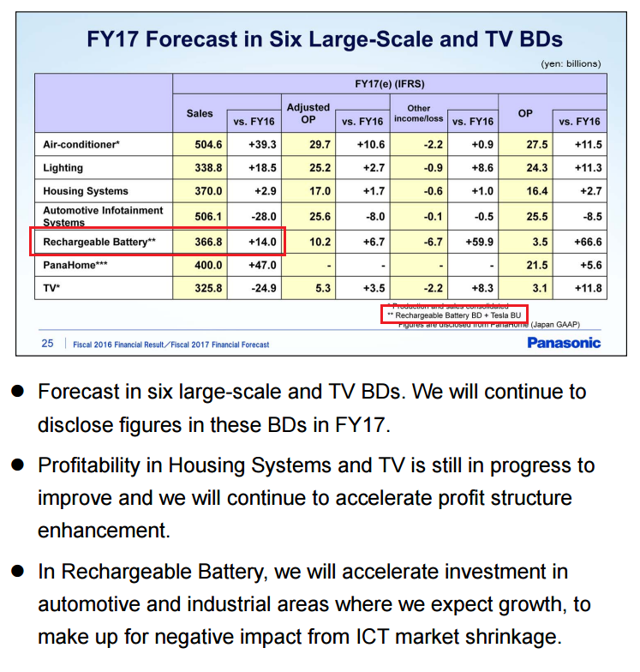 So basically, the segment Tesla is in is predicted to grow just 4% year on year during FY2017. Tesla exceeds that figure for certain, but as seen in the conference call, Panasonic is quite cold about its prospects ("having learned...").
It should also be highlighted that this segment is less than 5% of Panasonic's overall revenues, and Tesla is only part of it as well. I would estimate Tesla is 1/5th-1/4th of the segment (using $150-$200/kWh, 2015 50,000 Teslas, 80kWh average). If we were to ascribe all growth in the segment to Tesla, and this would mean Panasonic would be expecting ~16-20% growth from Tesla, so around 60,000 Teslas produced during 2016 (versus 80,000 low of range guidance by Tesla).
Furthermore, and as with The Korea Times news, there seems to be a good chance of Tesla using pouch batteries from 2018 onwards.
Conclusion
The recent news plus Panasonic's FY2016 earnings report and guidance indicates:
Tesla is not growing as much as Panasonic expected.
Panasonic "learned a lesson" from that and is being more conservative with its projections of further growth. Panasonic's 2016 projections for Tesla seem quite a bit below Tesla's own guidance for 2016.
The Gigafactory is being rendered irrelevant and is not likely to attain the promised full size. Likewise for the Gigafactory savings.
Tesla might use pouch batteries from 2018 onwards. The Model 3 might use pouch batteries. The supposed advantage of the 18650 (or other larger cylindrical format) cells is likely to be gone - once again pitting Tesla against other automakers on level ground.
The Model 3 is still seen as being a positive surprise. An intangible one, though, that's not leading to large commitments at this point.
Both to try to pressure Panasonic, to try to improve margins and to fulfill the dream the Gigafactory cannot deliver, Tesla is exploring alternative battery cell suppliers.
Disclosure: I am/we are short TSLA.
I wrote this article myself, and it expresses my own opinions. I am not receiving compensation for it (other than from Seeking Alpha). I have no business relationship with any company whose stock is mentioned in this article.
Editor's Note: This article discusses one or more securities that do not trade on a major U.S. exchange. Please be aware of the risks associated with these stocks.