Retail Sales
Retail sales increased 1.3% in the month of April, led by autos (+3.2%), gasoline (+2.2%), and internet sales (+2.1%). This was the best gain in more than a year on a monthly basis, and it resulted in a substantial increase in the consensus estimate for economic growth in Q2.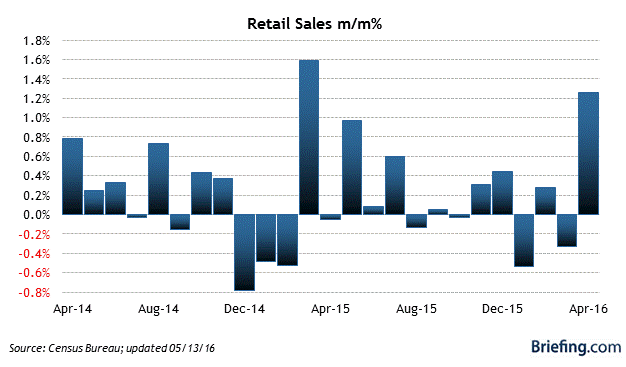 This report was a big relief for investors after several disappointing earnings results from the likes of Macy's (NYSE:M), Kohl's (NYSE:KSS) and Nordstrom (NYSE:JWN) raised concerns about weak consumer spending. Most analysts concluded that consumers were simply shifting their spending from brick-and-mortar retailers to online retailers, led by Amazon (NASDAQ:AMZN). While this may be true to a large extent, it still doesn't nullify the fact that consumer spending has decelerated for three quarters in a row.
It is important to remember that the monthly retail sales number is an estimate from the US Census Bureau that is based on a sample survey of approximately 4,700 businesses. The total universe of retail businesses is over three million. The initial estimate is seasonally adjusted and subject to sampling and non-sampling errors, which is why it is revised with more incoming data. For these reasons, we like to focus on the trend in the year-over-year number.
What you see below is a more sobering view of retail sales. The year-over-year increase in sales was 3% in April, and it has been in a declining trend for several years now, putting last month's increase in perspective.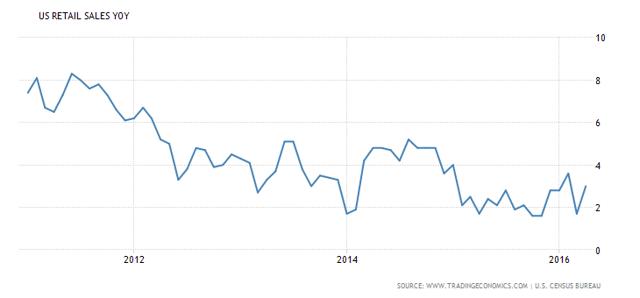 Business Inventories
The Commerce Department reported that business inventories rose 0.4% in March, which was the largest gain in nine months, led by a 2.3% surge in auto inventories. At the same time, business sales rose 0.3% in April, which means that there was no improvement in the inventory-to-sales ratio of 1.41. The inventory-to-sales ratio for automobiles now stands at 2.30, which is the highest level since April 2009.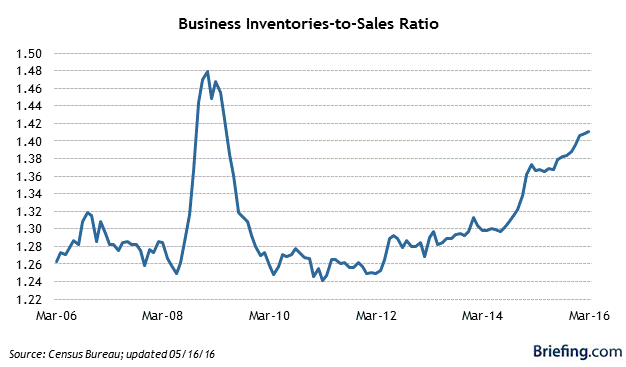 Inventories continue to grow on a year-over-year basis, while sales continue to decline, as can be seen below. The increase in business inventories for March means that first-quarter economic growth will likely be revised higher, but it also portends weaker rates of growth moving forward until the excessive inventory levels are reduced.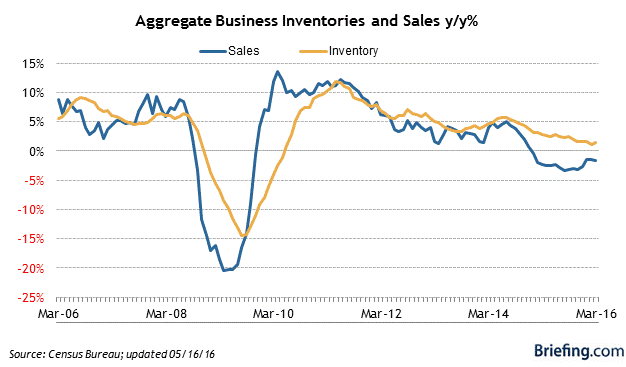 The Jobs Report
According to the Bureau of Labor Statistics, the economy created 160,000 jobs last month, while the unemployment rate remained at 5.0%. This was a substantially weaker number than the average of 232,000 over the past 12 months. The steady job gains we have seen in bars and restaurants, retail and construction over the past few months saw little or no change in April. Gains were led by professional and business services (+65,000) and healthcare (+44,000).
The length of the workweek increased by 0.1 hours to 34.5 hours, and average hourly earnings rose 0.4% on a monthly basis, leading to a year-over-year increase of 2.5%. That is good news, but we will need to wait for this week's inflation data in order to compute the far more relevant real average hourly earnings figure.
Reversing the recent trend, the labor force participation rate declined from 63% to 62.8%, which is one reason why the unemployment rate held steady at 5%. The rise in participation we have seen over the past few months had been interpreted as good news, because it supposedly meant that more workers were motivated to start looking for work again, lured by the surge in hiring and the increase in wages from previous months. My suspicion is that it is just a tool used to massage the unemployment rate.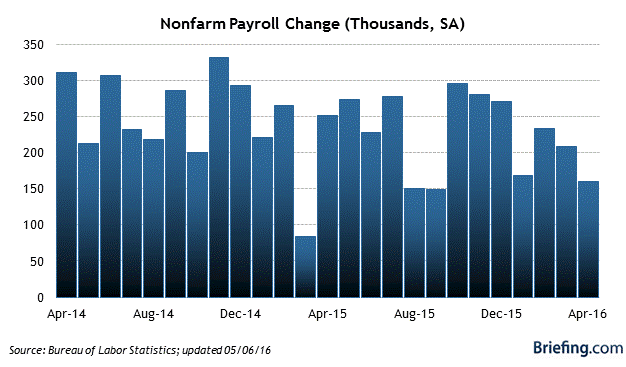 We think that this is the first of many weaker-than-expected payroll reports that we will see in the coming months. We are nearing the end of this business cycle and the rate of economic growth is slowing. Unemployment claims are likely to trend higher from current levels as layoff announcements increase. The early stages of deterioration in the labor market that we see is a new red flag for the economy and broad market. It will undoubtedly be the latest excuse for the Fed to delay raising interest rates in June.
Disclosure: I/we have no positions in any stocks mentioned, and no plans to initiate any positions within the next 72 hours.
I wrote this article myself, and it expresses my own opinions. I am not receiving compensation for it (other than from Seeking Alpha). I have no business relationship with any company whose stock is mentioned in this article.