Last month, I posted the second of my dividend growth updates for the Slowly, But Surely dividend growth portfolio. I noted that my portfolio had actually outperformed the major benchmark of the S&P 500 since its inception in July 2015. As of March 31, I had invested nearly $2,800 in two different portfolios. I have two portfolios because one allows me to make trades commission free, but it only allows purchases on a limited number of holdings. I want to diversify outside of those possibilities, hence the need for another broker that charges fees.
During April, I invested an additional $250 of new capital, while also reinvesting $13 and some change from my dividend income. I invest part of my capital through Loyal3, and I pooled my dividends until they reached a total of $10.12. The minimum investment is $10, so I used that capital to open up a new position in Unilever PLC (NYSE:UL). Unilever has a massive stable of consumer products, many of which I use. Axe and Degree deoderants and body washes for men seem to be quite popular, and I personally use them frequently. Additionally, the company produces things as diverse as Country Crock butter and Unilever soap. As a consumer products company, the PE ratio is fairly high at 24, but this sector seems to trade at a higher ratio because it is a bit more recession resistant as people still need to buy soap and deoderant regardless of what the economy does. The reason I chose to take a bite into Unilever and reinvest accumulated dividends going forward is the healthy dividend that currently equals a yield of more than 3.2 percent. The payout ratio is less than 70 percent, and the company also has a solid record of increasing its dividend (even if looking at it in dollars might say otherwise). I plan to periodically add to this position going forward to increase my dividend income.
Another benefit that my dividend income provided for me was a DRIP into a fractional share of Bank of Nova Scotia (NYSE:BNS) stock. My dividend of $3.47 (less the 15 percent Canadian withholding tax) got reinvested into 0.057 additional shares of BNS. This does not add up to a dollar of additional dividend income over the year, but it continues the compounding process. Pennies today should add up to dollars tomorrow.
I also opened another very small position during the month of April in Starbucks (NASDAQ:SBUX). Investors seem to have soured a bit after a growth disappointment at the last earnings call. Starbucks split last year, and it currently pays out a dividend of $0.80 per share. The yield is low at only ~1.4 percent. However, the three-year dividend growth rate is nearly 24 percent, which means that if the company were to continue at this pace in the short term, the dividend should double every three years. The payout ratio, according to dividend.com is around 42 percent of earnings per share, which is quite sustainable. The company is also still in a growth phase into new markets around the world, which should help support a growing dividend. My hope is that I'll be able to build this position over time, get a couple of splits along the way, and grow my income over the next couple of decades. The low payout ratio and higher dividend growth could pay off, even though the current P/E ratio of approximately 32 would seem to indicate that the stock might be a bit overvalued.
My two new purchases bring the Slowly, But Surely dividend growth porfolio up to a total of 10 different holdings, and at the end of the month of April, a snapshot view looked like this: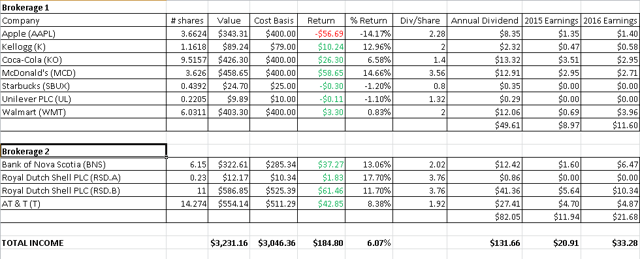 An overview of my portfolio shows that at the end of April, the only holding that had a negative return was Apple (NASDAQ:AAPL). Many individuals and portfolio managers have dropped this stock like a hot potato after a decline in revenue and lower guidance at the last quarterly report. Carl Icahn informed the world that he sold his position. I intend, however, to keep adding to this tech giant. The PE ratio is quite low in comparison to the S&P right now, and there are many people who are willing to pay a sizable premium to buy every new Apple release. A new iPhone is supposed to come out later this year, and if past history is any indication, consumers will be more than happy to trade in their old phones for the new edition. The best news coming from Apple, however, was the news that the company was rewarding shareholders with a 9.6 percent increase in the dividend. If I were to reinvest my dividends, this would cause my income from Apple to increase about 12 percent over the coming year when adding in a current dividend yield of approximately 2.4 percent. This number would, of course, be subject to change based upon the price of a share of Apple stock. Regardless, lower share prices in the short term allow me to accumulate additional shares at a lower cost basis, which should allow me to increase my dividend income more quickly than should there be a big run-up in price. Even accounting for my paper losses in Apple, my portfolio is up slightly more than 6 percent since its inception.
My portfolio earned $8.90 in dividend income for the month of April, which was an increase of $8.90 over the same month's income of $0 last year. Year-to-date, I've been able to earn $33.28 in dividend income. This is admittedly not much, but it's money that's coming in based upon past effort, not new work. My goal is to see this passive income go up on an annualized basis so that I can supplement my standard of living in retirement.
The Slowly, But Surely dividend income portfolio is intended to give inspiration as an example of how wealth and passive income can be built up over time by using small deployments of capital on a regular basis. Many people might become discouraged when looking at massive, established portfolios that are in the hundreds of thousands or even the millions. My hope is to get there eventually, but it will take time. In the meantime, I hope to encourage younger people to start building an income stream that grows over time.
If you'd like to keep up with the progress of the portfolio, be sure to follow me. I appreciate your support.
Disclosure: I am/we are long AAPL, BNS, K, KO, MCD, SBUX, RDS.B, UL, WMT.
I wrote this article myself, and it expresses my own opinions. I am not receiving compensation for it (other than from Seeking Alpha). I have no business relationship with any company whose stock is mentioned in this article.
Additional disclosure: I am not a licensed financial professional. This article is intended for information/educational purposes only. It is not intended as a recommendation to buy any financial security. Please perform due diligence before making an investment in any of the securities mentioned.