Update: As discussed in the comments below, the 35% figure isn't right. By mistake a bond holding was listed in the now amended 13-F as a stock holding. Mr. Chou confirmed he held bonds of Westmoreland Coal and believes they are attractive at 60 cents on the dollar(They trade at a discount to par) and offer much of the same upside while being less risky as compared to the equity. The analysis in the article is still highly relevant. The quoted CEO commentary maybe even more so.
When I noticed Francis Chou put a new stock in his portfolio, and it made up a whopping 35% of his long positions, I had to check it out. Chou is a value investor who flies a bit under the radar but has posted market-beating returns over multiple market cycles.
The stock in question, of course, is Westmoreland Coal (NASDAQ:WLB) and when I checked out the Seeking Alpha coverage on the name I was only intrigued more, as there have a couple of very bearish headlines recently. Who in his right mind puts 35% of his portfolio (including other people's money) in something as risky as a highly levered coal stock?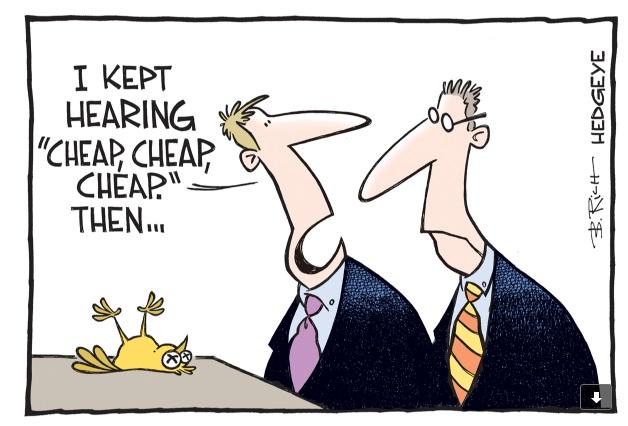 Source: Hedgeye's awesome daily cartoons.
Dataroma doesn't count cash, so likely Chou holds some cash and it isn't 35% of his entire portfolio but still his second largest position only makes up 7%, and that's Berkshire Hathaway (NYSE:BRK.B).
I'll readily buy into there being a lot of value in Westmoreland's assets and if it can weather the current coal environment while being levered $1.1 billion in debt or between 4-5 turns of EBITDA the potential for tremendous upside is there. But is it going to make it to the other side of the cycle?
It turns out the company enters 2016 with 90% of the tons it expects to deliver being under cost-protected contracts. Even when the weather is disadvantageous, the company is allowed to charge its customers for the fixed costs it racks up. Who are they charging for coal that isn't used?
Well, the company operates quite a few open mine-mouth operations where it supplies a power plant that's built almost on site. They just get out the coal and shovel it into the plant as needed. This is an extremely cheap way to fuel a plant and a company doing the same thing on a smaller scale was discussed on Off The Beaten Path in the January issue.
Management's focus to deleverage the company is another thing that's somewhat reassuring the company is going to make it out this murderous coal market. The team has been improving the Ohio and Coal Valley operations cost structure, it put a part of the workforce on flexible contracts and is looking at equipment financing alternatives to save having to buy them right now. They are also looking to free up cash that's trapped in the ROVA power plant (Fellow contributor Forward View expects management to be able to sell it for $35 million in 2019).
The CEO provided guidance on the recent earning call (emphasis added):
Looking ahead to the remainder of 2016, our outlook has not changed from what we've previously shared with you. Our expectation remains to sell between 53 million and 60 million tons of sold and generate adjusted EBITDA in the range of $235 million to $275 million. Using the updated free cash flow approach, our guidance remains generate between $60 million and $80 million of free cash flow. This includes capital expenditures that are expected to be in the range of $59 million and $71 million and cash interest of approximately $90 million. Our next large interest payment will be made early in the third quarter.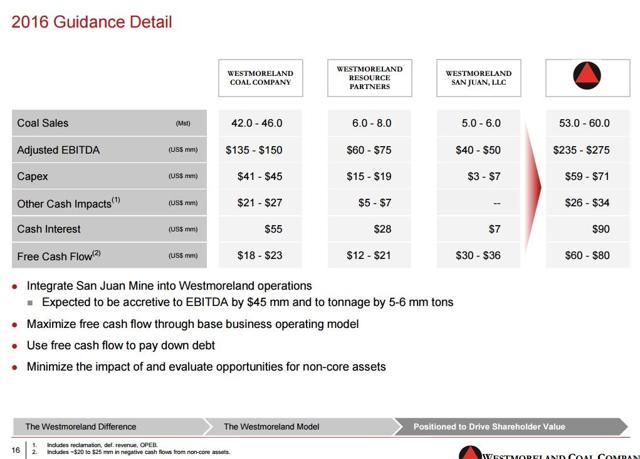 Source: Presentation at the BMO Capital Markets: 25th Global Metals and Mining Conference.
Most of the free cash flow that can be utilized to delever will come in end of the year when the season is a lot more favorable. The intent is to use the entire $60 - $80 million coming in to delever. Management said something interesting, that it would use the cash to buy back whatever piece of debt provided the best opportunity and the maximum delevering benefit. It sounds a bit strange but actually quite a bit of its debt is trading below par. The company could potentially buy back its debt below face value. That's really good news as $60 million of free cash flow could potentially take out $100 million worth of debt.
Maturities can be a real problem, and fellow contributor Value Digger had me worried with his bearish take implying the maturities are near and potentially deadly. From the company's investor presentations it doesn't look that bleak but its valuable to take in different perspectives. The company has a weighted average contract length of 12 years. The word weighted is very important here: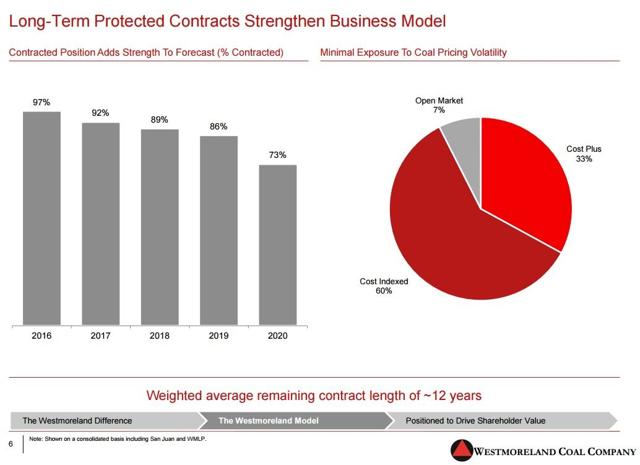 Source: Presentation at the BMO Capital Markets: 25th Global Metals and Mining Conference.
The weighted contract length for the companies tons, combined with its cost protected contracts, reassures me the company is quite likely to be able to successfully delever its balance sheet if it wants too. While the upside is quite uncertain, the company possesses a vast number of coal reserves and assets: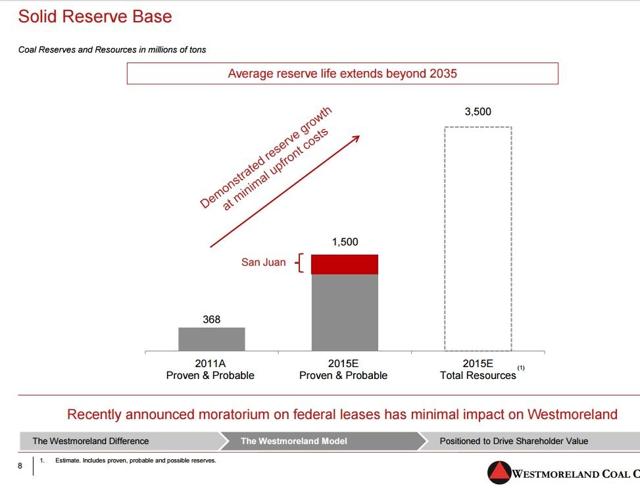 Source: Presentation at the BMO Capital Markets: 25th Global Metals and Mining Conference.
If it manages to monetize these assets over the years, coupled with the fact it isn't likely to be paying any corporate taxes over the next five years (due to benefits) the potential for a multibagger is there.
Disclosure: I/we have no positions in any stocks mentioned, and no plans to initiate any positions within the next 72 hours.
I wrote this article myself, and it expresses my own opinions. I am not receiving compensation for it (other than from Seeking Alpha). I have no business relationship with any company whose stock is mentioned in this article.