Market participants should expect very little from natural gas (NYSEARCA:UNG) prices until the summer cooling season starts next month.

Expect prices to be flat with minimal swings in volatility over the next several weeks. As we will highlight in this article, much of the weather forecasts we've seen thus far point to neutral weather patterns. The demand side will be fairly easy to gauge, while continued deterioration in supply will help boost prices to resistance level of around $2.30/MMBtu.
Weather Forecasts for the Next Six to 10 Days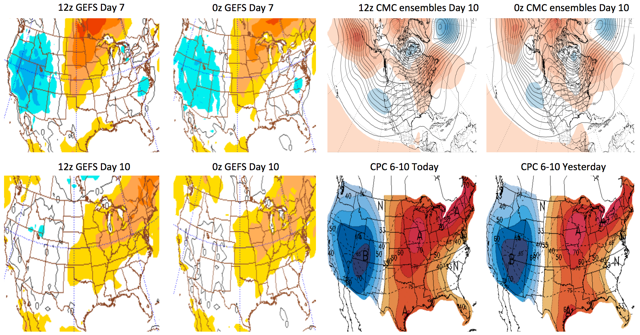 As you can see, there isn't much of a change between yesterday's forecasts and today's. As we continue to monitor near-term weather conditions, we will update readers as to whether we think the demand outlook is bearish, bullish or neutral.
NGL Demand
One area that gets very little attention is the growth in demand for ethane and propane. Last year, propane storage got so high that propane prices in Edmonton went to negative. Despite the recent oil rally, NGL prices have not kept up in spite of significantly more bullish underlying fundamentals. As of today, U.S. propane exports represent nearly 50% of total supplies.

We suspect with additional steam crackers coming online and midstream companies continuing to build out export capacity, propane prices this winter could spike significantly.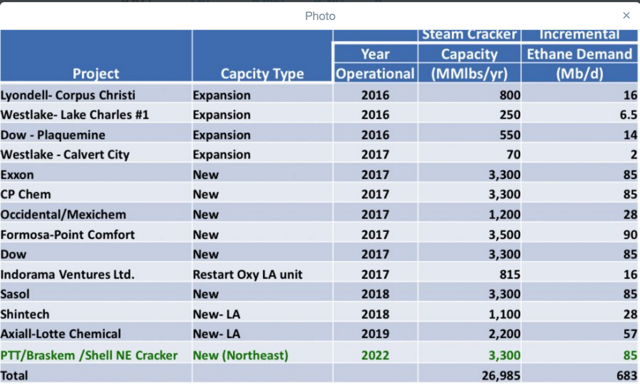 Ethane demand is also structurally increasing as midstream and chemical companies bring on additional facilities and new steam crackers. Many of these plants were planned two to three years ago, and the plants will come online at precisely when natural gas drilling is hitting an all-time low. We think that due to these structural increases in demand prices will respond favorably, and NGL heavy natural gas producers will benefit substantially.
We plan to write a separate article detailing the outlook for NGL and discussing where we think prices could be headed.
As always, if you enjoy our natural gas daily, please click on the "follow" button above and read our other energy write-ups. In addition, we also have a premium subscription platform that's tailored to long-term value-oriented investors. We provide recommendations of stock ideas and portfolio composition. Our HFI portfolio has now outperformed the SPY by 8% since inception. We look forward to you joining the HFI platform.
Disclosure: I/we have no positions in any stocks mentioned, and no plans to initiate any positions within the next 72 hours.
I wrote this article myself, and it expresses my own opinions. I am not receiving compensation for it (other than from Seeking Alpha). I have no business relationship with any company whose stock is mentioned in this article.