After Apple (NASDAQ:AAPL) made its $1 billion investment in Didi Chuxing last week, Alphabet (NASDAQ:GOOG) (NASDAQ:GOOGL) unveiled its own move to join the on-demand car/taxi service industry. Didi Chuxing is China's biggest on-demand taxi service that competes with Uber (Private:UBER) China. However, I opine that the Waze Rider app announced by Google yesterday is the ultimate checkmate move.
Anything that hampers the expansion move of its rivals is always good for Alphabet. Furthermore, it certainly did not cost Alphabet $1 billion to join this fast-rising niche market of ride-hailing/car pool services.
With Google getting involved, the alliance between Apple and Didi Chuxing is unlikely to flourish. Didi Chuxing's operation will likely be limited to China. Didi Chuxing also denied the rumor of an IPO in 2018.
The screenshot below illustrates just how easy it is to get a ride using Waze Rider. Didi, Uber and other players in the ride-sharing business are all vulnerable to Google's muscling in on their turfs. With Waze Rider now official, there's no way that the $68 billion valuation of Uber will ever come true.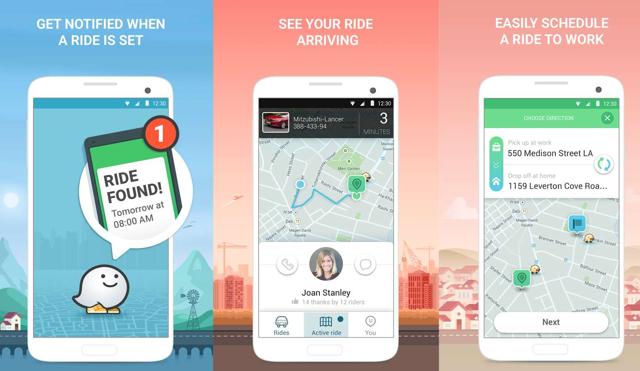 (Source: Google)
Disrupting The On-Demand Transport Industry
The overwhelming threat now is that Alphabet will use Waze Rider to kill the future growth prospects of Uber, Didi and Lyft. Unlike the Didi and Uber business models, Waze Rider customers will only have to pay for the fuel consumed during the travel. This is rather ruthless of Alphabet. Google Ventures invested $258 million in Uber back in 2013.
Google now wants to kill Uber, not nurture it. Apple, with its massive cash hoard, will just shrug off its shaky $1 billion gamble on Didi. On the other hand, Alphabet's move could be fatal to Uber. Uber already lost almost $1 billion during the first six months of 2015. Uber's net revenue for 1H 2015 was only $663 million.
The non-profit motif of Waze Rider can become the new de-facto standard of on-demand transport services.
The Waze Rider - Get A Ride app is being tested in selected countries. As per App Annie, the Android version is already the No. 2 most downloaded Transportation app in Israel. The Waze Rider program also is being tested in San Francisco.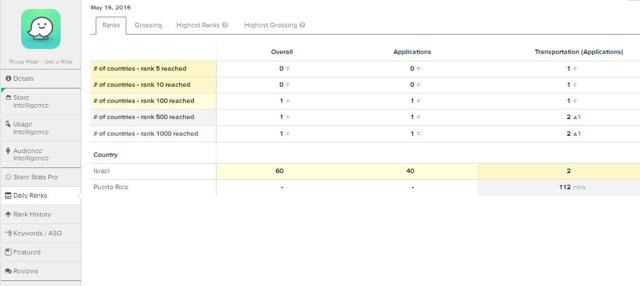 (Source: App Annie)
The Waze Rider app will eventually become available in all countries where the mobile versions of Google Maps and Waze apps are already popular. The original avoid-traffic-monitoring Waze Android app is already downloaded more than 100 million times.
Before Google bought it in 2013, Waze already had 50 million users. This large pool of very engaged Waze app users also are likely to embrace Waze Rider. In essence, Waze Rider is a crowd sourced way of carpooling that makes Uber and Didi unnecessary.
Alphabet will probably monetize Waze Rider through localized ads like it did with Waze. Advertisers can set fixed monthly budgets for ad placements on Waze.
Conclusion
The better long-term bet now is on Alphabet. Waze Rider is just one example how Google is outsmarting Apple. With a non-profit Waze Rider app available to any smartphone owner, Apple cannot expect to see any meaningful return from its $1 billion bet on Didi.
Take not that Alphabet also is hard at work courting the Chinese overlords. Lenovo's (OTCPK:LNVGY) chief already confirmed that the Google Play app store will return to China this year. Waze Rider might just be one of those other Google services that will make a comeback in the Middle Kingdom.
The gods at Alphabet also are willing to sacrifice the $258 million bet on Uber. Back in 2013, Uber was only valued at $3.5 billion after Google Ventures took a stake. But like it was said earlier, there is little chance that the unrealistic $68 valuation of Uber will become a reality. The $1-billion-loss-in-six-months last year was a very loud warning that Uber's business model is broken.
I rather believe that an ad-driven approach on Waze Rider will make Google the new king of ride-sharing. Unless Uber agrees to be taken over by Alphabet, I don't think it will survive for long.
Disclosure: I/we have no positions in any stocks mentioned, and no plans to initiate any positions within the next 72 hours.
I wrote this article myself, and it expresses my own opinions. I am not receiving compensation for it (other than from Seeking Alpha). I have no business relationship with any company whose stock is mentioned in this article.