A Recap on Apollo Alternative Assets (OTCPK:APLVF)
The management of Athene presented at AP's fourth quarter 2015 conference call on May 10th and gave a brief update on the year so far. For those of you new to AP and wanting a thorough grounding in the company, I published a previous article here; please note, it is exclusive for SA PRO subscribers.
In brief, AP is an investment vehicle launched by Apollo, the quoted private equity manager, whose sole investment is in Athene, a private insurance company focused on retirement services and in particular, fixed indexed annuities (FIAs) and reinsurance of guaranteed annuities. In 2015, Athene was the 6th largest FIA provider in the US and the 2nd largest provider of fixed indexed deferred annuities, according to sales information from members of the Life Insurance and Market Research Association (LIMRA).
The IPO is on Track
Athene has registered with the SEC to become a public company. Registration was initially scheduled for last fall but then changed to June 2016, so they are a little ahead of the revised schedule. (I saw an ad on TV for Athene over the weekend). Management did not give a date for the IPO but I assume it will be soon. Details of the number of shares being offered, who is selling existing shares and the IPO price have yet to be announced. Apollo plans to retain its 45% stake in the company. A preliminary prospectus is available here:
New Fiduciary Standards Could Impact the Annuity Business
Just when everything looked good for Athene, the DoL introduced new regulations covering fiduciary standards that could reduce the sales of annuities. Here's what the 2016 EY US Life-Annuity Insurance Outlook said about the new rules, "The rule strengthens consumer protection, constrains distributors and alters compensation for advisors providing retirement advice…The ability to recommend specific products may become more difficult, creating a ripple effect on retirement sales and advice. On the conference call, management was clearly upset with the lack of consultation in drawing up the new rules, but reiterated its commitment to the annuity business. The laws are to be phased in over the next couple of years.
Sales of fixed indexed annuities have increased steadily since 2010 from $32b to $52b in 2015 (see chart below). They have grown from accounting for 39% of total annuity sales in 2010 to 53% in 2015, according to LIMRA. An aging population and the absence of retirement savings coupled with the need for tax-efficient savings products with guaranteed returns support the use of annuities.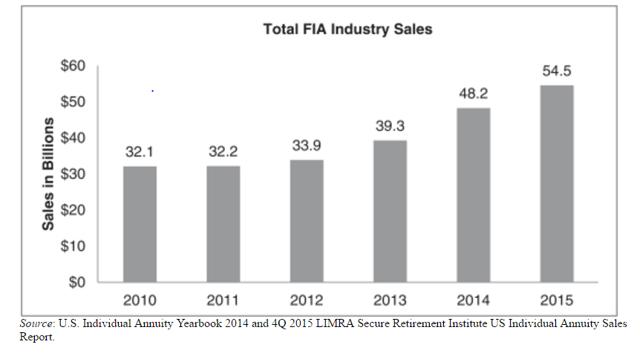 My guess is that the industry will adapt and while sales will probably fall over the next couple of years, annuities will continue to be in demand. The environment is likely to lead to greater competition, and some firms may decide to get out of the business completely. This may not necessarily be bad news for Athene, which has grown through the acquisition of annuity businesses, normally paying a steep discount to asset value. In addition, Athene has launched new products, which may help sales.
Growth in assets, past and future
During 2015, assets at Athene grew from $60bn to $67bn as a result of the acquisition of Delta Lloyd ($5.9bn) and a capital raise of $1.1bn. In fact, acquisitions of other insurance companies or blocks of insurance have been the key growth driver for Athene. Management remains on the look-out for such assets but I think these could be harder to source going forward; the low hanging fruit has been captured. Nevertheless, Athene plans to be opportunistic in search of acquisitions.
Athene has also sought to grow organically. The company's sales of fixed annuities has raised deposits of $3.9bn, $2.9bn and $1.5bn, in 2015, 2014 and 2013, respectively. Most of these sales have come through the retail channel, in which third parties are crucial to fuel sales growth. Athene plans to expand its distribution to more regional banks, broker-dealers and independent marketing organizations over the coming years. The recent acquisition of Delta Lloyd's fixed annuity business in Germany has opened a door into selling Athene's products in Europe.
Another source of growth has been flow insurance, which has growth by $1.1bn, $349mm and $167mm over the last three years. A third source of growth has been funding agreements, where Athene issued its first agreement of $250mm last year. The company intends to increase the sales of such agreements. Finally, the recent upgrade in its financial health to A- should also help support future sales.
Given Athene's short life and the significant events that have occurred in that time, it is difficult to base future growth in assets on past performance. However, if we assume that Athene can raise $200mn in assets each year over the next five years and make a couple of acquisitions that total $8bn in assets, and add growth through investment returns, then it is conceivable that Athene could have $75bn in investable assets in five years.
Investment Expertise
To date, Athene has achieved a very attractive return on equity. This is a result of two factors: 1) astute sourcing of assets, particularly, acquiring assets below book value and reinvesting them at attractive rates, and 2) investing in private equity investments that have delivered higher returns than more conservative investments would have delivered.
Athene has access to Apollo's investment team and has employed it in managing private as well as public investments.
I think the investment team is top notch and it has been able to generate an attractive spread. In its review of Athene, Fitch noted that Athene "is led by a team with extensive industry experience in managing net investment spread businesses within life insurance companies". While acquiring cheap assets, management has also been able to retain discipline in the pricing of its products, which has helped to control credit costs. The investment margins achieved by the team for the past two years are shown in the table below.
| | | | | |
| --- | --- | --- | --- | --- |
| Investment Margins | Q4 2015 | Q4 2014 | 2015 | 2014 |
| Fixed income & other investments | 4.37% | 4.16% | 4.16% | 3.99% |
| Alternatives | 8.67% | 10.49% | 9.40% | 9.78% |
| Net investment earned rate | 4.53% | 4.41% | 4.36% | 4.26% |
| Cost of crediting on deferred annuities | 1.94% | 1.92% | 1.92% | 1.94% |
| Investment margin on deferred annuities | 2.59% | 2.49% | 2.44% | 2.32% |
Source: Athene May 2016
Alternatives can account from 5-10% of the portfolio and currently is about 6%. The fixed income portion of the portfolio also includes structured products, such as non-agency residential mortgage-backed securities. Last year, the portfolio held a higher weighting of cash, partly due to calling in remaining funds from a capital raise, which lowered returns. Athene believes that it can achieve an investment margin of 2-3% over the 7.5 weighted average life of the deferred annuities, which account for most of its reserve liabilities of $65.4bn. At a spread of 2.5%, this would be equivalent to earning $1.6bn on its investment portfolio.
A Look at the Investment Portfolio
Management focuses on taking liquidity risk and complexity risk and not just credit risk. The portfolio maintains significant liquidity to take advantage of market dislocations. Approximately 27% of total invested assets are in floating rate securities. Management holds 3% in cash for growth opportunities (to fund acquisitions). The alternatives portion of the portfolio focuses on fixed income-like, cash flow-based investments. The portfolio carries a higher risk than competitor portfolios but over time should produce higher returns, all else being equal.
A Somewhat Aggressive Investment Portfolio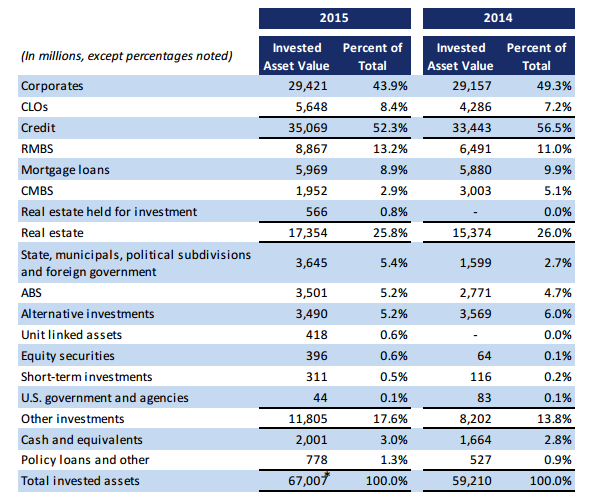 Source: Athene, May 10, 2016
Strong Profitability
Management believes it can achieve an ROE of 15%. Very few, if any, of its competitors achieve such a level. During the past year, the increase in shareholder equity and holdings of cash caused ROE to fall to 11.9%, whereas in 2014, it hit 14.3%. If we focus just on retirement services, the company achieved an ROE of 22.9% in 2015 and 32.3% in 2014. The big increase in the number of shares outstanding contributed to the fall in earnings per share.
| | | | | |
| --- | --- | --- | --- | --- |
| Operating Income, Net of Tax by Segment | Q4 2015 | Q4 2014 | 2015 | 2014 |
| Retirement Services | $280mm | $205mm | $785mm | $764mm |
| Corporate and Other | (13) | 66 | (30) | 29 |
| Operating Income, net of tax | $267mm | $271mm | $755mm | $793mm |
| Net Income Available to AHL Shareholders | $259mm | $217mm | $563mm | $468mm |
| Operating ROE (ex. AOCI) | 19.6% | 28.9% | 15.9% | 24.2% |
| Operating ROE ex. AOCI - Retirement Ser. | 29% | 25.6% | 22.9% | 32.3% |
| ROE excluding AOCI | 19.0% | 23.2% | 11.9% | 14.3% |
| EPS - diluted | $1.39 | $1.54 | $3.22 | $6.03 |
| Book Value (ex. AOCI) | $30.00 | $27.64 | | |
| Weighted common shares outstanding - diluted | 186mm | 141mm | 175mm | 132mm |
As I noted above, it is difficult to draw firm conclusions about future ROE based on the most recent history. Acquisitions and related costs muddy the waters. If we take 2015 as an example, results benefited from higher net investment income as management continued to invest the assets acquired from the Aviva acquisition into higher yielding and higher quality investments. The company also benefited from tax adjustments.
These gains were partially offset by an increase in amortization of commissions and costs (DAC, DSI, and VOBA) involved in acquiring insurance. "Corporate and Other" income was negative owing to lower alternative income from public equity positions and higher corporate expenses. Net income available to shareholders increased mainly due to a sharp reduction in non-operating items e.g., the termination of an advisory contract with Apollo, lower stock compensation and income tax expense.
The table provides a reconciliation of non-GAAP and GAAP earnings and illustrates some of the factors that have affected earnings. As a reminder, the capital raise contributed to lower EPS. Thus, what is normalized earnings is tough to gauge.

Source: Athene preliminary prospectus 2016
Putting a Value on AP Alternative Assets
I've reproduced the table below from my last note with a few tweaks. It illustrates potential outcomes depending on ROE and P/BV multiples. In arguing for a premium to book value I would point to the following:
Management's experience in the industry
Apollo plans to retain its 45% ownership in the company after the IPO
Good (although short) record of achieving attractive spreads on assets under management
Strong balance sheet, and recent upgrade in the company's financial strength rating
Ability to grow the business organically and inorganically
Partially offsetting the positives above are:
The sector sells at somewhat depressed valuations
Uncertainty surrounding future sales of annuities
Peer Group Comparison
The insurance sector is selling on depressed valuations at the moment, and it's difficult to find an exact match in terms of Athene's business concentration on fixed annuities. Indeed, other matters affect a stock's valuation, but as you can see the two companies that earn an 11% ROE sell above book value. Even if Athene is priced at book value ($30), I expect the stock price to appreciate quickly to reflect the higher ROE the company can deliver. Incidentally, the last private share offering was done at $26 a couple of years ago, so I think $30 will be the minimum IPO price.
| | | |
| --- | --- | --- |
| Company | ROE | P/BV |
| Met Life | 7.13% | 0.63 |
| Genworth | -0.50% | 0.13 |
| Prudential | 10.62% | 0.69 |
| Lincoln | 6.88% | 0.70 |
| Hartford | 8.22% | 0.97 |
| Principal Financial | 11.40% | 1.23 |
| Reinsurance Group | 6.54% | 0.91 |
| Torchmark | 11.19% | 1.61 |
Source: Yahoo Finance, 14 May, 2016
In fact, I think the shares will sell at a premium to book value given the higher ROE Athene delivers compared to competitors, and I don't think Apollo would be interested in selling at book value. My best estimate is for the IPO to be priced near $36 with the potential for some appreciation when the shares start to trade. (I'm assuming no dilution). Over time, if Athene can achieve a 15% ROE and sales of annuities are not adversely affected by the new regulations, the shares could appreciate handsomely.
Low Estimate

Mid Estimate

High Estimate

Current book value per share of Athene

$30.00

$30.00

$30.00

ROE (estimated)

11%

13%

15%

Book value multiple (NYSE:X)

1.1

1.3

1.5

IPO price of Athene

$33.00

$39.00

$45.00

Current AP Alternative price

$29.50

$29.50

$29.50

Potential Return (approx.)

12%

32%

52%
The exit for AP shareholders
AP Alternative Assets is committed to making an exchange offer to AP's unit holders following the Athene IPO. AP unit holders would be entitled to receive the same number of shares in Athene as AP holds in Athene. There is a 7.5 month lock-up period after the IPO during which AP cannot sell its shares in Athene. Following the lock-up period, AP will make a Wind-up Tender Offer. If less than 25% of unit holders elect to take the offer, it will not be carried out. In that case, unit holders can elect to receive shares in Athene on a pro rata basis. AP could, if it wanted, sell its holding in Athene and reinvest the proceeds in another investment(s). However, I think this is unlikely.
I assume that the value of AP's shares would reflect the value of its holding in Athene's publicly traded stock, but with some discount. Of course, investors could always sell their AP shares before the 7.5 months were up. Then again, investors could just apply for shares in the IPO.
Disclosure: I am/we are long APLVF.
I wrote this article myself, and it expresses my own opinions. I am not receiving compensation for it (other than from Seeking Alpha). I have no business relationship with any company whose stock is mentioned in this article.
Editor's Note: This article discusses one or more securities that do not trade on a major U.S. exchange. Please be aware of the risks associated with these stocks.