Welcome to the Trump vs. Silicon Valley issue of M&A Daily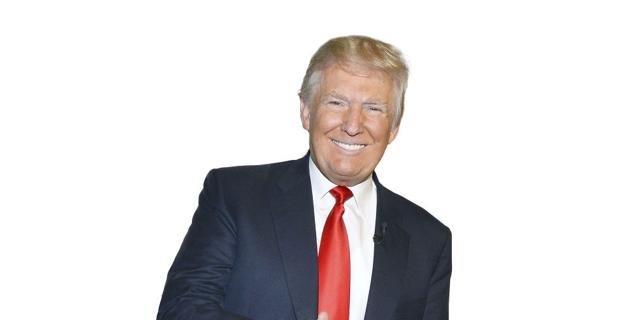 Donald Trump
Donald Trump is warning of a dangerous financial bubble in technology.
I'm talking about companies that have never made any money, that have a bad concept and that are valued at billions of dollars, so here we go again… You have a stock market that is very strange. You look at some of these tech stocks that are so, so weak as a concept and a company, and they're selling for so much money. And I would have said can that ever happen again? I think that could happen again.
Technology start-up valuations remind him of 2007. The presidential candidate also predicts a "very massive recession" and that,
I think we're sitting on an economic bubble. A financial bubble.
Such a recession could complicate his plan to pay off the debt in eight years while cutting $10 trillion of revenue and not reforming entitlements.
What is the best way to invest in early stage technology companies? One way that anyone can do so is via Firsthand Tech Value Fund (NASDAQ:SVVC). At the same time, one can hedge it with Renaissance IPO ETF (NYSEARCA:IPO).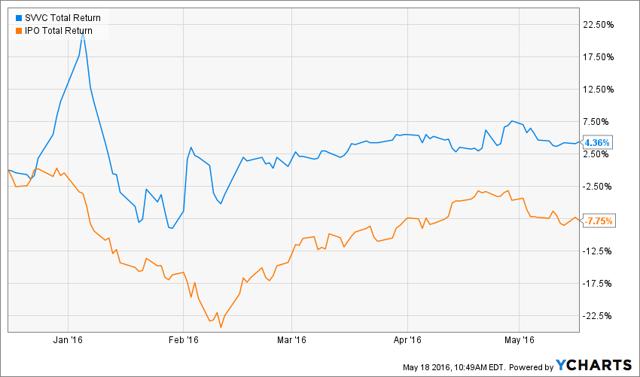 Accredited investors have further options such as Chase Coleman's Tiger Global Management and Clark Landry's syndicate, which I plan to write more about shortly. As for Mr. Trump, you can express your views on his chance of winning the U.S. presidential election here. The market currently gives him around a 40% chance.
Valeant
Valeant (NYSE:VRX) is looking to sell about a billion dollars of assets including skin and cancer drugs in order to pay off some of its debt. With the drama around Valeant stabilizing, it is worth looking to other pharma companies that have traded down with it for valuable companies that could benefit from M&A. Two worth considering include Depomed (NASDAQ:DEPO) and Akorn (NASDAQ:AKRX). Both have suffered alongside Valeant and either one could benefit from takeover interest within the year.
Microsoft
Microsoft (NASDAQ:MSFT) is selling phone assets to FIH Mobile and HMD. 4,500 employees will be transferred with the deal.
inContact
NICE-Systems (NASDAQ:NICE) is buying inContact (NASDAQ:SAAS) in an $871 million cash deal. SAAS holders get $14 per share. The buyer is financing the deal through JPMorgan (NYSE:JPM) and Royal Bank of Canada (NYSE:RY).
Columbia
TransCanada (NYSE:TRP) received early termination of HSR for its acquisition of Columbia Pipeline (NYSE:CPGX). The deal will close by the third quarter.
Memorial
The definitive merger agreement was filed for Range Resources' (NYSE:RRC) acquisition of Memorial Resource (NASDAQ:MRD).
TECO
Emera (OTCPK:EMRAF) agreed to sell 50.1 million shares of Algonquin (AQUNF). The proceeds will be used to fund its purchase of TECO (NYSE:TE).
Northern
Western Refining (NYSE:WNR) launched the syndication of a new senior secured term loan credit facility of $500 million to fund some of the Northern Tier (NYSE:NTI) acquisition. The closing will be at the same time as the deal closing in late June.
Talmer
The first S-4 amendment was filed with the SEC for the Chemical Financial (NASDAQ:CHFC) acquisition of Talmer Bancorp (NASDAQ:TLMR).
Meda
Mylan (NASDAQ:MYL) announced a delay of its tender offer for Meda (OTCPK:MDABY).
KUKA
Midea offered to acquire Kuka (OTCPK:KUKAY) for EUR 115 per share in cash.
Andersons
HC2 (NYSEMKT:HCHC) offered to acquire Andersons (NASDAQ:ANDE) for $37 per share in cash for a purchase price of a billion dollars plus the assumption of $400 million in debt. Andersons' management replied that the offer price is too low. More to come in future editions of M&A Daily…
Done deal.
Charter (NASDAQ:CHTR) acquired Time Warner Cable (TWC). This idea returned over 50% since first disclosed.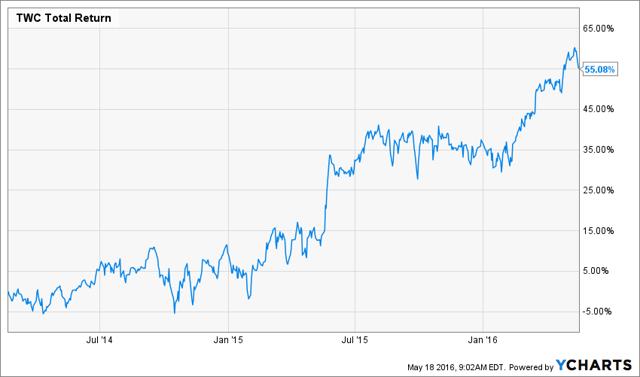 This deal also benefitted Liberty Broadband (NASDAQ:LBRDA):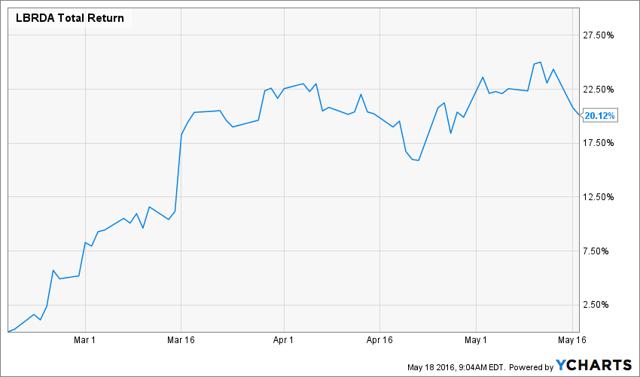 Elsewhere on Seeking Alpha
Beyond Seeking Alpha
What is this?
I am confused; what am I reading? Excellent question, I answer rhetorically. For answers to this and other questions, please check out M&A Daily Infrequently Asked Questions.
Disclosure: I am/we are long DEPO, AKRX, TWC, LBRDA, SYT.
I wrote this article myself, and it expresses my own opinions. I am not receiving compensation for it (other than from Seeking Alpha). I have no business relationship with any company whose stock is mentioned in this article.
Additional disclosure: Chris DeMuth Jr and Andrew Walker are portfolio managers at Rangeley Capital. We invest with a margin of safety by buying securities at discounts to their intrinsic value and unlocking that value through corporate events. To maximize returns for our investors, we reserve the right to make investment decisions regarding any security without notification except where notification is required by law. We manage diversified portfolios with a multi-year time horizon. Positions disclosed in articles may vary in sizing, hedges, and place within the capital structure. Disclosed ideas are related to a specific price, value, and time. If any of these attributes change, then the position might change (and probably will).
Editor's Note: This article covers one or more stocks trading at less than $1 per share and/or with less than a $100 million market cap. Please be aware of the risks associated with these stocks.