Analyzing macroeconomic forces is difficult. The most important factor necessary to do it well is to stay objective. Try to analyze the data points regardless of your positioning. In general it does feel better to be optimistic about the future because you probably have a job that you don't want to lose. However, I believe it's best to deal with reality. You can be optimistic in your personal life, but when reviewing your portfolio it's best to be cold hearted. The best investors ignore their feelings when deciding the proper asset allocation.
There did seem to be some signs of strength in the economy last month. With my view, I considered them short-term blips in a downtrend, but I was vigilant to see if we saw further confirmation this month. It looks like we haven't. The specific data points I'm referring to are Chinese trade and the Empire State Manufacturing survey. They had a tick higher before falling back into their respective downtrends.
In March Chinese trade data beat expectations as exports increased 11.5% and imports fell 13.8%. This one-month increase may have been altered by the Lunar New Year celebration moving numbers around. In April, exports fell 1.8% and imports fell 10.9%. I knew that the New Year caused the improved trade data in March, but one has to question if the market realized it. I think Caterpillar (NYSE:CAT) stock is a good proxy for the strength of the Chinese economy. It has rallied since the last report. This may be because of the overall market optimism, but sometimes the animal forces that bulls have believe any signs of positivity, even if they aren't real. The Caixin purchase managers' index also fell to 49.4 from 49.7 in March which marked the 14 th month of contraction.
This data is not surprising to me because I view the Chinese economy as going through a massive deleveraging as it was over-stimulated which caused mal-investment. A deleveraging is healthy for the economy because it allows for reality to set in and money to be allocated properly. However, it's worse for China because it has to avoid a sharp fall which will have political ramifications. This causes the politicians to delay the inevitable downturn which makes it worse when it happens.
The Empire State Index had a sharp downturn after having a positive blip last month. The survey went from +9.56 to -9.02. The chart below shows a longer term picture of the indicator's history. It makes sense the indicator peaked in 2014 because that's when the manufacturing cycle peaked. It had been going down until February. It then had a random spike up in March which went against the trend. These spikes happen as you can see the spike at the end of 2007. The negative April number reinstates the negative trend in the cycle.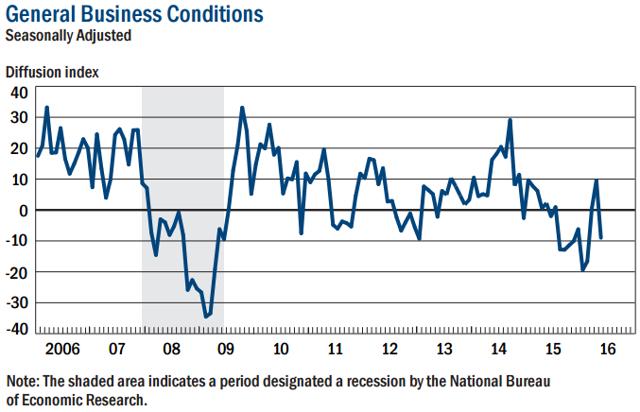 I separated a particularly disconcerting stat within the index. It shows the expectations for the next six months for capital expenditures. As you can see it, it is at the lowest point in the past 12 months. Keep in mind those past 12 months include the sharp downturn shown above. There was a big increase in those saying they would spend the same and lower amount on cap ex.

Conclusion
The Chinese trade data and the Empire State Index have headed back lower after positive blips, reinforcing my negative global economic view.
Disclosure: I/we have no positions in any stocks mentioned, and no plans to initiate any positions within the next 72 hours.
I wrote this article myself, and it expresses my own opinions. I am not receiving compensation for it. I have no business relationship with any company whose stock is mentioned in this article.