ONEOK, Inc (NYSE:OKE) has been on a roll so far in 2016, up 70% YTD and more than 30% over the past four weeks. This rally, while partly due to higher oil prices, has mostly been based on improved company fundamentals. Simply put, ONEOK's outlook is a lot stronger now than it was at the start of the year and the share price is reflecting that reality.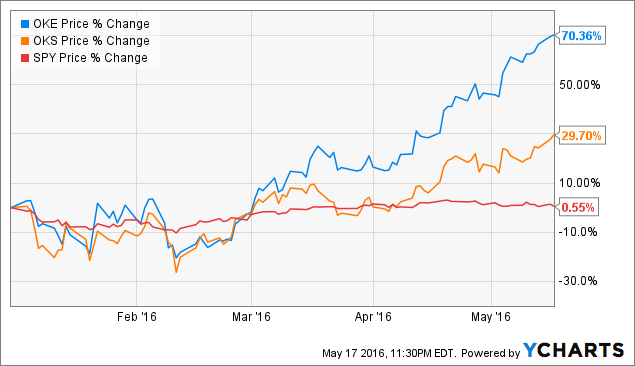 Extremely strong dividend coverage
Given its ownership of 100% of the general partner and large limited partner stake, ONEOK's results are largely driven by the performance of its MLP ONEOK Partners (NYSE:OKS). As OKS kept its distribution intact, ONEOK results were pretty much inline with expectations. The company generated some $197.5 million in distributions from OKS, inline with last quarter.
After backing out interest expenses, non-recurring revenues, capex, and other costs, ONEOK generated $169.3 million in cash flow available for dividends, up 2% from last quarter.
Unsurprisingly, ONEOK's dividend coverage remained robust in Q1. The company had a 1.31x coverage ratio for the quarter, an improvement from 1.29x last quarter as the dividend was not raised. This left OKE with $40.1 million in free cash flow after dividends for the quarter.
Keep in mind that ONEOK's dividend coverage is one of the best in its sector. The only reason the company has not boosted the dividend further is to keep some flexibility in order to help the MLP fund its capex budget.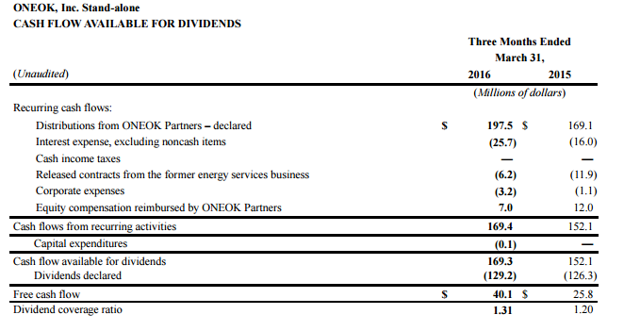 ONEOK Partners improved distribution coverage is good for ONEOK
At the start of 2015, I was somewhat worried about OKS and if it will be able to fully fund its distribution and capital budget. The MLP had a rough 2015, especially earlier in the year as its coverage dipped below 0.90x.
However, by Q4 2015, OKS distribution coverage was improving, finally above 1.00x (actually 1.03x). For Q1 2016, OKS' coverage was even stronger at 1.06x. This is largely due to its investments last year into capturing flared natural gas volumes on its systems, aided by a capital infusion by the General Partner. There is also the possibility of more earnings upside as ethane rejection declines. I'll have more on OKS' turnaround in a future article.
As for what this means for ONEOK, good news for the MLP is very good news for the general Partner. Due to the way IDRs work, if OKS increases its distribution, most of the increased distributable cash flow will flow to ONEOK.
At 1.06x coverage, OKS is poised for a distribution increase in the short-to-medium term. Given ONEOK's already strong dividend coverage, if OKS raises the distribution, ONEOK will likely follow it with a dividend raise.
Conclusion
That investors were able to buy ONEOK at the start of the year for a 10% yield was more a case of irrational market pricing than anything having to do with the risk profile of the investment.
ONEOK remains one of my top picks among the midstream MLP general partners. With a 6% dividend yield and 1.30x coverage, it is still cheap. I think more upside is possible once the dividend growth restarts.
Disclaimer: The opinions in this article are for informational purposes only and should not be construed as a recommendation to buy or sell the stocks mentioned. Please do your own due diligence before making any investment decision.
Disclosure: I am/we are long OKS.
I wrote this article myself, and it expresses my own opinions. I am not receiving compensation for it (other than from Seeking Alpha). I have no business relationship with any company whose stock is mentioned in this article.