click to enlarge)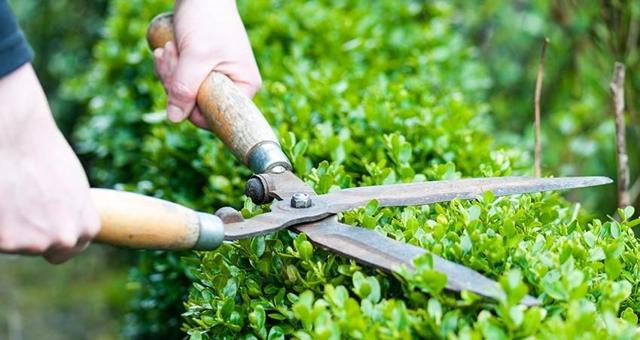 During many years of low and negative global interest rates, investors and institutions have been driven to seek the potential of absolute returns represented by hedge funds. With the benefit of a macroeconomic tailwind, the hedge fund industry has enjoyed soaring dynamic growth to become a $2.9 trillion sector of the world economy.
Apple Inc. (NASDAQ:AAPL), Alphabet Inc. (NASDAQ:GOOGL) (NASDAQ:GOOG), Amazon (NASDAQ:AMZN) and Facebook (NASDAQ:FB) are at the very top of the list of companies that have the most extensive relationships with hedge funds, and demonstrate as a group the reflexive potentialities of these relationships. In excess of 150 hedge funds hold the stock of each of these four large-cap corporations, and as a consequence the condition and behavior of hedge funds have implications for their future that should raise distinct concerns for the companies and for all of their shareholders. The following table quantifies the extent of corporate/hedge fund relationships.
Selected stocks ranked in order of number of hedge fund investors as at Dec. 31, 2015:
| | | | | |
| --- | --- | --- | --- | --- |
| Company | Ticker | Equity Cap $ mill | No of Hedge Funds Holding Stock | % of Equity Cap Owned By Hedge Funds |
| Alphabet Inc. Cl A | GOOGL | 209,069 | 170 | 4% |
| Facebook, Inc. Cl A | FB | 233,189 | 166 | 4% |
| Apple Inc. | AAPL | 535,829 | 163 | 2% |
| Amazon.com, Inc. | AMZN | 245,356 | 156 | 4% |
| Microsoft Corporation | | 404,086 | 147 | 3% |
| Delta Air Lines, Inc. | | 34,706 | 129 | 14% |
| Time Warner Cable Inc. | | 52,714 | 122 | 27% |
| Yahoo! Inc. | | 27,651 | 115 | 18% |
| American Int'l Gp, Inc. | | 62,154 | 96 | 10% |
| Charter Com Inc. Cl A | | 18,994 | 91 | 36% |
Source: Lionshares via FactSet, IDC; data compiled by Goldman Sachs Global Investment Research.
It can be seen that Apple, Google, Amazon and Facebook rank in the highest echelon as to the greatest number of hedge funds holding their stock. While the percentage of their equity cap owned by hedge funds is not as great as outliers in this regard like Charter Communications Inc., the high absolute number of funds holding stock in these companies is telling in itself as will be further explored.
Assessment of Relative Vulnerability
Of the four companies, the share prices of Amazon and Facebook are currently demonstrating exponential growth, whereas Apple and Google are in periods of consolidation that may already presage a downturn. Apple and Google, therefore, appear the most vulnerable of the four to any negative potentialities that may emerge from hedge fund investment.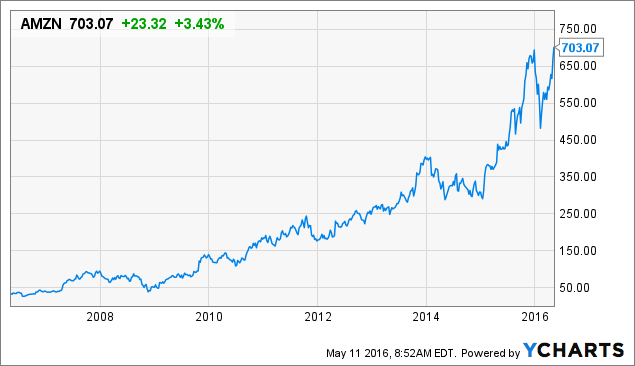 AMZN data by YCharts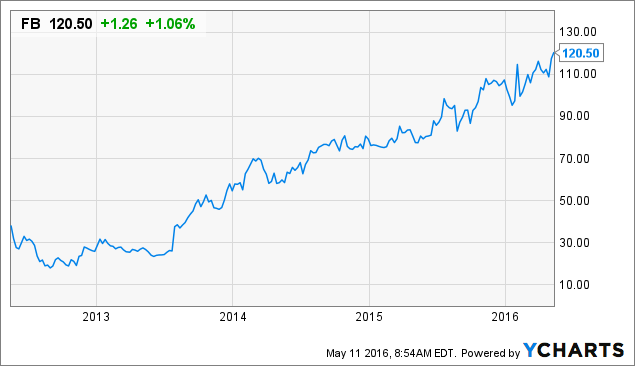 FB data by YCharts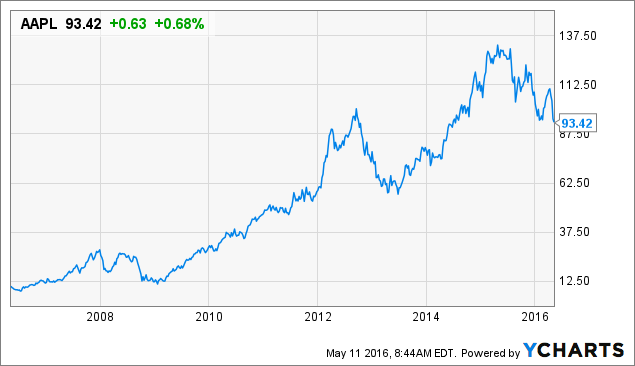 AAPL data by YCharts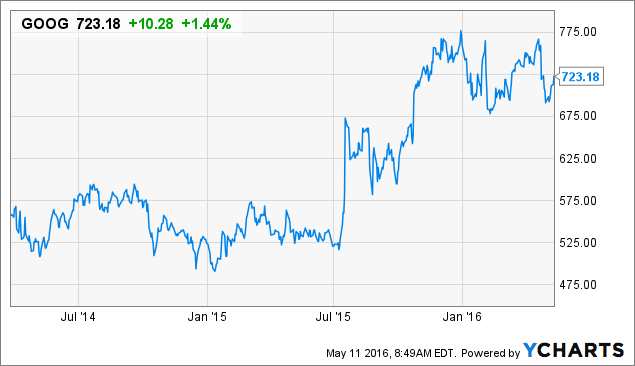 GOOG data by YCharts
Current Condition of The Hedge Fund Industry
The hedge fund industry is experiencing pain and contraction. As at April 2016, performance of nearly every segment of the industry is down in the period from April 2015. This decline has been exemplified in each of the equity hedge, macro, relative value, foreign exchange, event-driven and fund-of-fund sectors.
Many hedge funds posted declines of 15% or more in the first three months of 2016. Most funds failed to match the returns of index funds. Companies in the Russell 3000 Index that have the highest hedge fund ownership have plummeted 31 percent since July 2015. Investor capital in hedge funds was reduced in the first quarter of 2016 as a result of their underperformance, with outflows of $15.1 billion representing the largest quarterly outflow since the second quarter of 2009, delivering the first consecutive outflow quarters since 2009. In 2015 a total of 979 hedge funds closed, making it the worst year for closures since 2009. More closures and outflows are anticipated.
In depiction of these realities, the New York City Employees Retirement System (NCERS) voted last month to end investing in hedge funds, determining that they did not perform well enough to justify high fees. The fund had combined assets of $154.4 billion as of January 31, 2016.
American International Group Inc., the insurer punished by losses on hedge funds, is scaling back from hedge fund investment. It submitted notices of redemption for $4.1 billion through the end of the first quarter of 2016. Ironically, and illustrating the reciprocal reflexivity of the interrelationships between many large-cap corporations and hedge funds, AIG stands high on the list of companies with the greatest number of hedge funds holding their stock (see table above).
Absolute Return Fees for Beta Services
An exponential increase in the number of hedge funds over past years has produced an overcrowded marketplace. Many funds apply the same strategies: trend following, arbitrage, carry and net long. Not only are these strategies highly correlated to the market, it has meant that many funds have effectively charged an absolute return fee for beta services of market exposure. There are few funds producing absolute returns independent of the market. Consequently, many hedge funds are highly correlated with market risk.
Moreover, many funds have been highly correlated with one another as to the stocks in which they invest. They demonstrate herd behavior. Managers are influenced by their counterparts and ideas in fashion are exchanged between fund managers. Many funds have targeted the same large-cap stocks, thereby correlating themselves on individual company risk.
William Ackman's Pershing Square Capital Management, Brahman Capital Corp., Paulson & Co. Inc. and Viking Global Investors LP have lost billions of dollars in hedge fund herding, as described by Cornell University professor Andrew Karolyi. In one example of hedge fund group, think they bet on Valeant Pharmaceuticals International, Inc. (NYSE:VRX). Valeant subsequently experienced a public relations denouement concerning its accounting practices and drug pricing, and its shares have plummeted 85% since May 2015.
SunEdison, Inc. (SUNE), a renewable energy company, was a hedge fund favorite. Omega Advisors Inc. (Leon Cooperman), Glenview Capital Management (Larry Robbins) and Greenlight Capital Inc. (David Einhorn) made large purchases of the stock. As a consequence, each of these funds has incurred enormous losses. SunEdison's shares, trading at about $31.00 in the summer of 2015, fell precipitously later in the year. By early January 2016 SunEdison traded at $3.00. The company filed for bankruptcy on April 21, 2016. Shares traded for around $0.24 on April 27, 2016.
Lacking Technical Analysis And Structured Hedges
Funds have demonstrated an emphasis on fundamentals in selecting their targets, and have paid insufficient attention to the quantitative analysis of markets and the monitoring of positions after entry, leaving them on the wrong side of market turns. Dan Loeb of hedge fund Third Point Management in a letter to investors on the first quarter of 2016 spoke of being caught flatfooted by market reversals. Compounding this effect, few funds have structured hedged trades to counterbalance their beta market exposure.
Client frustration with poor returns and high fees has afflicted the industry and driven outflows. Typically a fund charges a 2% management fee and a 20% profit cut, a large price tag for what has all too often been simple market exposure and not absolute return.
Cyclical factors have adversely affected funds. The S&P500 has not made a new high since May 2015, with much internal volatility as the uptrend has reached a summit and sparking correlated internal volatility in other asset classes. The Chinese government's decision to devalue its currency negatively impacted world markets. A number of large-cap stocks widely held by hedge funds suffered downturns in early 2016.
Activism and Pressure For Share Buybacks
Apple has already been targeted by activist hedge funds. David Einhorn of Greenlight Capital exerted great pressure on the company to utilize its huge cash reserves to grow the business and this has subsequently been adopted as corporate policy, according to recent corporate statements in illustration of how management of capital expenditure can be shaped by hedge fund pressure.
Each of Google, Amazon and Facebook must also consider themselves potentially vulnerable to hedge fund activism as there are in excess of 100 hedge funds that have engaged in activism, and activist hedge funds control in excess of $200 billion in assets. Close relationships between activist hedge funds and institutional investors have led to more aggressive attacks.
In a variation of herding behavior, attacks often involve a group of activist hedge funds known as a wolf pack that supports the lead fund, while attempting to avoid disclosure regulations that would hinder or prevent the attack if they were deemed to be acting in concert. Frequently at the fringe of the wolf pack there are leading institutional investors that, while not joining in the attack, let the lead fund know that it can count on them in a proxy fight.
Many activist funds have pushed companies to return more of the cash they hold to shareholders through share buybacks, in the belief that buybacks increase earnings per share by reducing the number of outstanding shares and that buybacks can raise share price. Aggressive activist funds have deliberately targeted companies with strong cash flow with the intention of pushing them to adopt buyback programs.
In acknowledgement of these pressures, Google announced a $5 billion share buyback program in the last quarter of 2015. Amazon introduced its own $5 billion buyback program in February 2016, replacing the $2 billion program approved in 2010. Facebook since its IPO in 2012 has not yet announced a share buyback program.
William Lazonick, economics professor at University of Massachusetts Lowell and director of the Center for Industrial Competitiveness, has suggested that buybacks may lead the U.S. into recession: companies are using them to prop up share prices instead of reinvesting in the business, supporting job stability and developing long-term growth.
Dangerously High Correlations
Since the 2007-2008 financial crisis, when hedge funds were involved in many of the financial instruments at the core of the crisis, there have been concerns about the implications of hedge fund activities for the global financial system.
At that time the behavior of hedge funds destabilized financial markets when in group reflexive reaction they withdrew tens of billions of dollars from prime brokers, divisions of banks that service and provide credit to hedge funds, and their parent investment banks out of fear that their assets would be frozen if the banks declared bankruptcy. This was essentially a run on the bank.
Now, however, the concerns of Apple, Google, Amazon and Facebook should be centered on a dangerously high number of correlations: hedge funds correlated with the overall market; hedge funds correlated with market strategies; hedge funds correlated with each other; and hedge funds correlated with company risk in stocks held. These interrelationships, if triggered in series, have the potential to greatly amplify the magnitude and collateral effect of any negative future developments affecting the companies' stock prices.
Conclusions
Most specifically the greatest fear of Apple, Google, Amazon, Facebook and other companies whose stock is held by many hedge funds should be that in seeking to reduce risk at a disquieting time for the hedge fund industry many funds that are too highly correlated with the stock market, on strategies, holdings and with each other, when the market is commencing a major downturn as there are strong indications it now is, rapidly exit their positions in these companies, prompting other funds to do the same in exemplification of their already established herd behavior.
Such highly interconnected factors would present a strong combined negative influence on the share price of companies with large numbers of hedge fund investors. When cyclical factors and relative vulnerability are added to the equation, the level of concern should be all the greater. In this way large numbers of moderate size hedge funds that pursue similar market correlated strategies may trigger a broad sell-off in stocks.
If you would care to follow this author and receive immediate alerts upon publication of future articles by this author, please click on the "Follow" button at the top of this page next to the author's name and icon.
Disclosure: I/we have no positions in any stocks mentioned, and no plans to initiate any positions within the next 72 hours.
I wrote this article myself, and it expresses my own opinions. I am not receiving compensation for it (other than from Seeking Alpha). I have no business relationship with any company whose stock is mentioned in this article.