Overall, this was a relatively neutral inventory report with increases in crude oil stocks offset by decreases in gasoline and distillate inventories. Domestic production levels were down, although by a minimal amount. Cushing, Oklahoma inventories increased by 500,000 barrels. Market reaction in (WTI) crude oil prices (NYSEARCA: USO) and related ETFs (OIL, UWTI, UCO, OTC:DWTI, SCO, BNO, DBO, DTO, USL, DNO, OLO, SZO, OLEM) was muted. This follows a jump in prices at the open after the API release.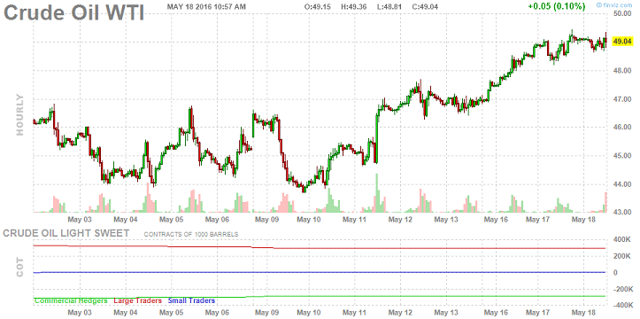 Source: Finviz.com
Stocks:
* Crude oil inventories increased by 1.3 million barrels.
* Gasoline inventories decreased by 2.5 million barrels.
* Distillate inventories decreased by 3.1 million barrels.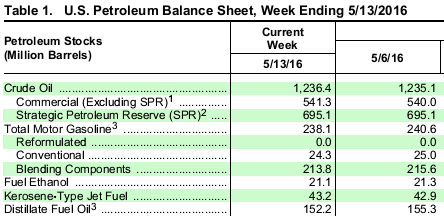 Source: EIA
Production and Refinery Utilization:
* Domestic production remained essential flat compared to the previous week.
* Production in the Contiguous United States (excluding Alaska) decreased by 30,000 barrels per day. In other words, essentially flat with respect to the previous week.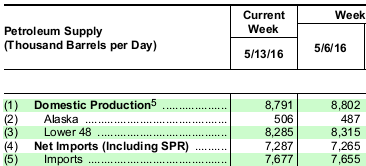 Source: EIA
* Refinery utilization was mostly flat, although utilization in the Gulf Coast, where half of the U.S. refinery capacity is located, jumped from 89.3% the previous week to 93.3%. We think that by now, the maintenance seasons has essentially come to an end.

Source: EIA
Cushing, Oklahoma:
* Cushing, OK inventories continued to increase with a jump of 500,000 barrels. We believe that Cushing is essentially at full capacity (defined as above 80%) and that large buildups coming forward will be difficult (since it's already operationally full).
Given the abundance of pipeline capacity to and from Cushing, OK, we don't think the large inventories at Cushing will break the market and that most the excess crude oil will be redirected towards the Gulf Coast.

Source: EIA
Conclusion:
Relatively neutral inventory release with a corresponding muted effect on crude oil prices (although they jumped the day before after the API release and again today at the open).
Production continued to decrease, although by a very small amount, and the jump in crude oil stocks was mitigated by the decline in gasoline and diesel inventories.
We believe that the upcoming release of the Fed minutes will be more important for crude oil prices today than the EIA release.
Disclosure: I/we have no positions in any stocks mentioned, and no plans to initiate any positions within the next 72 hours.
I wrote this article myself, and it expresses my own opinions. I am not receiving compensation for it (other than from Seeking Alpha). I have no business relationship with any company whose stock is mentioned in this article.