Back in November last year, I had said why shale oil producer Continental Resources (NYSE:CLR) looks like a good bet in a weak oil environment given its production efficiencies. The impressive part is that Continental has vindicated my thesis by gaining close to 90% so far in 2016. The rally in Continental's stock has been driven by the improving supply-demand balance in the oil market, which has led to a rally in prices.
Additionally, Continental has lowered its cost enough that will allow it to improve its cash flow profile in the prevailing oil environment. Let's see how.
The over-pressured economic model will bear fruit
Continental Resources has been using advanced drilling techniques in a bid to bring down the cost of its wells and enhance production at the same time. For instance, the company is increasing its lateral lengths and this has allowed it to bring down its spud-to-TD times. In the STACK area, for example, Continental has managed to bring down its drilling time to just 30 days from last year's 44 days.
Concurrently, the company has seen its initial 90 day production rate triple in this area, while being 90% liquids rich. A key reason why Continental has been able to improve its well performance in the STACK area is because of its over-pressured economic model, which is resulting in robust oil extraction.
For example, earlier this week, Continental announced that it has drilled an industry-record well in the STACK over-pressured window with an initial 24-hour production run of 3,339 barrels of oil equivalent per day, with 70% of this being oil. More importantly, this well was completed at a lower cost of $9 million as compared to Continental's annual target of $9.5 million, using a 9,700 foot lateral and a pressure of 2,400 psi.
Meanwhile, there are other assets in this over-pressured area as well that are delivering strong initial production. This is shown below: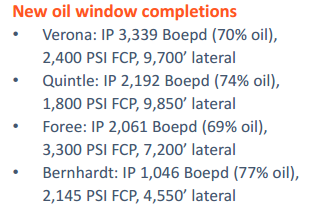 Source: Continental Resources
As such, Continental Resources is on track to see robust returns from its STACK over-pressured window, especially as these wells have a flat base decline rate going forward, allowing Continental to generate 75% rate of return at $45 WTI. More importantly, Continental can continue to improve its returns in this area since 95% of its acreage in the STACK area is in the over-pressured window, which will allow it to generate more oil at lower prices.
Focus on profitable assets has been a tailwind
Thus, it is evident that Continental's strategy of shifting its production toward more productive assets such as STACK, SCOOP, Bakken, and Northwest Cana is bearing fruit for the company. For instance, in the first quarter, Continental's production from assets such as STACK/NW Cana, SCOOP, and the Bakken rose 224%, 30%, and 7%, respectively, on a year-over-year basis.
This increase in STACK/NW Cana production is mainly due to the completion of three new wells at Meramec. These were the Foree 1-18XH, Bernhardt 1-13H, and Quintle 1R-10-3XH. These wells produced 1,411, 810, 1,559 barrels of oil and 3.9, 1.4, 3.5 MMcf of natural gas per day from a 7,200 foot-lateral, 4,500 foot lateral, and 9,850 foot lateral, respectively.
As a result of strong production growth across these core assets, Continental's net production last quarter increased to 21 million barrels of oil equivalent, up 3% from the fourth quarter of 2015 and 12% from last year. What's more, Continental managed to achieve this year-over-year improvement in production despite a 68% drop in its capital expenses. Looking ahead, the company has hiked its production guidance for the current year by 5% without an increase in capital expenses.
This clearly indicates that Continental Resources is making the most of its robust asset base by increasing production at lower costs. More importantly, Continental will be able to generate positive returns from these assets even in the current oil pricing environment.
Earlier this year, Continental had pointed out that it will remain cash flow neutral at an average oil price of $37 per barrel WTI. At present, oil prices have increased to more than $48/barrel WTI. This is great news for Continental investors since the rates of returns at its key assets will start climbing up at the current WTI price. This is shown below: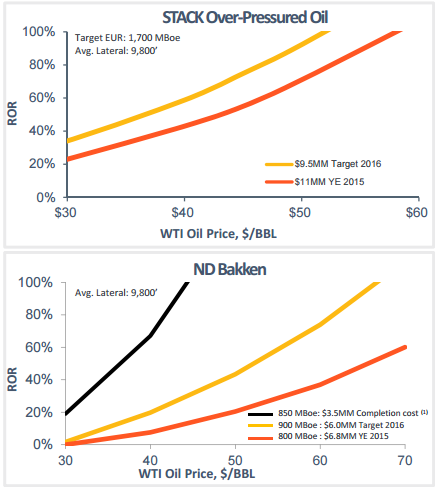 Source: Continental Resources
As seen above, Continental has managed to increase its rates of returns this year by lowering the well cost and increasing the production rate simultaneously. For instance, in the STACK over-pressured oil window, the company's average well cost is expected to drop over 13% this year on the back of longer laterals. Similarly, in the Bakken, the company has reduced completion costs to just $3.5 million per well, and at this cost, it is generating higher production than what it was last year at a completion cost of $6.8 million.
Conclusion
In effect, Continental Resources has managed to lower its costs and increase production by focusing on profitable assets. This has enabled the company to make its assets profitable by lowering the lease operating expenses. For instance, the company's lease operating expenses in the Bakken last quarter fell 25% year-over-year despite a 10% increase in the net operated well count.
As such, it is not surprising to see that Continental has managed to improve its return profile even in a low oil pricing environment. So, it will be a good idea to remain invested in Continental Resources despite the impressive gains that it has delivered this year since its production profile will improve further on account of the robust results from the STACK over-pressured play.
Disclosure: I/we have no positions in any stocks mentioned, and no plans to initiate any positions within the next 72 hours.
I wrote this article myself, and it expresses my own opinions. I am not receiving compensation for it (other than from Seeking Alpha). I have no business relationship with any company whose stock is mentioned in this article.