Microsoft's (NASDAQ:MSFT) shares are currently trading in the range of $50-$52, which is close to the values of their historic high in 1999. The absolute maximum price was $59 per share. At that price, the P/E equaled to 73x earnings per share. During the last 13 years, Microsoft's median P/E has equaled to 13x. During the same period, the maximum P/E was equal to 40x, which is very close to the current value of 38.5x.
We would like to draw your attention to Microsoft's trend in revenues and earnings. Lately, the company's net income is not just stagnating but has also been showing a negative trend (such as in Q1 2016) despite the increase in revenues. In our opinion, it is a bright indicator of the evolving structural problems in the business. These are long-term problems which must be paid attention to by the company's investors.
A similar story has been developing with IBM (NYSE:IBM). Indeed, IBM is now a successful and stable company. However, does it take a leading place in terms of capitalization? Is IBM now valued by the market with a P/E ratio of 30 or more? Clearly, it is not.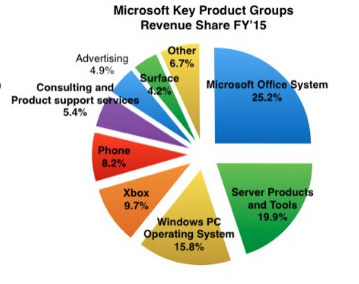 In order to assess the prospects of the company it is very important to look at the structure of its revenues. As we can see, office programs bring about 25% of total revenues, while another 20% are contributed by servers and associated businesses. Another 16% come from the operating system. The remaining ~40% comes from other lines of business. The servers business is undoubtedly the most secure division within the company from the income perspective. In the era of continuous information growth, servers are a kind of "real estate" in computer technology. Office programs also look quite stable, although there are many competitors on the market, and retaining a stable market share is becoming more difficult.
As for the other areas, they do not look so solid. For example the operating system, the main product of the company, which has made it famous throughout world, is losing ground. Once a monopoly, Windows OS occupied more than 90% of the market back in 2010. However, by the end of 2013, the system was installed on about 60% of all computers.

Today, mobile technologies are one of the fastest growing areas. During 2015, more than 1.4 billion smartphones were sold globally and by 2018 this figure will amount to more than 1.8 billion. However, this is not the point. The point is that the smartphone is replacing the PC in terms of the use of time. The smartphone is becoming the primary mean of communications on the Internet. Unfortunately, Windows did not have time to win in this race. In 2015, the Windows Phone occupied only 2.6% of the market, having lost about 0.8% since 2013.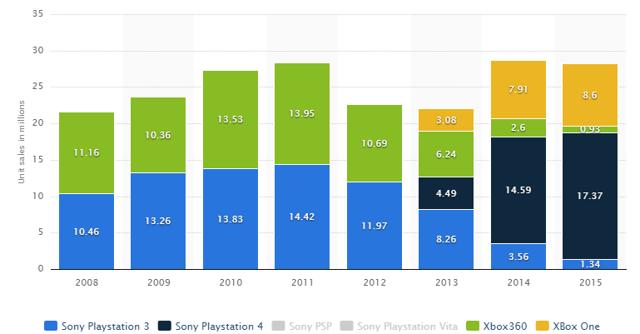 Conclusion
To sum up, the key idea is that Microsoft is currently valued as a growth company. However, it is important to understand that Microsoft is no longer a growth company. It is a pretty slow and clumsy giant. The current P/E ratio is unreasonably high. It is extremely unlikely that we see a jump in net profit long-term growth rates.
The average net sales over the past four years equaled $18.5B. Given the absence of new products, which could significantly change revenue growth, even under favorable circumstances the company's sales will not exceed the maximum value reached over the past several years ($22B) in the near future.
We think many would agree that Microsoft is a typical representative of the American market background so that the average P/E coefficient of 18.8x is a good estimate of the shares' fair value. Given the current EPS of $2.29, the price of $43 per share seems to be fair. However, even at this level the share price does not include the chances of market loss for the company's products. Therefore, at this point, short sellers have a margin of safety. Even if the company manages to maintain a strong position in many segments, its fair value is around $40 per share, not $50 per share as it is valued at right now.
Societe Financiers is an investment research team focused on long-term, long- and short-only ideas. Our research objective is to cover equities in various regions, such as North America, EMEA, Asia, Australia, and Emerging Markets.
Readers should consider whether any advice or recommendation in our research articles is suitable for their particular circumstances and, if appropriate, seek professional advice, including tax advice. The price and value of investments referred to in our research articles and the income from them may fluctuate. Past performance is not a guide to future performance, future returns are not guaranteed, and a loss of original capital may occur. Fluctuations in exchange rates could have adverse effects on the value or price of, or income derived from, certain investments.
Certain transactions, including those involving futures, options, and other derivatives, give rise to substantial risk and are not suitable for all investors. Transaction costs may be significant in option strategies calling for multiple purchase and sales of options such as spreads.
Disclosure: I/we have no positions in any stocks mentioned, and no plans to initiate any positions within the next 72 hours.
I wrote this article myself, and it expresses my own opinions. I am not receiving compensation for it (other than from Seeking Alpha). I have no business relationship with any company whose stock is mentioned in this article.