A little over a month ago, I had advised investors to consider buying the weakness in Clean Energy Fuels (NASDAQ:CLNE) as the stock was trading close to 52-week lows. Since my article, Clean Energy shares have gained to the tune of 6.6% on the market, with most of the gains coming in the month of May. A key reason why Clean Energy shares have shot up over 7% this month is because of its outstanding results that were released a few days back.
In fact, Clean Energy had smashed the bottom line estimate by a margin of $0.23 per share, apart from reporting double-digit top line growth that allowed it to beat the top-line estimate as well. This does not surprise me as Clean Energy Fuels is witnessing impressive growth as far as the adoption of natural gas fuels is concerned, and it is likely that this trend will continue in the future. Let's see why.
Set to capitalize on volume growth
For Clean Energy Fuels, it is all about increasing the volumes of natural gas delivered to customers. The good thing is that the company has done well on this front, with gallons delivered increasing by 3% year-over-year in the previous quarter to 77.5 million gallons. This increase in Clean Energy's volumes isn't surprising as the company has managed to build a wide customer base across diverse industries.
For instance, Clean Energy serves transport fleets at 39 airports in the U.S., apart from 55% of new refuse trucks and a fourth of new transit buses. Looking ahead, Clean Energy's addressable market will expand further as heavy-duty trucks are now shifting to natural gas. In fact, if only 6% of heavy-duty trucks convert to natural gas, Clean Energy's volumes delivered to this segment will equal that of the refuse market.
In fact, the market size of the heavy-duty truck LNG market will be more than 25 billion gallons a year, which is more than 12 times of other markets such as airports and refuse trucks. More importantly, there is a lot of runway in this segment since there are just 3,000 natural gas-powered heavy-duty trucks as against 3.6 million class 8 trucks in the U.S.
Now, I won't be surprised if more heavy-duty trucks start using natural gas as a fuel given the cost advantages of the latter. This can be understood from the charts given below: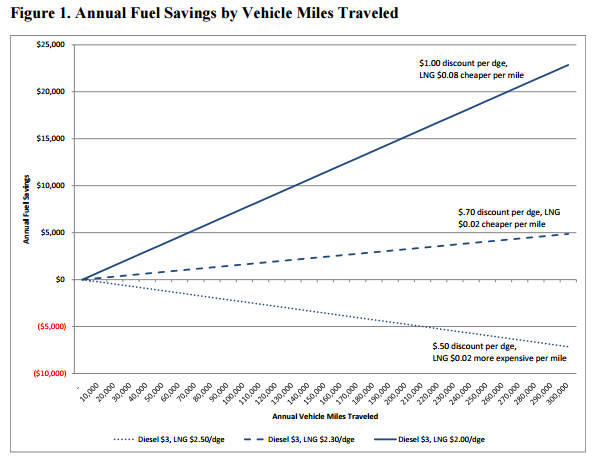 Source: UC Davis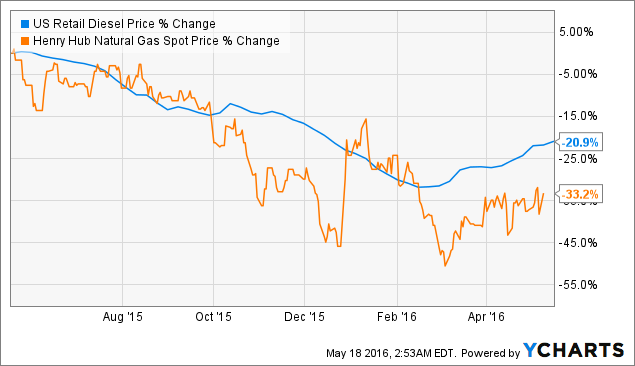 US Retail Diesel Price data by YCharts
As shown in the first chart, running a truck on natural gas in the long run leads to savings in costs as miles traveled increases. Now, the price of diesel has dropped at a slower pace than natural gas, as seen in the chart above. In fact, the diesel retail price has started picking up pace in recent months. As such, the price of natural gas is currently cheaper than diesel, a trend that might continue on account of oversupply in the natural gas market.
In fact, natural gas inventories are currently 44% higher than the five-year average and averaged just $1.92/MMBtu last month. As the price of natural gas will remain low on account of the oversupply in the industry, its adoption as a fuel will increase due to the savings that it will generate. So, an increase in demand for natural gas-powered heavy-duty trucks will remain strong going forward.
Robust LNG adoption to continue across segments due to environmental benefits
According to a report by Navigant Research, total sales of natural gas vehicles are expected to grow to more than 3.5 million from 2015 to 2025. Also, the report expects the NGV refueling stations across the globe to grow at CAGR of 5.4% to 38,890 in 2025 from 23,001 in 2015. More than 80% of these fueling stations will cater to the light and medium duty market. This is shown in the chart below: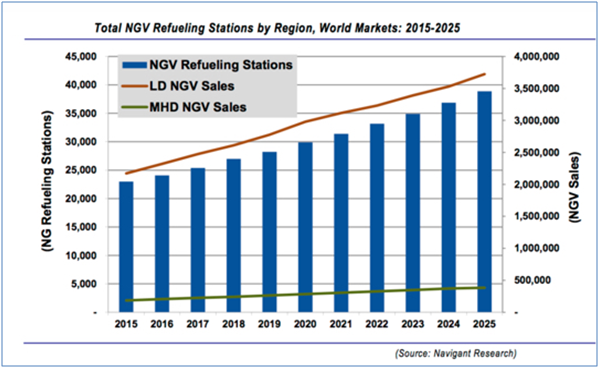 Source: Navigant Research
Thus, apart from the heavy-duty segment, the medium and light duty segment will also continue to grow. This increase in natural gas vehicle adoption is not surprising since the environmental benefits of natural gas, apart from the cost benefit, are encouraging government and private agencies to switch to the fuel.
Waste Industries, for example, announced last week that it will add approximately 22 refuse and service trucks, powered by CNG, to its fleet at its Wilmington, N.C. facility. It will spend around $7 million to bolster its CNG fleet, and in the process, it will be able to reduce its emissions by substantial amounts. In fact, the company expects to reduce "carbon monoxide emissions by approximately 77%, nitrogen oxide emissions by roughly 87%, particulate matter emissions by 95%, and cut greenhouses gases by over 20%," as reported by Green Fleet.
On the other hand, the U.S. government is taking initiatives to promote natural gas vehicles. According to Clean Energy management, "The United States Postal Service is pursuing an initiative to reduce their carbon footprint by 20% by 2020 and have concluded that natural gas is the alternative fuel of choice for their third-party contracted carriers".
Therefore, the U.S. Postal Service is currently working to switch its Class A trucks and tractors to natural gas. Gauging the increasing demand for natural gas-powered vehicles, Clean Energy Fuels is working to bolster its infrastructure so that it can sell its renewable products efficiently into the rapidly growing end market. As a part of this strategy, Clean Energy plans to build nearly 60 additional fueling stations this year, all of which are currently under construction.
Conclusion
There is no doubt that the demand for natural gas-powered vehicles is increasing. As such, Clean Energy Fuels has a lot of runway for growth going forward, especially as the company is constructing new fueling stations and entering into deals with fleet owners to refuel their trucks. So in my opinion, the momentum gained by Clean Energy Fuels in recent weeks should continue going forward in light of the points discussed above.
Disclosure: I/we have no positions in any stocks mentioned, and no plans to initiate any positions within the next 72 hours.
I wrote this article myself, and it expresses my own opinions. I am not receiving compensation for it (other than from Seeking Alpha). I have no business relationship with any company whose stock is mentioned in this article.