SiriusXM (NASDAQ:SIRI) announced Wednesday that it intends to offer $750 million in senior notes that will be due in 2026. Sometimes debt scares investors, but in recent years SiriusXM has been very adept at managing debt and utilizing it as a mechanism to create or maintain shareholder value. The company stays in a tight debt to EBITDA ratio and has no maturities due in the next 4 years.
The lending market has some very favorable interest rates these days. This move allows SiriusXM to remove the risk of a variable rate tied to the credit facility for a fixed rate that should be in a range that is in the 4igh 4's or low 5's.
SiriusXM current had drawn $600,000,000 on the credit facility. The company has no debt due until 2020. There are times when the interest in an offering is higher than what is initially put on the table. In the past SiriusXM has taken advantage of that situation. The chart below assumes that this offering stays at $750 million and that the credit facility has been paid down.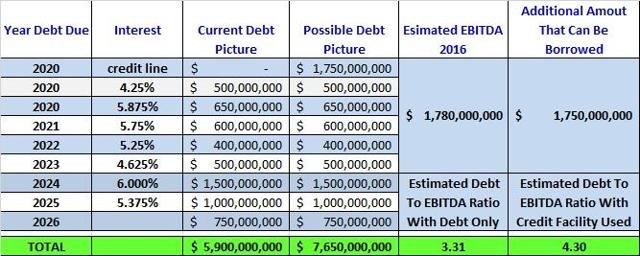 Chart Source - Spencer Osborne
What Investors Should Watch For And Understand
There are a few key elements that SiriusXM investors should watch for. Currently the assumption should be that the company will have $150 million left from the offering after the credit facility is paid down. Investors should watch to see if the interest in the offering is higher than what has been put on the table. If the market interest is higher it is an indication that the bond market has good faith in SiriusXM's ability to service any debt.
The company will have a "liquid" $150 million that it did not have prior. This is an indication that the company can handle its portion of the SiriusXM Canada deal while still preserving the ability to maintain share buy-backs that have been happening at a clip of over $500 million per quarter.
SiriusXM carrying debt is not a bad thing. The debt that the company carries is highly manageable and actually gives the company much more latitude and strength. Borrowing money at inexpensive rates for long periods of time is considered savvy. SiriusXM maintains certain ratios in its debt picture so as to maintain a high credit rating and not get into a situation where it needs to act out of desperation. This company, perhaps more than most, understands that tapping the market at opportune times is far better than not being able to tap it at all.
The stock reaction to this news will likely be muted. A debt offering for SiriusXM is simply not very sexy in the near term. The benefits come in less obvious ways. I anticipate that the company will take this offering up to $1 billion if the bond market appetite is there. Such a move would bring the debt to EBITDA ratio to about 3.46, which is in the range that the company has tried to maintain.
As stated, this move may not be sexy, but it does allow the company to continue share repurchases and accomplish the SiriusXM Canada deal without really missing a beat. Stay Tuned!
Disclosure: I am/we are long SIRI.
I wrote this article myself, and it expresses my own opinions. I am not receiving compensation for it (other than from Seeking Alpha). I have no business relationship with any company whose stock is mentioned in this article.