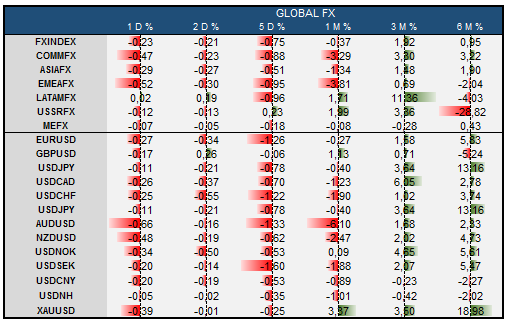 USD is likely to remain bid as the market looks increasingly like in 4Q when the Fed moved effectively into calendar guidance towards tightening while at the same time China was slowing down. The Fed's broad USD index rallied from 118 in October, reaching 126 in January. Against this background it will be increasingly difficult for the FED to remain dovish. Brent has reached almost US$50, rallying by 75% from its US$28 January low, allowing energy equities to reach their highest level since October. Economies seeing their output gaps nearly closed such as what is seen in the US will see oil prices pushing inflation rates more than economies with wider output gaps. It will be the inflation response to higher oil prices which will determine the risk outlook. The question is whether there will be local or global reflation. Global reflation is supportive for risk appetite while pushing nominal GDP higher, helping to ease debt burdens. Local reflation in DM and here in particular the US will lead to a very different outcome, namely risk selling off. Last week's remarks by the Fed's Dudley warning the Fed could increase rates twice this year should not be taken lightly.

Higher than expected inflation results in April, with headline CPI rising 0.4% (boosting the year/year rate to 1.1% from 0.9%) and core gaining 0.2% (2.1% Y/Y v. 2.2%). Headline was boosted by an as expected 3.4% gain in energy prices, with gasoline up 8.0%. For the 0.19% core gain, core goods fell 0.10% and core services gained 0.29%, with upside in the latter, led by higher rent and owners' equivalent rent gains, accounting for the modest upside versus our 0.14% core estimate. The acceleration in core services prices to a three‐month high 0.29% gain in April mostly reflected OER and rent rising a combined 0.31%, high since September. Even with the April upside, on a year/year basis heavily weighted OER and rent together were up 3.3%, little changed for nine months now after what had been a steady acceleration from a low of ‐0.2% year/year in mid‐2010 to 1.9% at the end of 2011, 2.2% at the end of 2012, 2.6% at the end of 2013, and 2.8% at the end of 2014. Notwithstanding the higher April monthly gain, industry data sources increasingly are seeing risks of slower rent gains going forward as a ton of apartment supply is coming on line and absorption rates have recently slowed. OER and rent make up 40% of core CPI, so any deceleration would be a big deal for the core CPI inflation outlook.

Upside in CPI inflation, housing starts, and industrial production and the usual hawkish comments from several regional Fed presidents drove a further flattening of the Treasury yield curve Tuesday. Investors priced back some risk of a June Fed rate hike, shifted to pricing a more than 50% chance of a move by September hike, and nearly fully priced one full 25 bp hike by year end ahead of the release of the FOMC minutes Wednesday and a press conference with New York Fed President Dudley Thursday and also looking ahead to a June 6 speech by Chair Yellen that was announced Monday. While more risk that the Fed might move in the next year was priced, there wasn't any indication in market pricing that doing so would actually end up being a good idea. The additional Fed tightening priced into futures through the next year was then backed out in a flatter trajectory after 2017 in eurodollar futures, consistent with the further flattening of the Treasury yield curve that's probably now gone far enough to be worrisome as a potential Fed policy mistake/recession warning sign. At 3:00, substantial front end losses and small long end gains left the Treasury yield at its flattest levels since 2007. The 2-year yield rose 3.5 bp to 0.82%, 3-year 3 bp to 0.98%, 5-year 2 bp to 1.28%, 7-year 1 bp to 1.56%, and 10-year 0.5 bp to 1.76%, while the long bond yield fell 1 bp to 2.59%.

TIPS performed well on the day after the upside in CPI and a further rise in oil prices to $48.51 for June WTI, another front-month high since December. Inflation breakeven gains post-CPI were quickly capped, however, by real yield selling along with the nominal curve flattening, and what had been a 3 bp widening in the 5-year and 10-year break evens ended up as 2 bp. Risk markets performed poorly on higher perceived Fed risks, with the S&P 500 down 0.9% and IG CDX index 1 bp wider, although the trade-weighted dollar didn't move much. The Fed's broad index was at 120.9 on Friday after rebounding from 2% from a recent low of 118.2 on May 2, but it's been steady the past two days. Repricing of the Fed outlook in futures peaked in 2017 and moved lower in later years. For the near term, July fed funds lost 2 bp to 0.405%, boosting risks of a June rate hike from near zero to 15%. October lost 3.5 bp to 0.515%, moving odds of a hike by September up to near 60% from less than 50/50, and January 2017 lost 4.5 bp to 0.605% almost fully pricing in one rate this year. Eurodollar futures losses peaked at 3.5 bp in the Dec 16 to Jun 18 contracts. That trailed off to an unchanged Jun 21 contract and gains past then that peaked at 2.5 bp. So there's more conviction in one rate hike this year but less in the central case that's been in place for a while of one hike in 2017, 2018, 2019, 2020, and 2021 also. The Dec 16 (0.89%) to Dec 21 (1.97%) eurodollar futures spread is down to 108 bp, low since January 2015, so enough downside risk year by year to the one hike per year path to add up to only four total over five years now. With inflation heading back in the right direction, financial conditions benign and some better recent data on economic activity, the chances of a June rate hike are growing. Irrespective of what actually happens in June, in the short run, financial markets will now most likely increase the chance they see of a June hike, pushing up short-term bond yields, and in turn, the USD.

Disclosure: I/we have no positions in any stocks mentioned, and no plans to initiate any positions within the next 72 hours.
I wrote this article myself, and it expresses my own opinions. I am not receiving compensation for it (other than from Seeking Alpha). I have no business relationship with any company whose stock is mentioned in this article.