Oil prices have already touched the highest level in seven months as outages from Nigeria, Venezuela, and Canada are continually disrupting supply. Now it seems oil prices might reach the $50 mark much sooner than anyone expected. In the current market scenario, where supply seems to be rebalancing itself with demand, it is important to take a look at one of the biggest players in the game: Saudi Arabia. At a time when prices are increasing mainly due to global supply disruptions, Saudi Arabia's decision to maintain or ramp up production levels might have a crucial impact on oil prices.
Moreover, Aramco CEO Amin Naseer piqued the market's curiosity last week when he hinted that his company can increase its production if required. Speaking on the subject of launching Aramco's first ever IPO by 2017 or 2018, he stated that Riyadh had always kept a 'spare capacity' for excess production which can allow it to raise or lower the supply and influence oil prices. Aramco produced close to 10.2 million barrels a day last year and around 10.3 million barrels a day in April 2016. If Aramco manages to produce around 12 million barrels per day which is its highest sustainable capacity (12.5 mb/ day being the highest), an additional 2 million barrels per day of crude oil can enter the market and it can drive the oil prices down.
Why Saudi Arabia might not increase its production levels
Saudi Arabia has steadily maintained its crude oil production above 10.2 million barrels a day since January 2016: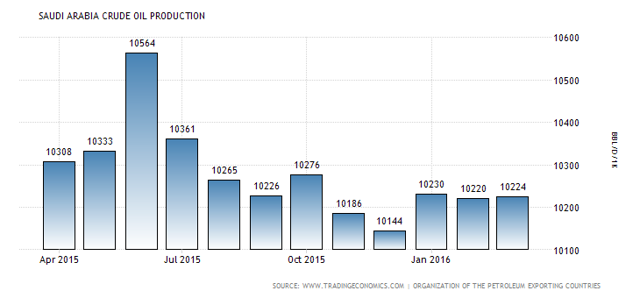 Its oil consumption generally increases during summers and its production increases by around 400,000 barrels per day when compared to winters. When compared to March 2016, Saudi Arabia's crude oil production increased by 800,000 barrels per day to 10.3 million barrels per day in April 2016. Now, the question is, will Saudis increase their production levels substantially? Energy consultancy firm Energy Aspects thinks that they won't do it. After the meeting between OPEC and Non - OPEC members over the subject of freezing the oil supply failed in Doha, Saudi Arabia's most powerful person - Deputy Crown Prince Mohammad Bin Salman warned that his country could increase its production by almost 10%, which is around 1 million barrels a day. That did not happen. "
A lot has been happening in the oil market lately. Yet, what has caught everyone's attention amidst this drastic U-turn in balances is Saudi Arabia. Undoubtedly these are uncertain times, but Saudi Arabia will not be producing 11 mb/d this month (especially since it has maintenance) and will not be reaching 12.5 mb/d by end-2017. Oil rigs have been falling, and output has been remarkably steady at 10.2 mb/d since August 2015", Energy Aspects team said. The consultancy even stated that a call to increase production from 10.3 mb/ day to 12- 12.5 mb/ day would require substantial amount of time. However, I feel that this is just one of the reasons why the desert kingdom might not increase its production substantially in the coming time.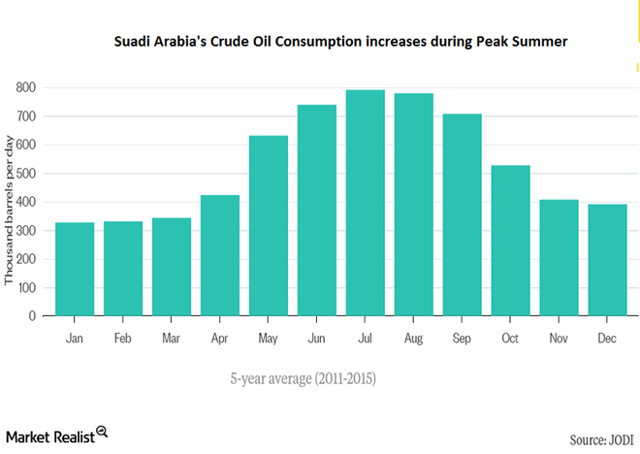 Takeaway
With falling oil revenues and an increasing fiscal deficit, Saudi Arabia's credit rating was recently slashed from aA3 to A1 by Moody's. On the other hand, Saudi Arabia has been fighting hard to retain its key market - Asia from competitors like Russia, Iran and Iraq. In March 2016, Russia surpassed Saudi Arabia to become China's biggest crude oil supplier. Last week, Iraq overtook Saudi Arabia to become OPEC's top exporter to India. This shows that Saudi Arabia is losing its grip on China and India- two countries that are driving the global oil demand. With this, it is very clear that Saudi Arabia's priority is to first save its existing markets and then concentrate on filling newer ones. Although it is pretty certain that Saudi Arabia will indeed look to increase its capacity, this decision will be based on meeting the additional demand and not flooding the markets just to prove a point. After all, even Saudis require oil prices to be well above the $50 level and can only manage cheap oil by capturing maximum market share.
Disclosure: I/we have no positions in any stocks mentioned, and no plans to initiate any positions within the next 72 hours.
I wrote this article myself, and it expresses my own opinions. I am not receiving compensation for it (other than from Seeking Alpha). I have no business relationship with any company whose stock is mentioned in this article.