"A change in the weather is sufficient to recreate the world and ourselves." - Marcel Proust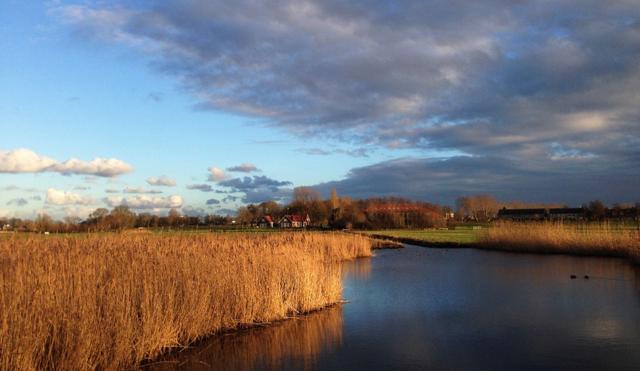 Introduction
For a majority of the last 35 years, investors, traders and speculators have had a massive, nearly invisible tailwind at their back in the form of a consistent downward trend in interest rates.
Prior to the financial collapse that occurred from 2007 to 2009, inflationary pressures, fueled by Chinese demand, appeared set to end the long-term bull market in bonds.
A change in inflationary trends, however, was averted as the financial collapse, which spurred domestic and global unemployment, combined with a newfound overabundance of resources, which was exacerbated by new discoveries, new technologies and productivity gains, to reinstate the disinflationary/deflationary status quo.
With an abundance of labor and resources, investors have been on the lookout for deflation, and a number of bond investors in Europe and Japan are willing to tolerate negative interest rates to preserve their purchasing power in a deflationary environment. However, after seven years of a so-called "recovery" largely centered in asset prices, inflationary pressures are once again emerging.
Thesis
Interest rates are set to rise, and investors are unprepared for this change in inflationary expectations.
U.S. Core Inflationary Pressures Increase
With global long-term bond yields near their record lows, including in the United States, it would be easy for investors to overlook rising consumer prices, and I believe they have indeed disregarded what is happening on this front. Yesterday, when the Department of Labor released its consumer price index for the month of April, consumer prices climbed the most in three years.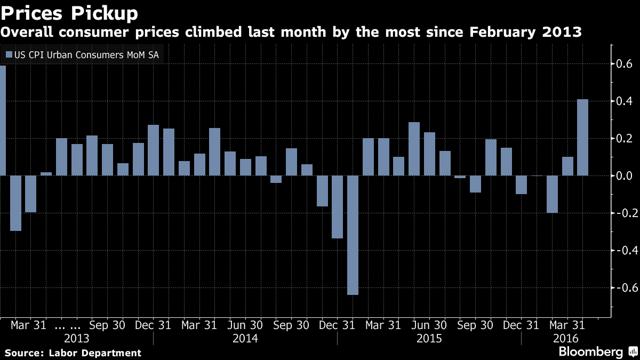 While the overall gain in U.S. consumer prices has been muted on an annual basis, partially depressed by lower energy prices over the past year, core inflationary pressures have been building. The following graph and table are from the Bureau of Labor Statistics, and they show the pick-up in core inflation over the course of the last year.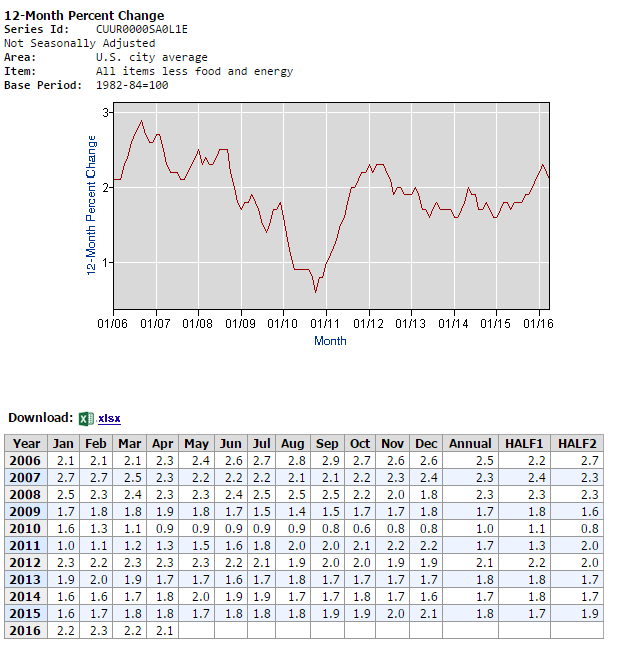 Core inflation reached its highest level of the entire recovery in 2016, yet the long-term bond market has largely ignored this move higher.
Long-Term Treasury Bonds Remain Anchored
Consumer prices are clearly moving higher, and inflationary assets are rebounding, yet 10-year U.S. Treasury bond yields remain near their lows.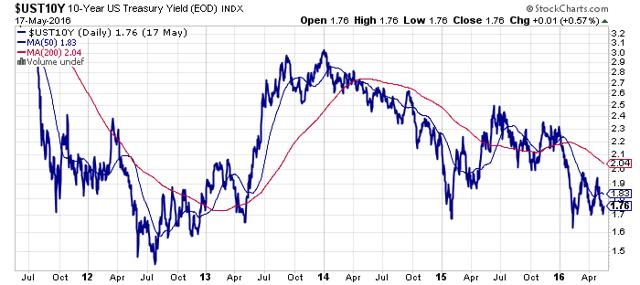 Looking at the iShares 20+ Year Treasury Bond ETF (NYSEARCA:TLT) five-year chart, it is easy to surmise that long-term Treasury bond prices may have made their ultimate peak.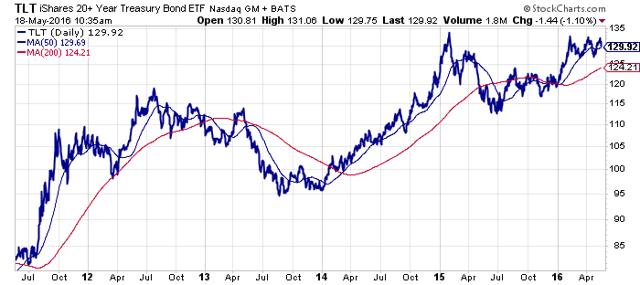 Shorting the TLT at this juncture offers traders an interesting risk/reward dynamic, with a clearly defined exit point (the 2015 all-time high) if the trade does not work.
Two-Year Treasuries Not Conforming
Long-term Treasury bonds are right near their all-time highs, meaning yields are near their lows, as illustrated above, yet something interesting is going on with short-term rates. Specifically, they are rising and have been in a defined uptrend since 2013.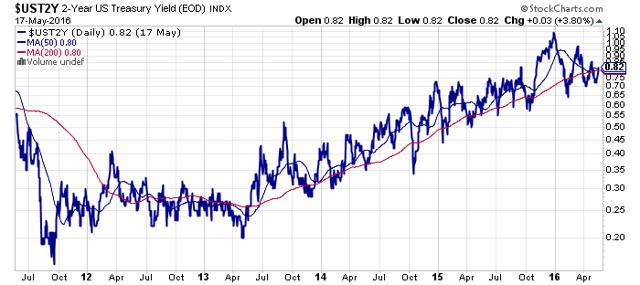 Thus, while both two-year Treasuries and 10-year Treasuries both saw their absolute low in yields in 2012, their yield paths since those 2012 lows have been dramatically different. The shorter-term Treasury bonds are still anticipating that the Federal Reserve increases interest rates while the longer-term Treasury bonds do not believe the projected path of future Fed interest rate increases.
Inflationary Assets Continue To Lead
Despite sharp pullbacks over the last two weeks, with the notable exception of gold stocks, inflationary assets have unmistakably taken over the stock market leadership in 2016.
With the S&P 500 Index, as measured by the SPDR S&P 500 Index ETF (NYSEARCA:SPY), only up 1% year-to-date, the SPDR S&P Metals & Mining ETF (NYSEARCA:XME) is up 46% YTD, the VanEck Vectors Gold Miners ETF (NYSEARCA:GDX) is up 85% YTD, the VanEck Vectors Junior Gold Miners ETF (NYSEARCA:GDXJ) is up 102%, crude oil (NYSEARCA:USO) is up 33%, and energy stocks, as measured by the Energy Select Sector SPDR ETF (NYSEARCA:XLE), are up 11% YTD.
The following five-year charts show the rebound in 2016 in these aforementioned sectors, and they also show how far commodity stocks remain from their five-year highs: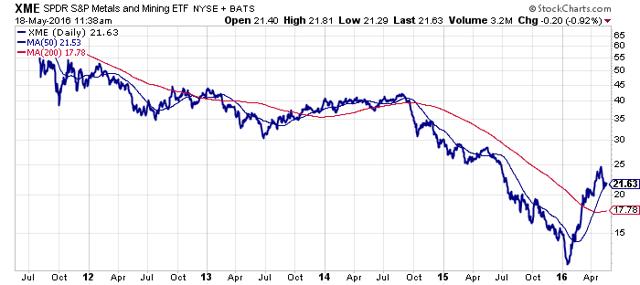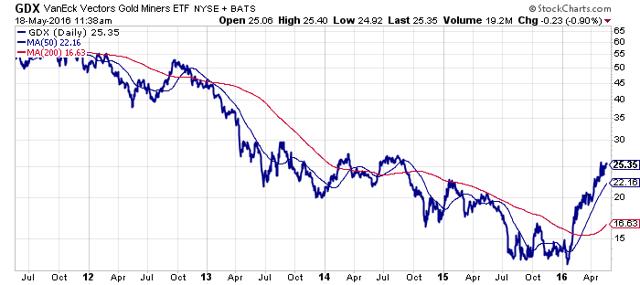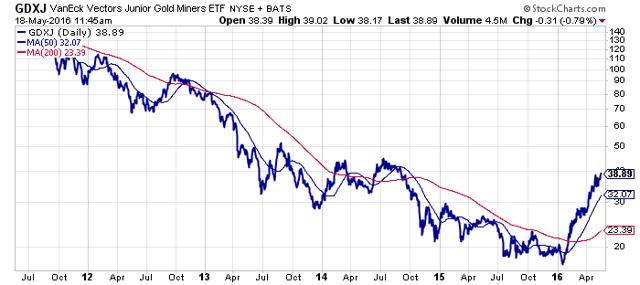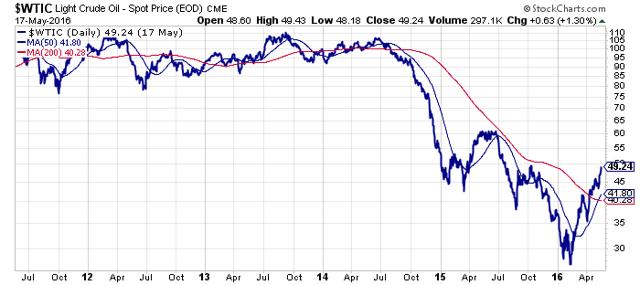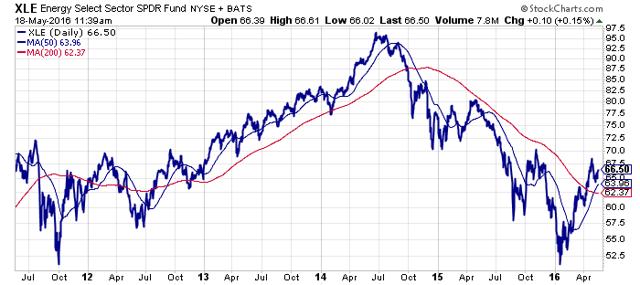 If inflation is around the corner as consumer prices and two-year Treasuries indicate, there could be more room to run in the still depressed commodity stocks.
For perspective, Barrick Gold (NYSE:ABX) is up 161% YTD, but remains down 54% over the last five years. Cliffs Natural Resources (NYSE:CLF) is up 92% YTD, but remains down 96% over the last five years. U.S. Steel (NYSE:X) is up 75% YTD, but remains down 68% over the last five years. Chesapeake Energy (NYSE:CHK) is down 11% YTD, and is down 85% the last five years. Freeport-McMoRan (NYSE:FCX) is up 64% YTD, but remains down 73% over the last five years.
The larger energy companies, including Exxon Mobil (NYSE:XOM) and Chevron (NYSE:CVX), have held up remarkably well. Exxon and Chevron are up 17% and 15% respectively in 2016, and 27% and 18%, respectively, over the last five years. Thus, investors looking for bargains in out-of-favor commodity stocks should probably look elsewhere, in my opinion.
Financials, REITs, and Utilities - How Will They Fare?
Rising rates are typically good for financials as net interest margins expand, which are bad for REITs and utilities as the cost of capital goes up and investors have more competitive yield alternatives. The YTD performances of the Financial Select Sector SPDR ETF (NYSEARCA:XLF), the iShares U.S. Real Estate ETF (NYSEARCA:IYR) and the Utilities Select Sector SPDR ETF (NYSEARCA:XLU) certainly illustrate the impact of the falling long-term interest rate environment in 2016.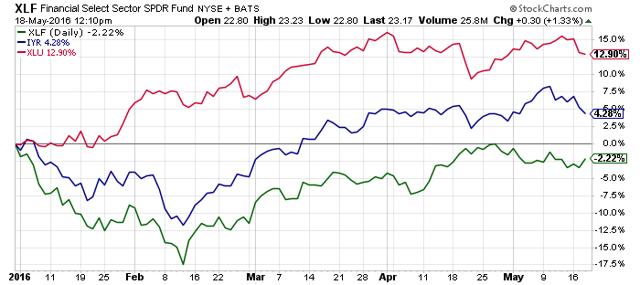 The contrast in performance is striking. A leading utility stock like Duke Energy (NYSE:DUK) is up 12% YTD, a leading REIT, like Simon Property Group (NYSE:SPG), is up 2% YTD, after being up over 10% in May, and the bank stocks are all down for the year.
If long-term interest rates were to materially rise, as consumer prices and short-term interest rates suggest, financial stocks could be set to outperform. The banking sector is particularly interesting, as JPMorgan (NYSE:JPM) is down 2% this year, Bank of America (NYSE:BAC) is down 14%, Citigroup (NYSE:C) is down 12%, and Wells Fargo is down 9%. Even a regional leader like BB&T (NYSE:BBT) is down 7%. One of these is a favorite of mine that will be revealed in due time.
Conclusion - Prepare For Inflation
Rising consumer prices, increasing two-year Treasury yields and a surge in commodity stocks suggest that inflation is around the corner. Rising inflationary pressures would support higher long-term Treasury yields. An environment of rising interest rates would materially change the investing landscape that has been in place since the stock market recovery began in 2009, with a distinct shift toward disinflation in 2011.
Neglected and out-of-favor sectors like financial stocks could outperform while the in-favor REIT and utility sectors could struggle. To close, perhaps the most interesting opportunities remain in the most battered sectors over the past five years, including emerging markets and commodity stocks. While these sectors have come a long way from their lows, and could correct sharply at any time, a true change in their prospects, both fundamentally and technically, could make buying these new market leaders on pullbacks a potential rewarding endeavor for opportunistic investors.
Disclosure: I am/we are long ABX, CHK, CLF, FCX, X, AND SHORT SPY.
I wrote this article myself, and it expresses my own opinions. I am not receiving compensation for it (other than from Seeking Alpha). I have no business relationship with any company whose stock is mentioned in this article.
Additional disclosure: Every investor's situation is different. Positions can change at any time without warning. Please do your own due diligence and consult with your financial advisor, if you have one, before making any investment decisions. The author is not acting in an investment adviser capacity. The author's opinions expressed herein address only select aspects of potential investment in securities of the companies mentioned and cannot be a substitute for comprehensive investment analysis. The author recommends that potential and existing investors conduct thorough investment research of their own, including detailed review of the companies' SEC filings. Any opinions or estimates constitute the author's best judgment as of the date of publication, and are subject to change without notice.